GCS
GCS Climate Control Knob Covers
2015-2020 WRX & STI / 2014-2018 Forester / 2013-2017 Crosstrek
These AC knob covers can bring color and / or style to your interior.
Double sided tape is optional. These are designed to not damaged your stock interior. Some may find them too loose at times. Double sided tape will allow for easy installation and removal only when necessary.
Sold as a set of three (3).
Details
GCS AC Knob Covers
Crafted out of aluminium (ăl"yo͝omĭn'ēəm), these knobs add a unique style and finish to the OEM knobs found in many Subaru vehicles. They are slip fit so installation only takes a few moments.
Available in a variety of colors. Sold as a set of three (3).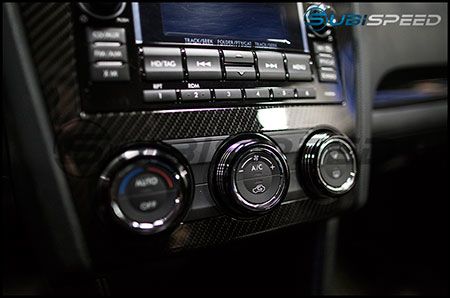 2 customer reviews
Ties it all together

Mario March 3, 2018

By

Make sure you pull the silver knobs off first (yes, just pull, you won't break them). Then place the red ring on and sandwich then together until it sits all the way on. I placed the tape on the first ring, but not on the 2nd and 3rd. You can't tell the difference, at least not yet. If I do need to put the tape, I can throw it on in a few minutes. Looks amazing, especially when combined with the red and black JDM dash trim!

Great Product

Jason March 20, 2017

By

I am so glad I got this. It really tied the inside together, I made it so pretty much all the silver is gone and these were the final touches. Looks really good, you have to get the double sided adhesive for these to make them really fit and stay. Thanks Subispeed!
Upload images for this product