OLM
OLM Oversized Carbon Fiber Hood Scoop
2015-2020 Subaru WRX & STI
Ships for free in the 48 states
This hood scoop really makes a bold statement. It's increased size visually impacts the front of your vehicle. Despite being quite larger than the standard scoop, it doesn't look strange on this import tuner vehicle!c
Due to the origin of this product and production time, when "ships from factory" is shown, delays of 6-8 weeks can be expected.
Details
OLM Oversized Carbon Fiber Hood Scoop
---
OLM's Oversized Carbon Fiber Hood Scoop cover adds style to your vehicle.
This is a full hood scoop replacement. You will need to remove your OEM hood scoop which will require popping clips from underneath the hood and removing a few nuts on the front side of the scoop. Comes with 3M for a secure fit along the edges. Once installed, we recommend using a silicon sealant around the scoop. This will seal it well and no water will get under the scoop.
Comes with installation 3M tape, hardware and black mesh screen pre-installed. The scoops comes with 4 bolts, washers and nuts.
NOTE: Always clean the back of the hood scoop and the hood area with rubbing alcohol before starting the installation. We recommend re-installing the black plastic trim under the hood once you are done. This will help direct air to the intercooler.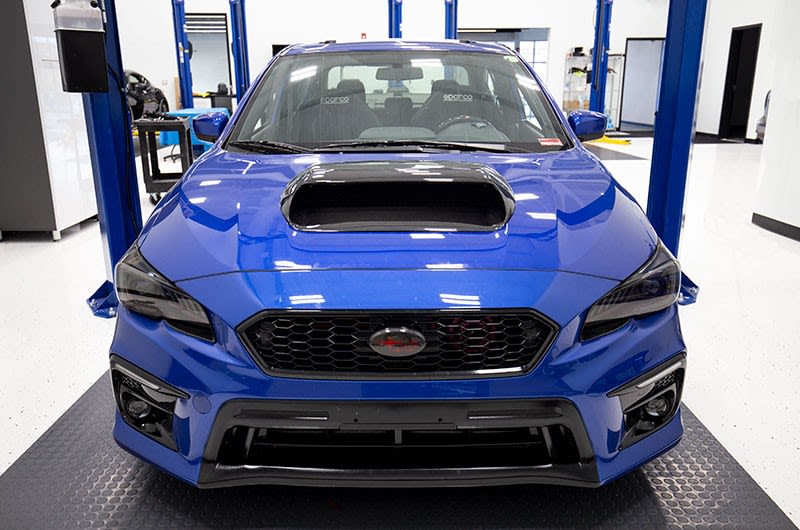 ---
Featured In Subispeed's New Products February
1 customer review
Definitely an improvement

Dale September 30, 2020

By

I can't blame anyone involved for the shipping speed, covid screwed everybody. When I finally got it I noticed it already had a fine layer of dust on it, which makes me wonder how long it sat before shipping. There's a crack, although unnoticeable as it's inside the scoop. Short answer, it looks amazing, and even though there's no installation instructions, it's fairly straightforward and as long as you take your time and make sure you get all the clips you won't run into any problems. I didn't use the adhesive promotion but it doesn't seem like it was needed. The "hardest" part honestly is trying to angle it in without letting the tape touch the hood on the way in
Upload images for this product