OLM
OLM Spec CR Sequential LED Taillights
2015-2020 Subaru WRX & STI
SKU: A.70038-PARENTWe price match!
Highlights:
Adds a mean, custom look to your WRX or STI
All-LED design with inverted C-style strip
Choice of lens and housing color
Red C-clamp strip with DRL functionality
Amber sequential LED strip
White LED reverse light
Drop-in, plug-and-play installation
Backed by a 2-year limited warranty
Details
OLM Spec CR Tail Lights

---
Sleek, New Look with More Functionality for your WRX or STI
Creating a wicked, custom WRX or STI means you'll have to ditch the stock taillights at some point, and when that time comes, turn to OLM's Spec CR Sequential LED Taillights for 2015-2020 Subaru WRX and STIs. OLM's Spec CR taillights flip the stock taillights on their head with a reverse C-clamp LED running light in their center's that's paired up with and awesome amber sequential turn signal on their lower section so that your Subie build gets a great look and new functionality. The OLM Spec CR taillights are available with several lens and housing color options so that you can get the perfect look for your sleek STI or WRX. Best of all, the Spec CR taillights are an easy, drop-in replacement for stock and feature plug-and-play wiring so that you can get these LED sequential taillights on your WRX or STI in no time.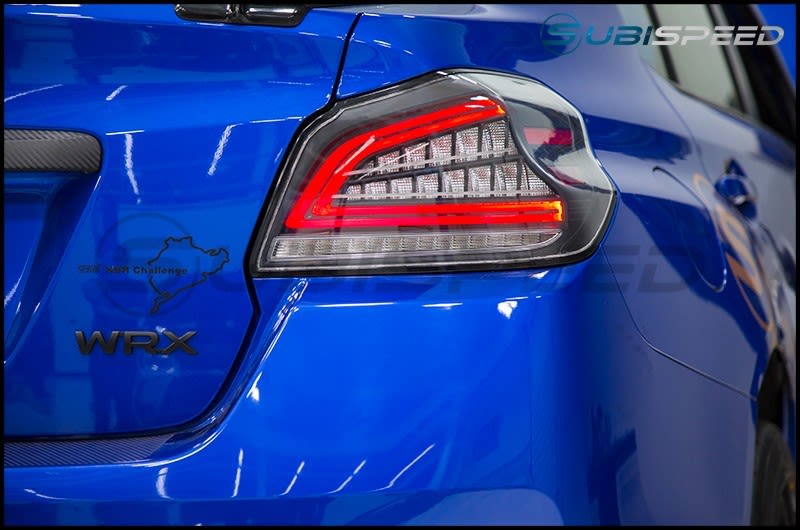 ---
Should you upgrade your WRX tail lights?
Highlights:
Adds a mean, custom look to your WRX or STI
All-LED design with inverted C-style strip
Choice of lens and housing color
Red C-clamp strip with DRL functionality
Amber sequential LED strip
White LED reverse light
Drop-in, plug-and-play installation
Backed by a 2-year limited warranty
---
Complete Pair of LED Taillights with Easy Installation and Wiring
The OLM Spec CR Sequential LED Taillights are loaded down with new functionality and styling that is sure to turn some heads and make your WRX or STI stand out from the rest of the crowd. The main attraction of the WRX and STI Spec CR taillights is their reverse C-clamp DRL strip that narrows at it runs inboard for an entirely different look than stock. The C-strip is LED powered with a red diffusion strip that generates a clean look without the visible hot spots of lesser taillight designs. Underneath the C-strips is the amber sequential LED strip that scans inboard to outboard when you hit your turn signals or hazards. The taillights come with a plug-and-play wiring harness and install using the factory hardware and clip, making them a breeze to get up and running on your Subie. OLM backs these taillights with a 2-year limited warranty.
---
SubiSpeed Announcement Video
How to Install Subispeed Tail Lights!
---
Fitment:
2015-2020 Subaru WRX
2015-2020 Subaru STI
15 customer reviews
Awesome lights

Babyc August 22, 2022

By

Awesome lights great fit and again customer service went above and beyond to help with an issue that arose. Thank you so much! Customer for life.

Major Upgrade

Ryan January 13, 2022

By

I bought these after seeing an RGB conversion and I just had to have them. I wasn't sure how dark the smoke was going to be but it's just the right amount and it looks perfect with the DGM paint on the car. The lights are very bright and are in a much better looking design that the OEM tail lights, and the sequential turns signals really tie it all together. It took a bit of time to get them installed, especially the very last bit of fitting them in, and it seems like the left taillight has about 1-2mm more gap on the top than the right one, but it's barely noticeable and any complaints I could have are blasted away by how good they look.

Great Product.

Jason December 10, 2021

By

These were an easy install. Just a few bolts and plug them in. I had a slight when I received them, however customer support was excellent in their quick response. If you're looking for a good looking set of lights, these are definitely it. When you couple that with the excellent support, you can't go wrong.

A+ upgrade

2020WRX June 19, 2021

By

The install was super easy! I installed the OLM final edition rear brake/back-up light at the same time and it all was made super easy by the plug-n-play wiring. 1hr install for both. --My only issue is that the fitment is not as tight on the side as we all would like. The edges on the fender side sticks out a bit. So be careful when washing your car, your wash rag may snag on the edge a bit. --Had on for less than 1month and got some condensation in the driver side lense. So check the seals before install. Overall I love the product, looks absolutely great!

Decent

Anonymous April 20, 2021

By

Ordered these and the running lights didnt work after installation.

I wasn't sure how I was going to feel about the smoked lenses...

Dzeimsas July 31, 2020

By

It's been a month since I swapped them out and truth be told - they were worth every penny! I mean, how is it possible for these things to keep looking better and better everyday!? Pssh... Overall quality is on point and installation was a breeze. I couldn't believe the amount of dirt and grime that collected behind the OEM tails. If your Subie has some miles on it you may need to break out the shop-vac and some cleaner before you install. NOTE: Tried uploading some photos but I guess the server wasn't in the mood with its 504 Timeout Errors. I'll try again later.

5 Stars

@WRXanthem July 24, 2020

By

I posted a few pics

Look awesome, melt quickly

Mitch S July 19, 2020

By

These headlights look gorgeous and are literally a 5 minute install. After about 3 months on my car however the driver side has started warping and breaking apart. It may not be an issue if your car lives in a garage.

Pretty Good Choice

Andrew March 17, 2020

By

Love the look of these. I got them cause the sequential element matches the fog lgiht sequentials I have for the front. Had a little trouble getting them to slide in, seemed to fight me a bit but with some force I got it. I did notice however, after going to touchless car wash, when it was about 38 degrees out (living in NY), the passenger side tail light caught some condensation. It went away but, keep your eye on this. I have not taken off the light to see if theres a bad seal since I have only noticed it that one time. Otherwise, for the price I recomend these.

Amazing!!!!

Shadow_Subi19 March 12, 2020

By

I'm currently deployed and my wife bought and installed my tail lights. She said it was super easy, barely an inconvenience. The look great and fit even better. Definitely a must if you're looking to spice up the ride.

Awesome product, even better customer service

Joe January 17, 2020

By

These look great on my 19 wrx. The installation was very easy and the install video is also very helpful. I get compliments about them often. Really makes the car stand out. Looks great with led rear license plate lights. Just ordered the nb+r brake light to go along with them. When the product arrived it was damaged in shipment. The black casing around the light was slightly damaged and chipped. I contacted customer service and got a reply very quickly. Chelsea in customer service took care of it for me and took the necessary steps to get me a new replacement fast. Order with confidence!

Worth It!

Lucas September 22, 2019

By

Instillation was super simple. Once they were on the car just plugged them in and they worked great. No issues and they look great when combined with a lower fog light.

Look great!

Bruce June 23, 2019

By

Took a few weeks to get but still came quicker than estimated time I was told. Fit great, easy install, and they look awesome. Running lights are bright and remind me of Mercedes styling. Love them.

Sequential tail lights

Anthony March 27, 2019

By

Shipment was fast.. parts fit great look even better... awesome change of rear of car. Easy install thanks to videos by subispeed.. great job guys just need to get the full led headlights now for the front.

Worth the wait

Nick March 21, 2019

By

So they were on back order and had to wait about 4-5 weeks but compared to what it was, completely new look and the install literally took 9 minutes.
QUESTIONS & ANSWERS
No questions have been asked about this product.
Upload images for this product