OLM
OLM Turn Swap Modules
2015-2020 Subaru WRX / STI
The OLM turn swap gets rid of the stock turn signals and transforms the running lights into multi function running / turn signal lights. Optionally this allows you to turn your existing turn signal into an additional ultra bright reverse light. You can have up to four intense reverse lights.
Designed for USDM vehicles only. Confirmed incompatible with AUDM vehicles.
Details
OLM Turn Swap Modules
---
Your vehicle has brilliant factory tail lights with a dominant reverse C shape in them. Instead of using the stock amber turn signals, you can use that bright red reverse Cs (running lights) as a brake light also. It is as simple as installing these OLM tail light modules. These modules also work on aftermarket tail lights to change the running light into the brake light as well.
Overall these modules have the ability to make any setup unique.
One other perk of using these is that you can convert your stock turn signal bulb into an ultra bright additional backup light. This will give you up to four high intensity reverse bulbs to light up the area behind your vehicle.
Featured in Subispeed's New Products February
---
Installation Notes
The installation is simple. This module is plug and play and comes as a pair. It goes in between your factory tail light connection and your tail light. Just install them on both sides and you're ready to go. If you plan on turning your factory turn signals into reverse lights, simply use the tap, to tap into the reverse wire and connect it to the loose wire in the module (male insulated connector is pre-installed).
---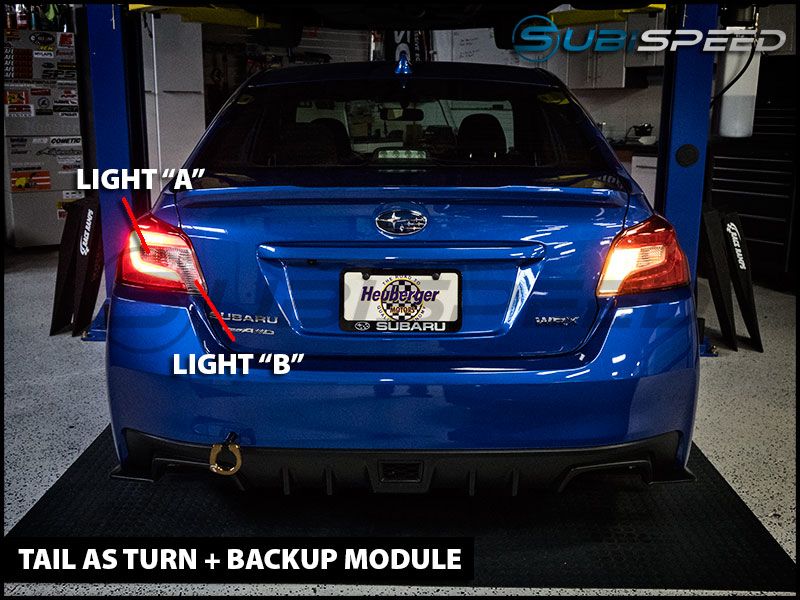 Optional Items
Reverse Light Upgrade - Light "A" is the original reverse light bulb. Light "B" is the original turn signal bulb. While different in design due to the sockets, both OLM bulbs offer a brilliant, intense, white light.
Designed for USDM vehicles only. Confirmed incompatible with AUDM vehicles.
Upload images for this product
© 2014 Subispeed. Powered by JB Autosports.