Eibach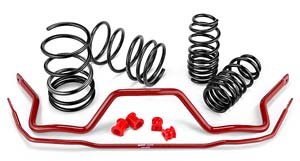 Eibach Pro-Plus Kit
- 2013+ FR-S / BRZ / 86
Ships for free in the 48 states
Includes
Eibach Pro-Kit Springs
Eibach Anti-Roll Kit
Details
Includes
Eibach Pro-Kit Springs
Eibach Anti-Roll Kit
Eibach Pro-Kit Springs
The Eibach PRO-KIT is the perfect answer for most frequently-driven street cars. It's our legendary sport spring system that dramatically improves both a vehicle's performance and appearance.
PRO-KIT precisely lowers your car's center of gravity, reducing squat during acceleration, body roll in corners and excessive nose-dive under braking. When combined with Plus-1 or Plus-2 wheels and tires, the Eibach PRO-KIT is the finishing touch to a winning recipe for performance. PRO-KIT also reduces excessive fender-well clearance, making your car look just as hot as it performs.
Every Eibach PRO-KIT is designed and tested by our suspension engineers and performance driving professionals to deliver aggressive good looks and high performance handling, without ever compromising safety or ride quality. By using our proprietary, progressive spring design, PRO-KIT Performance Springs provide the ultimate balance to take your passion for driving to a whole new level.
* Your results may vary. As we have learned from racing and independent testing has proved - lowering your car or truck's ride height also improves your aerodynamic efficiency by forcing more air over the car and less underneath (where most of the drag is found on any vehicle), resulting in higher top speeds on the track and better MPG on the highway.


Features
High Performance Handling and Aggressive Good Looks
Lower Center of Gravity
Stop Quicker, Corner Faster and get Better MPG!*
Progressive Spring Design for Excellent Ride Quality
Million-Mile Warranty
Front Lowering 1inch
Rear Lowering 1 inch
Eibach Anti-Roll Kit
FOR THE ULTIMATE IN TUNABLE SUSPENSION PERFORMANCE, Complete your suspension upgrade with an Eibach ANTI-ROLL-KIT. While our PRO-KIT performance springs are regarded as the primary suspension enhancement components, the Eibach ANTI-ROLL-KIT allows critical fine-tuning of your Scion or Subaru's handling characteristics.
Our ANTI-ROLL-KITS reduce body roll through increased design stiffness over stock bars. The result: increased handling and cornering grip in any performance-driving situation.
Manufactured from cold-formed, tubular high-strength aircraft-grade steel for precision performance, and finished with a long-lasting red powder coat finish, the ANTI-ROLL-KIT comes complete with all necessary mounting hardware and instructions for easy bolt-on installation.
Features
Performance Tuned Sway Bars for Improved Handling and Reduced Body-Roll
Perfectly Balanced for Optimum Neutral-Steering Handling and Precise Turn-In Response
Precision Engineered and Calibrated for PRO-KIT and SPORTLINE Performance Spring Kits
Eibach Hi-Tensile Steel Alloy, Cold-Formed, Tempered and Shot-Peened for Long-Lasting Performance and Durability
Greasable Urethane Bushings For Increased Responsiveness
Precision Forged Ends and OEM Style Pressed Bushing Locaters (No Welding Or Weak Points Here)
Million-Mile Warranty
FRONT
Eibach bar: 25mm (1.0 in) tubular, adjustable
Eibach measured bar rate: 2 position adjustable
P1 = 66 N/mm (376 lbs/in) +167 %
P2 = 86 N/mm (488 lbs/in) +248 %
Eibach bar weight: 3.4 kg (7.5 lbs)
Bushings: New urethane bushings with grease grooves.
End Link: OE
Approximate installation time: 1.5 hr
REAR
Eibach bar: 19 mm (0.75 in) tubular, adjustable
Eibach measured bar rate: 2 position adjustable
P1 = 38 N/mm (217 lbs/in) +92%
P2 = 50 N/mm (283 lbs/in) +153%
Eibach bar weight: 3.2 kg (7.1 lbs)
Bushings: New urethane bushings with grease grooves
End Link: OE
Approximate installation time: 1.5 hr
Fits:
2013+ BRZ Eibach Pro-Plus Kit
Upload images for this product

Feel free to share pictures of your vehicle with this product!