Weds Wheels
WedsSport SA-20R RLC 18x9.5 +38 R Face
2015+ WRX / 2015+ STI
Ships for free in the 48 states
Another SubiSpeed exclusive the SA-20R in RLC finish. This wheel is so hot that for 2016 we had to do another custom run of RLC finish in these wheels.
We started this project late 2016 with WedsSport. The last 25 sets have been produced. Snag a set while you can, the last RLC SA-10R run we did went quickly.
Fits with any combo of below:
Stock Springs
Lowering Springs
Coilovers
Clears STI Brembo's and other BBK's
No Rolling Needed
Flush Fitment, no Poke
Suggested tire size = 255/35/18 for street cars
Suggested tire size = 265/35/18 for track cars and aggressive look
Price is for a complete set of 4 wheels with center caps. This is a SubiSpeed exclusive color and fitment designed specifically for the 2015+ WRX/STI.
Details
Wedssports SA20-R

---
WedsSport SA-20R is the newest addition for 2016. Like all other Weds Sport series wheels, the SA-20R is constructed using Weds famous AMF "Advance Metal Forming" construction method. The AMF method allows for lighter weight and improving the structural strength, more importantly through our Super GT racing program, WedsSport designer also emphasis on structural rigidity to minimize flex.
---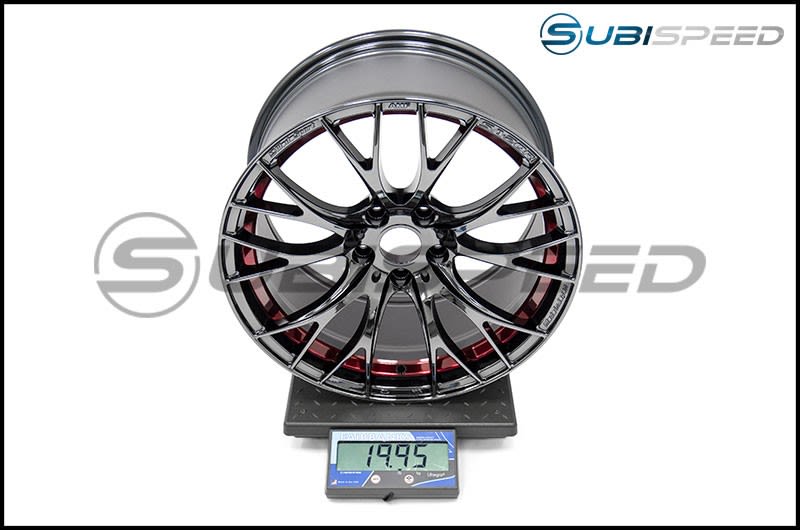 Specs
Bolt Pattern: 5x114.3
Offset: 38mm
Weight: 20.0lbs
Price is for a complete set of 4 wheels with center caps.
Note: Careful consideration of wheel width, offset, and tire sizing must be observed when choosing and installing larger wheels. Adding larger wheels may lead to rubbing on suspension components or bodywork. Wheel spacers, new alignment settings, inside fender modifications, or other adjustments may be required. For more information on wheel fitments in general, please email us!
---
Optional Accessories
Hubcentric Rings
Hubcentric rings fit on the outside of your hub "lip" and are designed to create a flush fitment between the inner hub diameter of your Rays wheels and the outer hub diameter of your vehicle. Despite being only a few millimeters thick, a gap between these hub diameters can result in excessive vibrations at high speeds. Proper lug nut torquing methods can eliminate this risk, but hubcentric spacers are recommended whenever your universal WedsSport wheels are not hubcentric for your specific vehicle.
1 customer review
Aggressive new look

Charles March 1, 2017

By

When these wheels first arrived, they just looked so amazing in person. The different colors it gives off in different lighting and has a smokey finish to it. The red inner ring is a nice touch to match the STi logos especially more so if you have been small accents of red. The craftsmanship of these wheels are just amazing and worth getting. WedsSports certainly make quality wheels! And a shoutout to Subispeed for getting a limited production color in red to make these rare to have! It's a great flush look, little poke to it so choose your tires carefully if you don't want to roll the fenders. Most people out there would recommend going to 255/35/18 that will also work with a small drop. Pictures I'm submitting will be 255/40/18, adds that beefy aggressive look while keeping that 40 sidewall of ride comfort and having a lesser error ratio on the speedo. Has very minor rubbing on the rear, currently not rolled. It will only rub in the rear if you add like 650 lbs of extra passenger or cargo weight to the car on the freeway on big dips. I've gotten alot of positive feedback on these wheels from everyone that seen these in person. Again, so worth it! There's only a few remaining, get them while they last!
Upload images for this product