Subaru
Subaru JDM OEM Special Edition S207 Red Seat Belt by Takata
- 2015+ WRX / STI
Ships for free in the 48 states
Give your interior some color and impress the crowds with these JDM bits. NOTE 1: Left hand drive vehicles (US), choose left seat belt for driver's side. Right hand drive vehicles (UK), choose right seat belt for driver's side. NOTE 2: These seatbelts can only be transported via ground service. They cannot go air and they cannot be shipped via USPS.
Details
JDM S207 Red Seat Belts
Wow, these seatbelts really do stand out. Only Japan was blessed with the S207 NBR Challenge STI. The rest of us can add little bits of this special edition vehicle to our very own.
These OEM Subaru seat belts present in the S207 are also made by the Takata Corporation like the originals. They will give you the same level of performance and add some style. Mounts to the same exact bolt locations for all seats.
NOTE: Disconnect battery for at least 2 minutes before removing / installing seat belts. This is to minimize any risk of safety systems deploying. The RIGHT HAND seat belt does not have a lap belt pretensioner like US models. To prevent an SRS / seat belt light from coming on due to the RIGHT HAND seat, the use of a resistor is necessary (see options). Installation of the LEFT HAND seat belt does NOT require a resistor.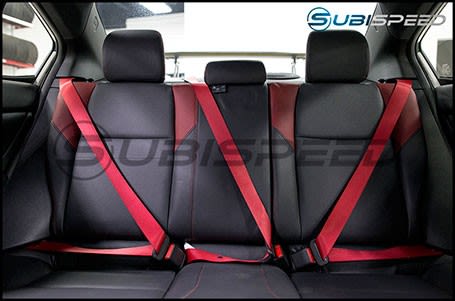 SubiSpeed Video
Strictly OEM
It is important to note that these are OEM seat belts. Safety devices are expensive to manufacturer due to a number of reasons including liability and strict quality control standards.
WRX/STI USDM seatbelt pricing (retail):

Upload images for this product

Feel free to share pictures of your vehicle with this product!