Weds Wheels
WedsSport RN-05M Gloss Black 18x9.5 +38
2015+ WRX / 2015+ STI
Ships for free in the 48 states
The WedsSport RN-05M wheels are new additions to the lightweight performance line-up, featuring the latest technology to create a strong lightweight 5-spoke wheel.
Fits with any combo of below:
Stock Springs Lowering Springs Coilovers No Rolling Needed Flush Fitment, no Poke Clears Brembos This is a SubiSpeed Exclusive run and only 10 sets are being made. Project was started July of 2016 and wheels are set to arrive into the USA January 2017. Snag a set before they are gone forever.
Price is for a complete set of 4 wheels with center caps
Details
WedsSport RN-05M
---
About The WedsSport RN-05M
WedsSport RN-05M is the newest addition for 2016. Introduced at the 2016 Tokyo Auto Salon, the RN-05M is the first Weds wheel to incorporate a double Advance Metal Forming (AMF) technique on the lip and barrel of the wheel. The RN-05M also features the new Air+ technology which aims at increasing air volume for a more stable air pressure. Together with machined and N-Frame spokes, the RN ushers in the future of WedsSport with a strong, light and good looking wheel.
---
Specs:
Bolt Pattern: 5x114.3
Offset: 38mm
Weight: 20.8lbs
Price is for a complete set of 4 wheels with center caps.
---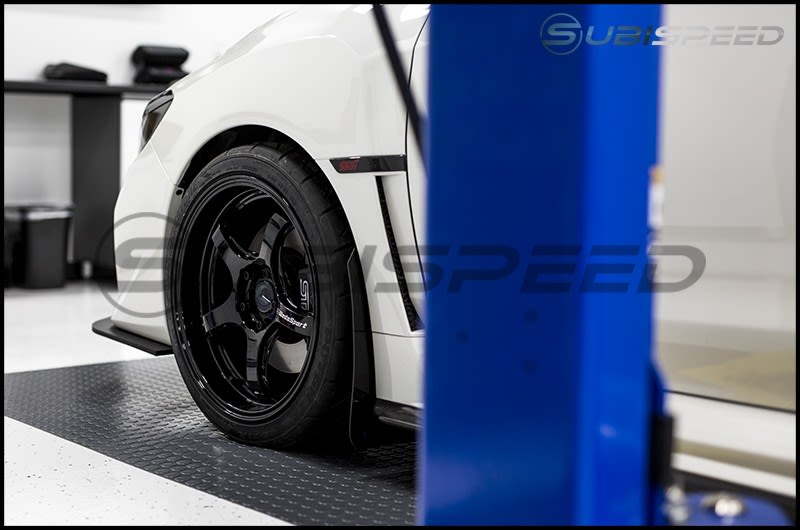 Weds Innovative Advanced Technology
The Double AMF technique allows to reduce weight and increase strength on both front and rear rim barrel without having to add material which translate to weight. The AIR-PLUS innovation is directly from their motor sport racing program where the wheel is capable to carry more air volume and also increase spoke rigidity.
In pursuit of weight reduction, and strength, Weds original H-Cross side cut milling is incorporated to the RN-05M design. H-Cross side cut increases the spoke surface area to not only reduce weight, it also increases the rigidity of the spokes which many other five spokes designs are lacking.
---
RN-05M AIR+ Technology
The AIR+ feature serves two main purposes- Increasing air volume and weight reduction. Tire air pressure and air volume translate to tire load (corresponding to a tire's ply and construction). Having proper air pressure and air volume dictates a tire's safety and its performance. Under spirited driving or racing conditions, tire temperature increases, often leading to growth of a tire's diameter or causing overheating, leading to poor tire stability and performance. This problem is prevalent especially when air volume is limited in the rim. The AIR+ pocket provides extra room to hold more air, providing additional stability. The pocket is also strategically placed at the end of each spoke which helps with rigidity and strength whilst shaving off weight.
DUAL AMF Technology
WedsSport is well known for their AMF (Advance Metal Forming) manufacturing technique (Flow-Forming). The RN-05M became the first Weds wheel to utilize the new DUAL AMF (Dual Flow-Forming) technique. The new DUAL AMF technology allows the RN-05M outer rim lip to be stronger and lighter from spinning process, whereas many other cast wheels with a rim lip have it casted, resulting in a heavier overall wheel with weight bias to the front.

---
H-Cross Reinforcement
The H-Cross feature WedsSport's method of increasing spoke rigidity by milling the side of the spoke. By milling the side of the spoke, the surface area is actually increased. With the proper balance of materials used and precise calculation of the shape, depth and radius, the spoke's rigidity and strength is increased whilst simultaneously trimming off weight.

---
Rim Barrel Shape
A wheel's barrel shape is probably the less understood area of a wheel. Its shape and dimension contributes to the wheel's strength and rigidity. Since most vehicles drive with a slight camber angle, the inner barrel takes on more of the vehicles weight, making its shape and dimension critical, especially on a higher performance wheel. The RN-05M employs a unique "H" rim profile which improves lateral and vertical strength especially under spirited and racing driving conditions. The leveled mid-section is relatively flat to provide even stress dispersion across the rim and helps reduce flex under high g-loads. The rim's edge and tire bead seat has been refined to further strengthen the rim and keep the tire properly seated.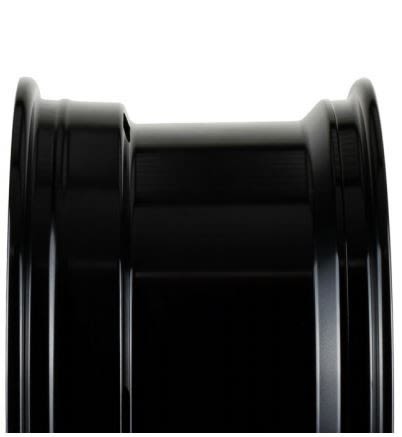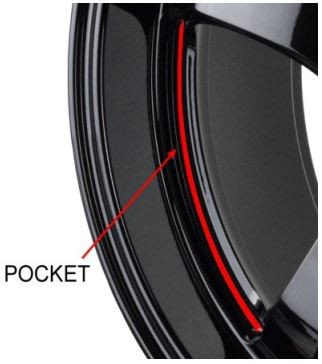 One of the common weak spots on a five spoke wheel is the cavity in between the spokes. Wheel manufacturers often tack on extra material in this area to keep up the strength, resulting in increased weight. WedsSport's engineers recognized this problem and correcting it by pocketing the rim flange, creating more surface area to strengthen the area between the spokes. Material is being removed during the pocketing process, further reducing the weight.
---
Note:
Careful consideration of wheel width, offset, and tire sizing must be observed when choosing and installing larger wheels. Adding larger wheels may lead to rubbing on suspension components or bodywork. Wheel spacers, new alignment settings, inside fender modifications, or other adjustments may be required. For more information on wheel fitments in general, please
email us
!
3 customer reviews
Awesome

Neil November 14, 2017

By

Pics added to show fitment. Stock 2016 STI. Bought these with 255/35/18 Firehawk Indy 500 tires. Front pokes out but not back which is flush as can be. All in all...these are awesome. Going to by mud flaps now to keep sides clean with the poke through road dirt all over my car. Still love these.

Look great but...

Neil November 11, 2017

By

Had some issues getting TPMS installed and wrapped these in Firehawks. Looks great with 255/35/18. Pokes in the front but flush in the back. Poke makes me hesitate about getting low. Other than that, these wheels are awesome.

Look great but...

Neil October 20, 2017

By

Finally got these on with tire size Subispeed recommended. TPMS doesn't fit. Have to do it the old fashion way for my daily or buy different angled sensors and hope they fit.
Upload images for this product