WeatherTech
WeatherTech FloorLiner DigitalFit All Weather Floor Mats
2015-2020 WRX / 2015-2020 STI / 2013-2017 Crosstrek
Ships for free in the 48 states
In the quest for the most advanced concept in floor protection, the talented designers and engineers at MacNeil® Automotive have worked tirelessly to develop the most advanced DigitalFit® floor protection available today!
Details
WeatherTech All Weather Floor Mats
In the quest for the most advanced concept in floor protection, the talented designers and engineers at MacNeil® Automotive have worked tirelessly to develop the most advanced DigitalFit® floor protection available today!
SubiSpeed Video
The WeatherTech® FloorLiner™ DigitalFit® accurately and completely lines the interior carpet giving "absolute interior protection™"! Digital laser measurements of interior surfaces offer a consistently perfect fit! A patent pending High-Density Tri-Extruded (HDTE) material allows for a rigid core for strength while offering surface friction to the carpet, as well as tactile feel to the surface! Advanced surfacing creates channels that carry fluids and debris to a lower reservoir with further channeling to help minimize fluid movement while driving! Once fluids become trapped in the reservoir, away from shoes and clothing, they are easily removed from the WeatherTech® FloorLiner™DigitalFit® over the door sill...no muss-no fuss!
WeatherTech®...where Technology and All Weather Protection meet!
Over The Hump!
Rear FloorLiner™DigitalFit® incorporates many of the same design features as the front FloorLiner™ DigitalFit®. Rear FloorLiner™DigitalFit® (where offered) is manufactured from a proprietary custom blended TPO (thermopolyolefin) that is not only wear resistant, but also remains flexible under temperature extremes. Rear FloorLiner™DigitalFit® is either one piece or two piece depending on the vehicle application.
FloorLiner is designed for vehicles with factory carpet installed when manufactured. They will not fit vehicles with vinyl floors unless otherwise specified. Please take your old floor mats out before installing your new WeatherTech FloorLiner.
Please note that the on-screen color representations are not necessarily precise representations of actual product colors due to variance in monitor calibrations.
---
SubiSpeed Floor Mat Add-ons!
Since we know you're a Subaru fan, feel free to install these on your floor mats! #kevincares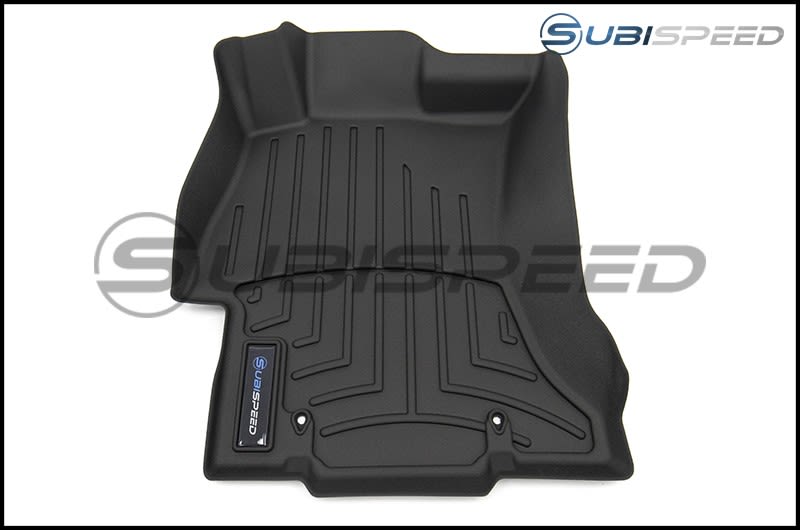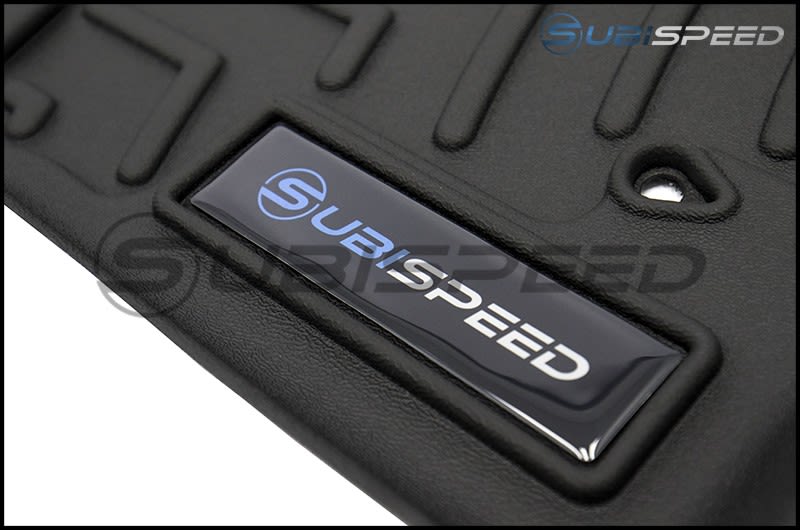 ---
Warranty
The WeatherTech FloorLiner is guaranteed against faulty materials and workmanship for a period of three years from the date of purchase. Exclusions to this warranty are wear due to severe abrasive conditions and chemical contamination, such as spilled gasoline, bleach, etc. We are reasonable people and we believe in customer satisfaction. Depending on the situation, we will either replace your FloorLiner at no charge or charge you a prorated amount for a replacement.
15 customer reviews
Come on we know these are nice

Chad August 3, 2018

By

Must have for anyone

Great product

Will May 14, 2018

By

Fits perfectly

The Only Floor Mats Worth Buying

Chris February 1, 2018

By

I have these in my work pickup and now my '15 WRX. They are the only mats I would buy. Perfect fit, tough, high quality, and easy to clean. They are expensive, sure, but think of it as a protective investment. The earlier you get them the better off you'll be.

JUST GET IT

Lwis September 3, 2017

By

If you want to do your car a favor an add value this should be first thing to buy for your car! Go check out my unboxing video on YouTube https://youtu.be/k3bai3oW5ss

THE BEST FLOOR MATS AVAILABLE!

Jake July 21, 2017

By

This is the first pair of WeatherTech floor mats that I've owned and it won't be my last. They drop right in without any hassle and the addition of the red WRX logo gives a nice factory look. The area that I live has a lot of sand in the soil. It's so nice to be able to simply pick up the floor mat and dump the sand on the ground.

Yes, this...must have item!

Pete January 24, 2016

By

I've bought these for the last three cars I've owned. Got my set with the STI inlay and they look great! These are a must have item to keep the interior clean. Sand...you can't really get all of it out of carpet...get these!

Perfect fit!

Orion November 15, 2015

By

They fit well, are heavy duty, look great. Should be the first purchase on your Subaru!

Love them!

sean June 22, 2015

By

Fits nearly perfect, quick install and saves to carpet! If you are looking for floor mats, Weathertech is the way to go!

Looks Great!

Garrett May 18, 2015

By

Look great and super easy to install! Must get the emblems!

Worth the price

Adam April 13, 2015

By

This is my third time buying WeatherTech. I love their products, the fit is great and even after 150,000 miles (with a wash) they look brand new again. I always grab a set with every new car and when I'm ready to trade it in the carpets look great. These mats are worth the money. For the WRX I went with the custom logos and it's a nice touch. Most people comment that the mats look factory with the logo. A+ for WeatherTech and DD

Could be better..

iK April 7, 2015

By

These seem to work well. My feet down slip, even in dress shoes. But is seems the fit could be a bit better. The driver side one sits too high because of the clips and that should have been taken into account since the mat has the holes for the clips. Also a bit pricey for the entire set. Don't get the emblems. They're just cheap plastic plates with dual sticky tape/foam. Mine came off almost immediately and they don't look as nice as the Weather Tech emblems. I emailed Subispeed but no response. I then emailed weather tech and they sent me new ones, since the ones I took off (for the WRX emblems) lost their adhesiveness. My last review was never posted (wonder why).

Great floor mats.

Mike April 4, 2015

By

I ordered the front and rear mats and got the 2015 WRX logo as well. The mats themselves fit great and are way better than the stock mats that my car came with. I ordered the red on black 2015 WRX emblems to swap out and they did seem a tad bit too large for the slot so getting them to fit wasn't as nice as hoped. Plus I was only supplied with 4 tiny little glue squares which were not enough to keep the plates secured so I had to apply a good amount of glue. Other than that the emblems look nice.

Looks good!

Tan February 28, 2015

By

My stock mats were getting nasty because we live in a new construction neighborhood. Finally ordered these, and the coverage looks great compared to stock mats. I have to admit, they are spendy for floor mats, but looks great in the car. Fit and finish is almost perfect. I'm sure after a few warm days they will conform to all the curves. Bought the STi emblems to go with it and they look really good.

Buy Them!! This should be your first MOD!

xsmooth69x December 26, 2014

By

Get the full set! They are amazing The back seat section seems to have a slight fitment issue but nothing to write home about. I just slide the cover slightly under the cup holder center column panel in the back. Also get the aftermarket Logo. They are not stickers they are actually an etched plastic plate. Very very nice! Other side note they are a little stingy on the double sided tape. Only 4 per emblem.... would like to have had 6. Also make sure to wipe down the sections where you will be laying down the tap so it adhere well. Make sure all the alcohol evaporates FYI Awesome product, xsmooth69x

Great Product

Brady November 7, 2014

By

Great product, expensive, but worth it. Bought Front and backs with WRX emblem plates. Does feel OEM which was the #1 thing for me. The fit is about 4.5 out of 5. Not perfect, but about as perfect as you can expect. I cannot imagine the car without it. I did have to shave down 1 of the WRX emblem plates to fit the mat flush, but oddly enough it was because the drivers side mat opening for the emblem was slightly smaller than the passenger. Besides that, it looks really good. I am not a huge fan of "all weather" floor mats as I thought of them as the cheap plastic types that just feel like you are walking on slippery plastic. I prefer carpet, but these do feel really good. I can only really speak on the driver side for now, so it seems to cover just enough on the sides where my pedal foot will not wear into the carpet on the side. Seems like it will protect my carpet from being worn out. It is also very easy to clean.
Upload images for this product