AWE
AWE Touring Edition Exhaust Chrome Silver Quad Tips (102mm)
2015-2021 Subaru STI
AWE is a performance brand that mainly catered to high performance European vehicles, until now. Their exhaust lineup for the VA chassis is based on extensive testing and proper engineering.
Max gains of 11 hp and 11 ft-lbs of torque at the wheels.
Details
AWE Touring Edition Exhaust
Top 3 Exhausts for 2015-2021 WRX/STI
AWE Track vs Touring - Which is the Right Choice?
---
A direct bolt-on, full 3" straight-through design with a resonated mid section and tailored mufflers in the rear, the Touring Edition acts as the sophisticated, drone-free member of the WRX exhaust suite. If you're looking to liven up your commute while retaining civil in-cabin characteristics, this version is for you.
Touring Edition features AWE's proprietary drone-canceling solution, 180 Technology®, tuned specifically for the EJ25
Handcrafted from 3" CNC mandrel-bent, U.S.-sourced .065" wall T304L stainless steel
AWE Touring Exhaust Showcase
---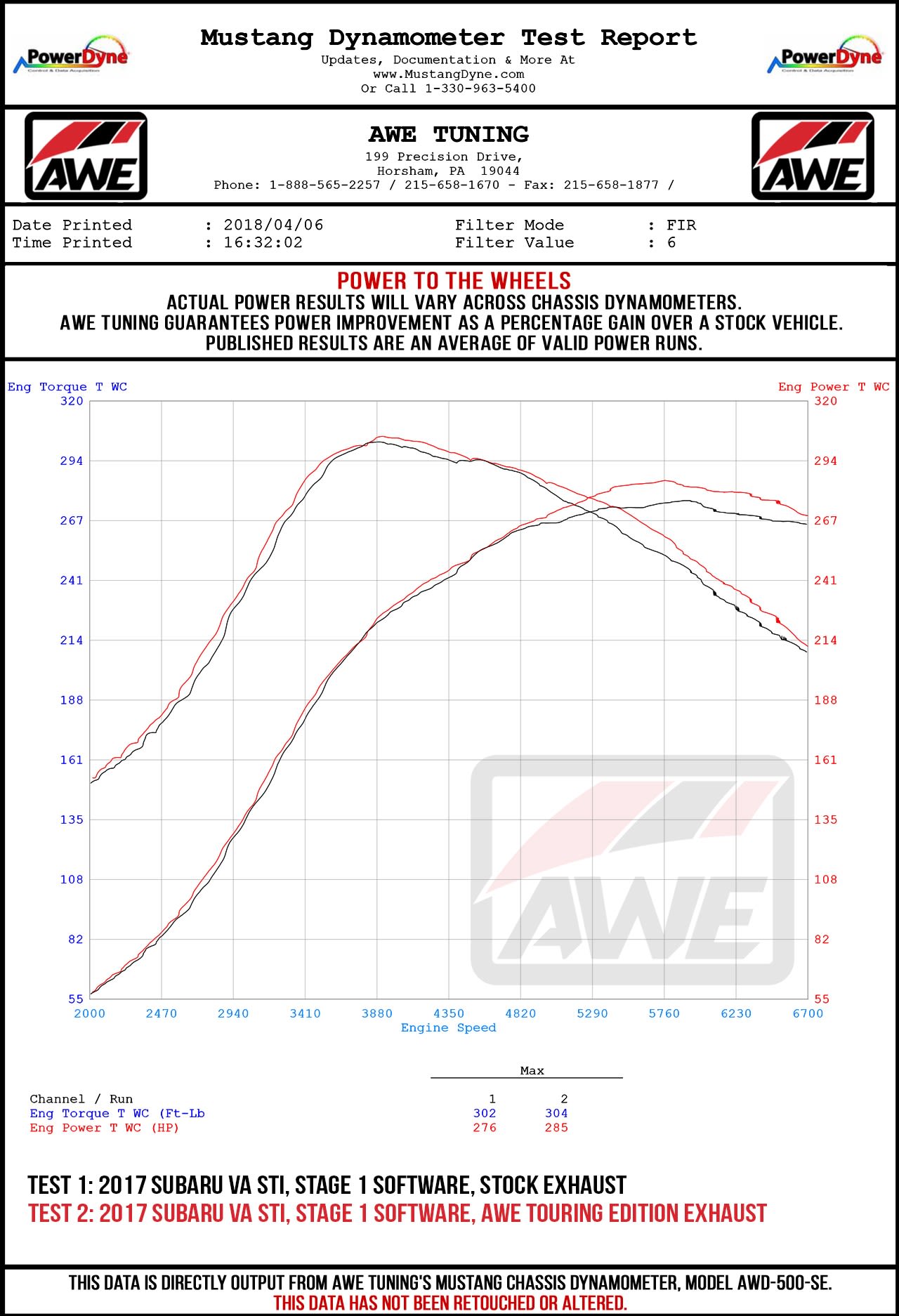 AWE Dyno Tests for AWE Cat-back Exhausts for Subaru VA STI
Here is a comparison dyno test as performed on our Mustang MD-500-SE AWD dyno.
This sheet shows Wheel Horsepower Gains for the AWE Cat-back Exhausts for Subaru VA STI.
---
Conversion Kits
We made it easy to convert from a Track Edition to a Touring Edition, or vice versa, if you decide at a later date to turn it up, or turn it down
Tips
All tip options include the AWE logo and double-walling to ensure a mirror finish even under hard usage. All tips are individually adjustable, allowing depth into the bumper to be set according to personal taste.
102mm slash-cut chrome silver tips
What's in the box?
Complete Touring Edition Exhaust, four 102mm tips in chosen finish, and all necessary hardware for installation.
AWE Fitment Guarantee
All AWE brand products have a fitment guarantee. This is our pledge to have made products that perfectly fit, for easy installation by a qualified installer. Coverage is provided to the original owner up 30 days from purchase (with proof of purchase).
Action
Consultation toward resolving installation issues. Should AWE deem that installation issue is due solely to a manufacturing defect, AWE will issue a replacement product or portion of product, free of charge.
Labor
Labor is not covered.
Shipping
If claim is determined by AWE at its sole discretion to be a manufacturer defect, AWE will cover two-way shipping to AWE either from consumer or dealer, and back to either consumer or dealer. AWE may also request a "Destroy in Field" of any defective parts.
QUESTIONS & ANSWERS
No questions have been asked about this product.
Upload images for this product
© 2014 Subispeed. Powered by JB Autosports.