SubiSpeed
SubiSpeed VA Gurney Flap for OEM Short Spoiler
2015-2021 Subaru WRX & STI
This gurney flap provides a performance boost and styling appeal for your 2015+ WRX / STI w/ low profile spoiler.
NOTE: Requires the low profile OEM or low profile OEM look spoiler (OLM / Seibon Low Profile).
Details
SubiSpeed's VA Gurney Flap
With its simple install and OEM based styling, this add on will be a favorite for many 2015+ WRX / STI owners. Adding it to your vehicle results in a small amount of drag, but a good amount of downforce at speed.
NOTE: Requires the low profile OEM or low profile OEM look spoiler (OLM / Seibon Low Profile).
SubiSpeed Installation Video
NOTE: The recommended temperature range for both the vehicle surface and the part during application is 18 - 40 °C (64.4 - 104°F). Additional heat is not required for 3M pressure sensitive adhesives.
---
OEM Based Styling
The OEM low profile spoiler is a clean factory piece. The SubiSpeed VA Gurney Flap keeps the lower center portion as part of its design and has a clean surface on the backside. No mechanical fasteners.
This design looks good with the OLM RÜF Spoiler which has the same design elements.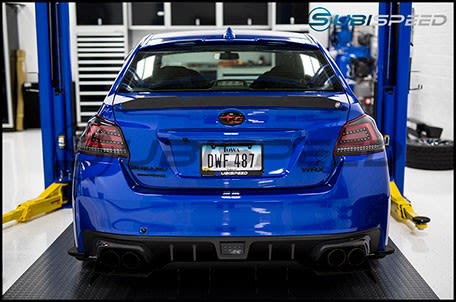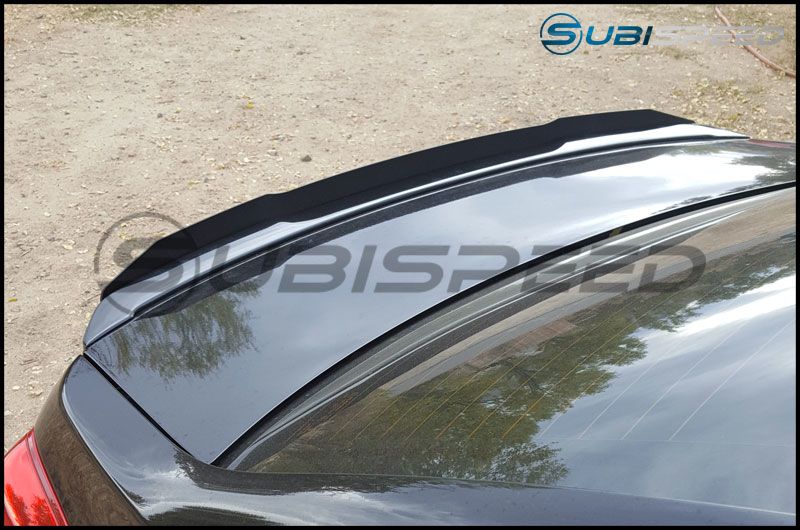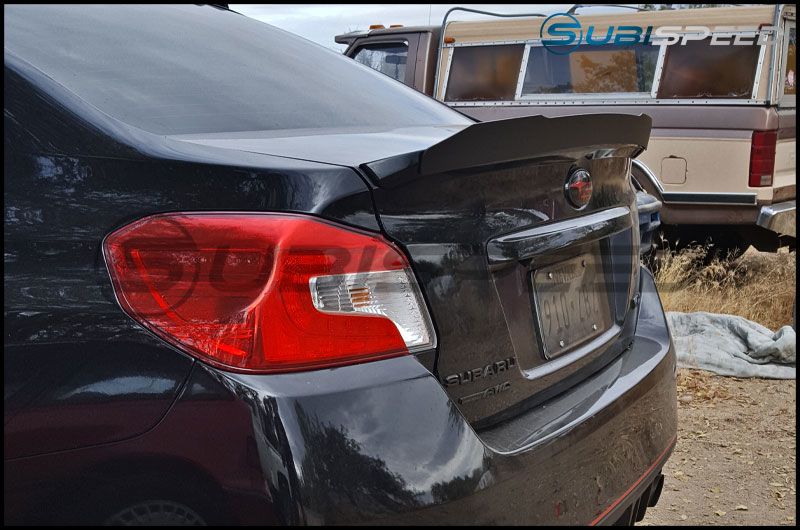 ---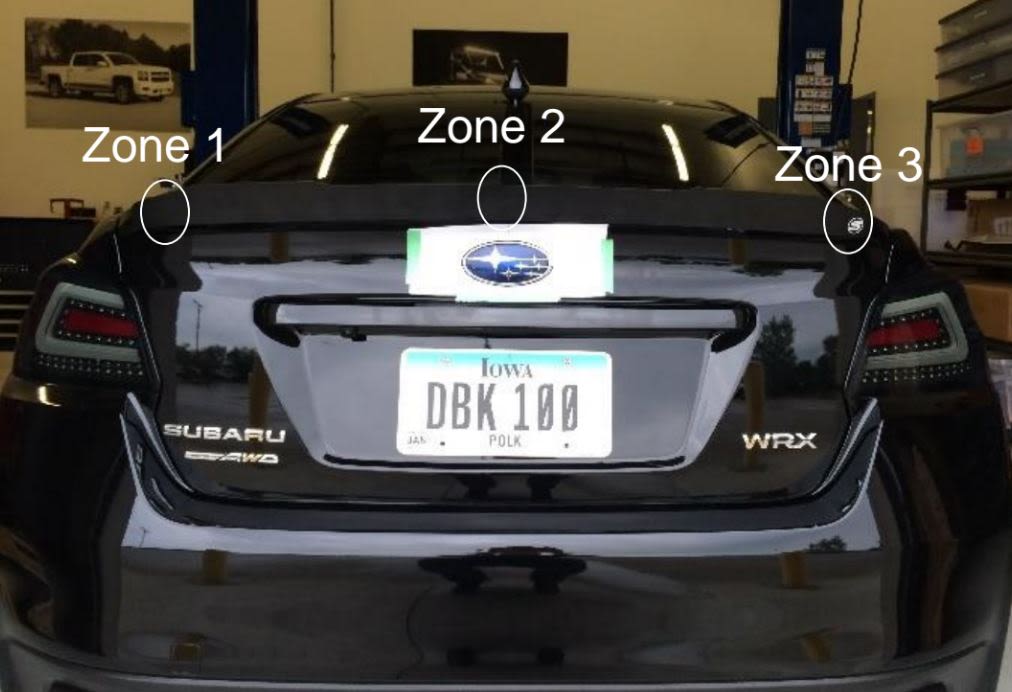 The 3M Way
Local manufacturing experts in Des Moines, IA were able to use their extensive knowledge of automotive design and production to come up with a solid mounting solution.
PT1100 is a 3M Acrylic Plus Tape black foamed acrylic adhesive with additional acrylic adhesive on both sides. Typical applications are attachments of rigid add-on-parts such as spoiler, rocker panel, antenna housings, roof ditch moldings and wheel arch extensions, etc., where an aesthetic bond line is required.
It is cold temperature impact resistant and does not allow the gurney flap to have play after installed unlike many adhesives would.
A pull test with a Wagner force gauge was performed on the gurney flap. It resulted in 21-22 lbs of force before peel in zones 1 / 3 and over 50 lbs in zone 2 before the gauge moved along the axis of the gurney flap. These single point tests suggest much higher adhesion strength along the entire surface of the flap.
3M rates their tape at a 90 degree peel adhesion for 44 newtons per centimeter. This converts to about 25 lbs per inch of tape. The gurney has the force applied to the tape at approximately a 75 degree angle from horizontal. This gives an even larger factor of safety.
---
Pre Bent
In order to relieve the tension found in a flat piece of metal, the gurney flap takes a journey through a roll bender. This machine has been programmed to match the curve of the OEM spoiler. This was a key element that allowed proper installation without mechanical fasteners.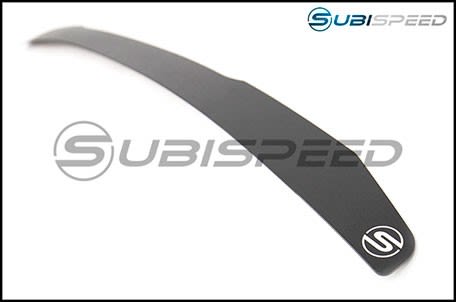 10 customer reviews
Great look

Woobaru August 13, 2022

By

Easy install using the template. Don't doubt the strength it won't budge!

Great! New look really recommend

Aaron November 5, 2021

By

I know it's pretty expensive for what it is but once u put it on wow it changes the whole rear end I love it

Disappointed

Shaun June 24, 2021

By

Adhesive held up well for the first couple weeks. This Louisiana humidity had it beat though. Started peeling and adhesive gave way. Fell off while driving and is now being used by alligators for stealth mode.

This sticks

Amy March 26, 2021

By

This thing sticks and stays. I had it on for a year and loved it

1.5 years on STI - holding up great

jeff December 24, 2020

By

Looks great, under the radar and affordable. No issues in rain, winter, highway use. No issues save I wish they actually made it a tine bit bigger for more downforce.... Also, would be cool to have it painted in factory colors....as an option.

Outstanding product & customer support

Maxwell December 13, 2020

By

Looks great installed on my WRX. When I first received the gurney flap it had a large scratch on it. I had contacted customer support and they where very helpful and overnighted me a new one free of change. Installation was super easy with the included template. Overall a great product.

Great little addition

Anthony November 2, 2018

By

If you wanted the Perrin version and don't want to drill, buy this. Material is quality and once put on, it's not moving. I suggest having a second person to help just because once that 3m touches the spoiler, it STICKS.

Easy Mod, Big Difference

Josh March 7, 2018

By

Super easy to install with the provided template. Didn't know if it would make too dramatic of a difference on my 2018 STi because the car is already black, but it's a very subtle addition that gives the car a much more aggressive look without having a large wing.

Great Product

Zac January 29, 2018

By

Deciding between this gurney flap vs the other options available on here and throughout the web was quite a challenge. I wanted something simplistic that wouldn't leave me with yet another OEM piece laying around my garage, which certainly help sway me towards this product over others. Install was fairly straightforward/simple...just clean the are, prep with alcohol wipe/adhesion promoter, then stick the flap on once you have it lined up, and leave it to cure. Didn't take more than 30 mins or so from start to finish, installing it alone. The piece itself is sturdy metal, and the adhesive holds extremely strong. I would definitely recommend this product to anyone looking for a slightly more aggressive look, without having to do much, if any, labor/install work.

Style above all else`

Kyle February 16, 2017

By

So I was skeptical when picking this one up over the Perrin flap, but i did not have to drill any holes in my spoiler so I went for it. With this flap, there are plenty of ways to install it to suit the look you want that I saw. I recessed the flap a bit further down on the spoiler and it looks sick. if you can get past the adhesion promoter smell, then you need to get this. Its extremely lightweight and works better than I expected. Reminder: you seriously should wait to drive your rex 24 hours after installing this piece. The directions tell you do to so, so don't undermine that aspect. if you wait, the flap will hold like it was welded on.
QUESTIONS & ANSWERS
No questions have been asked about this product.
Upload images for this product