Hella
Hella Supertone Kit with Bracket and Wiring
2015-2020 Subaru WRX & STI
Hella horns can increase situational awareness for drivers in your vicinity. To simplify installation, we've made a vehicle specific bracket and wiring for these popular horns.
This is a kit we assemble. Usually all components are in stock. Sometimes popular colors can have delays but we do our best to keep every color on hand at all times.
Details
SubiSpeed Hella Supertone Horn Kit with Bracket and Wiring
Hella horns can increase situational awareness for drivers in your vicinity. To simplify installation, we've made a vehicle specific bracket and wiring for these popular horns.
The center of the Supertone horns are black from the factory and the center of the Sharptones are blue. This will not change even if a custom grille color is chosen.
SubiSpeed Installation Video
---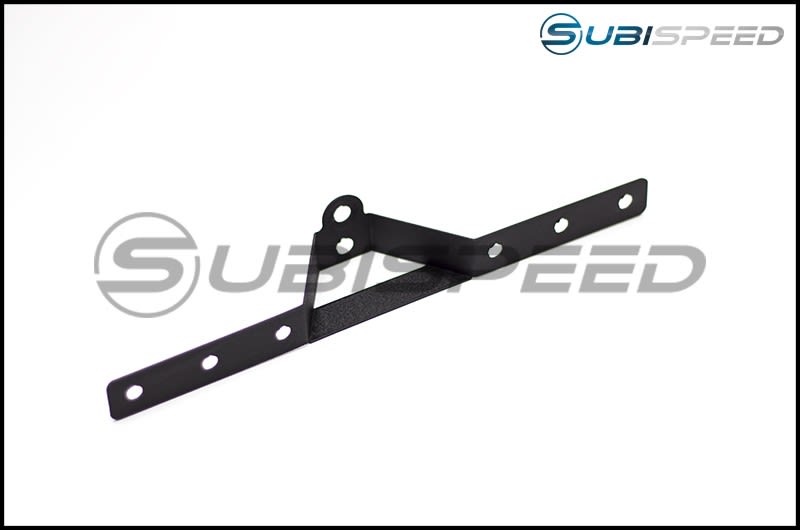 Bracket
It was important for us to make a vehicle specific bracket for the 2015 WRX / WRX STI. We wanted customers to be able to place their horns exactly where they wanted to without interfering with the front grille or radiator. The mounting bracket uses two points to secure itself firmly to the vehicle.
---
SubiSpeed Wiring Harness V1
With the mounting location and factory plug design in mind, we made a harness to simplify the installation. It includes a 12V relay and inline fuse.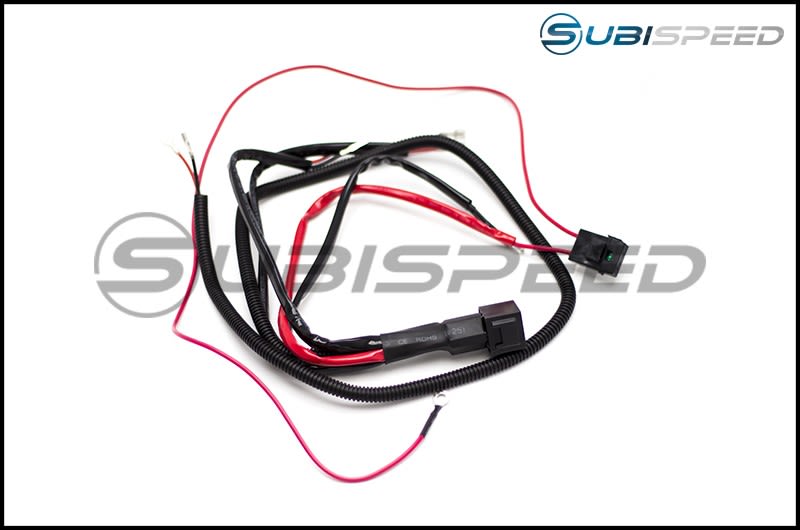 ---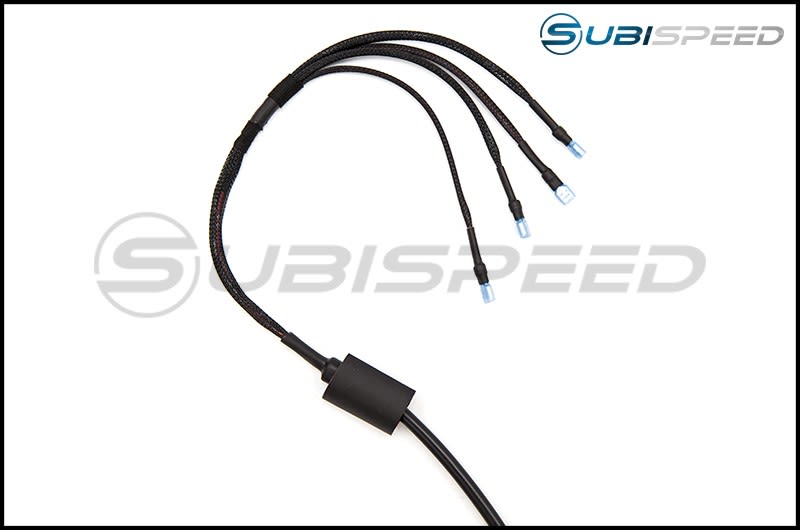 Hella Horn Plug and Play Harness V2
This newer harness is plug and play. For 2015-2017 vehicles, just connect it to the old driver's side horn plug (disconnect from original driver's side horn). Then use the heat shrink to cover this connection. Connect 1 pair of wires to each horn (1 red, 1 black wire). For 2018+ models, you must trace the passenger side horn harness up to where it connects to the main headlight harness AND choose the EXTENDED version. Use this connection for the plug and play harness.
NOTE: You MUST use the heatshrink over the V2 harness connector and the OEM connector.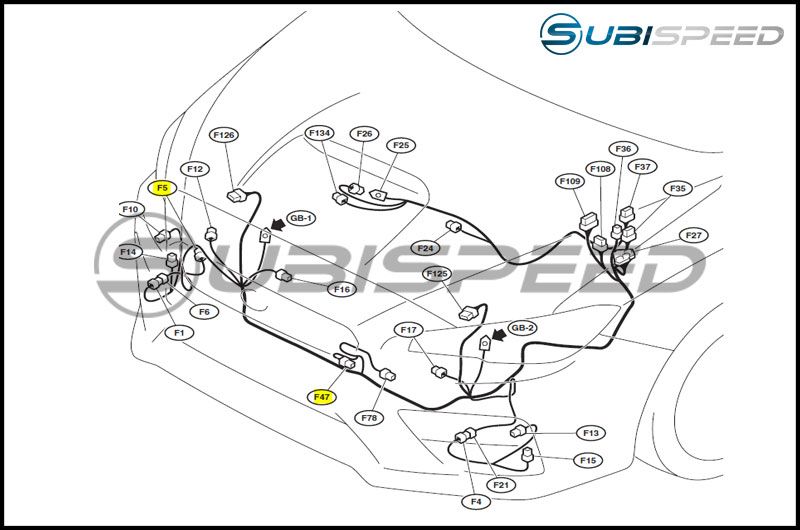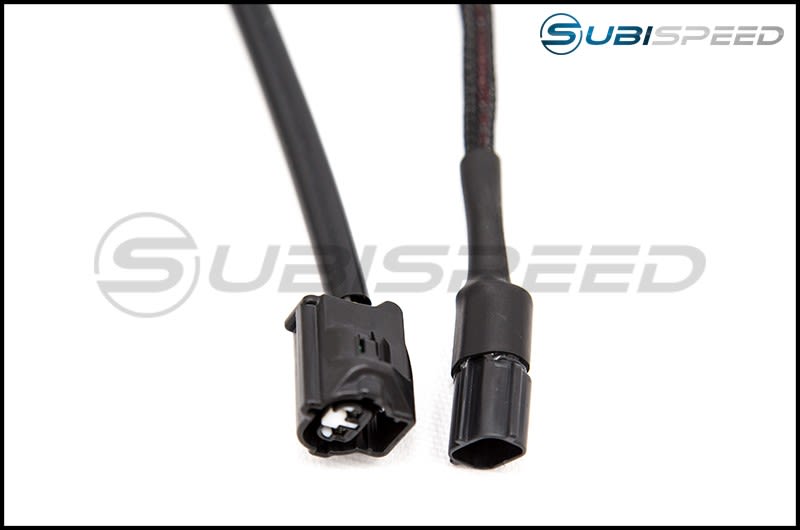 ---
Also Shown In Subispeed's 2016 Grille Showcase
Hella Super Tone Information
With over 100 years of expertise working with leading German luxury brands, we know what defines performance. Be assured of satisfaction as each HELLA horn is individually tuned to deliver optimal sound performance.
---
Compare Sounds
Listen to the sounds of the Super Tone and Sharp Tone horns on your smartphone or listen to our Youtube video.
Android Phones - Google Play
iTunes for iPhones - iTunes
iTunes for iPads - iTunes
---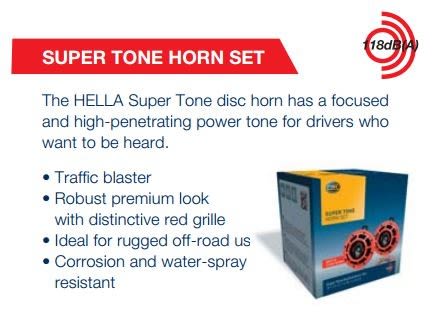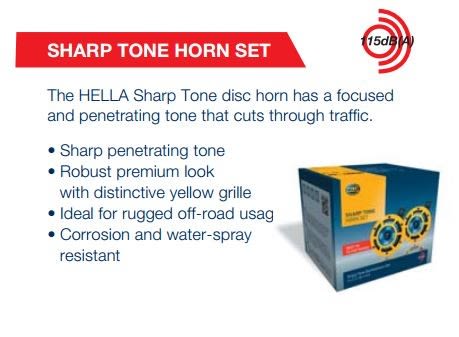 Hella Super Tones Technical Specifications
Sound Level: 118 Db (A)
Frequency: 500 Hz High-tone/300 Hz Low-tone
Power: 2 x 66W
Hella Sharp Tones Technical Specifications
Sound Level: 115 Db (A)
Frequency: 415 Hz High-tone/350 Hz Low-tone
Power: 2 x 42W
---
Kit Contents
Two Hella Super Tone or Sharp Tone Horns
SubiSpeed Mounting Bracket
SubiSpeed Wiring Harness
Zip Ties
Bolts / nuts for mounting the horns
People who viewed this item also viewed
13 customer reviews
Dont Buy

Kevin September 6, 2020

By

Dont use this bracket. Right where the bolt goes in on mine the bracket is so thin (and cheap at that) snapped in two.

Cover Your Ears

JimiJimiJimi24 August 23, 2020

By

My mistake was telling my gf to honk when I was right in front of them. I went deaf for like a whole minute. Hella Loud 😂 I have a 2019 WRX . As instructed you only need to use the V2 for 2018+ Once you take off the stock horn. You follow the wiring that takes it towards the passenger side fog light. You'll see a 2nd stock horn. That's where the V2 plug in play gets connected. When testing, again, cover your ears. ALSO, my passenger side window stopped working when I disconnected my battery lol reset it by holding up the window bottom for 5 seconds. In case anyone else's runs into that. 😂 Although it doesn't sound as loud when the windows are up. It does echo the streets when you have them down

Great buy!

Trevor April 12, 2020

By

Over all a great product and happy with this purchase. Look and sound great. Installed pink horns, bracket, and extended harness on 2019 STI. A couple of small notes: Bracket gets a bit flimsy at each end so mounting the horns here causes it to flex quite a bit. I was not able to mount them quite where I wanted them for fear of them bouncing off the crash bar. I could've just misinterpreted or missed something but installation instructions above confused me. "For 2018+ models, you must trace the passenger side horn harness up to where it connects to the main headlight harness". To me this sounded like starting at the passenger side horn F5 plug and tracing across to the F47 plug. I had issues tracing this wiring. After doing more research I tried connecting to the F5 plug and this worked. May just be a newbie mistake but thought it worth mentioning. Uploaded a picture below.

Hella Super Tones

Erick March 20, 2018

By

Got the red super horns with bracket and wiring. Taking the bumper off can be time-consuming the first time, but after doing it once it becomes easy. Install was quick and easy, and the sound is very loud.

Looks mean!

Marc August 30, 2017

By

Only tricky part of installation was removing the front end, but even that wasn't too bad. The mounting/wiring was pretty easy, and they add so much to the look of your car!

Hella Horns, Hella Loud

Eric April 30, 2017

By

Very simple install. A couple screws. Most difficult part would probably be getting the bumper back on by yourself. Made the car so much louder. Didn't want to void warranty yet with a down pipe and tune, so the other way to be loud would be with my horns.

Hella Loud

Smith March 29, 2017

By

Louder than stock, for sure, but i bought for them for the look and they look Bad A$$. The hardest part of the install was taking the bumper off and putting it back on. The wiring kit that came with it worked great!

Perfect Upgrade

Cory March 14, 2017

By

Installed the Hella Supertone horn while I was doing my c-light switchbacks and had my bumper off. Great opportunity to do an easy horn upgrade while I was waiting for my paint to dry on the chrome headlight housing. I ended up getting a red horn to go with my black and red theme on the car, though subtle for it being behind the grille. Having a horn to go along with such a mean looking style really brings life to my vehicle. I am no longer embarrassed of my horn. Watching the installation video and putting that sucker in only took me about fifteen minutes to complete and give my vehicle a mean horn to match the mean look. Easy upgrade, highly recommend.

Hellahorns dood.

shawn February 16, 2017

By

Got the package quick, and it was nice and insulated to ensure no damage to my horns. The install is easy, aside from the plastic bumper clips. If your clips are old or dried out chances are you will break one (I broke the one in the wheel well ='[). Aside from that, the kit is pretty straight forward. And best of all, I no longer sound like a jetta in traffic. Beep Beep.

Looks good and sounds better

Adam January 25, 2017

By

First time ever changing the horns on any vehicle I've ever owned and I'm not disappointed one bit. Looks good and they sound even better.

Great product

Jeff May 28, 2015

By

Fairly easy to install; just watch the video above. Also, they sound great and look awesome, very cool addition to my WRX...highly recommended!

Great Horns of Fire

Brandon April 10, 2015

By

First time Subaru owner and first time I have ever thought of changing the horns. These things are loud and definitely get other peoples attention. Install was easy by following a few videos. For bumper removal I used the JDM grill video (address below). The video above was very useful for the rest. http://www.subispeed.com/2015-subaru-sti/exterior/grilles/subaru-oem-jdm-grille-2015-wrx-2015-sti#.VSffMBqgbTI

Super tones

scott February 8, 2015

By

Was fairly easy to install. removal of the front bumper was the longest part. After install, it looks awesome and youtube videos do not do them justice. The sound is much louder and deeper. I love it.
Upload images for this product