Enkei
Enkei Raijin 18x9.5 +35mm Gold
2015-2020 Subaru WRX & STI
Whether you're stock, lowered, or slammed, these Gold Enkei Raijin 18x9.5 +35mm will look awesome on your 2015-2020 Subaru WRX or STI!
Note:
For STI to clear the caliper you will need a 10mm spacer. Check out our spacers by clicking
here!
Details
---
Enkei Raijin Wheels 18x9.5 +35mm (Gold)
---

---
Highlights:
Size: 18x9.5
Offset: +35mm
Hub Bore: 73mm
Bolt Pattern: 5x114.3
Weight: 21lbs
Color: Gold
Fits with any combo of below:
Stock Springs
Lowering Springs
Coilovers
No Rolling Needed
Flush Fitment, no poke
Suggested Tire Size: 245/35/18 or 255/35/18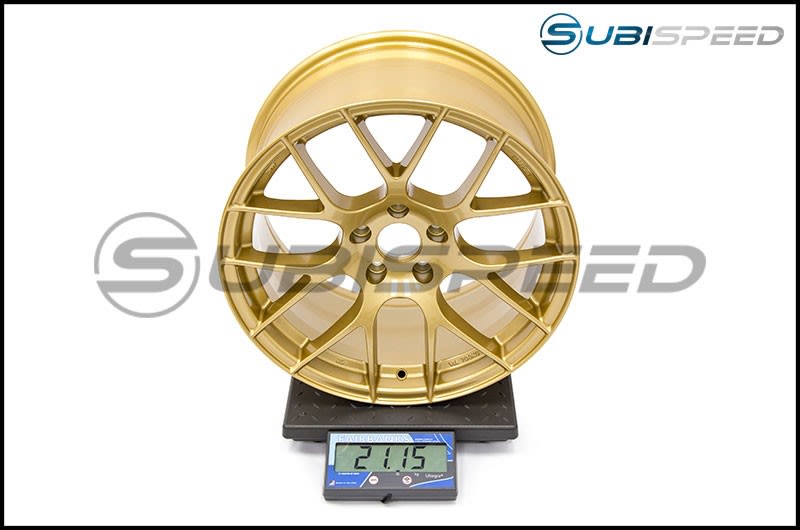 ---
Add Some Wheels with Awesome Fitment to your WRX or STI
Transforming your already aggressive looking Subaru WRX or STI into a head turner is made easier when you throw a set of these Gold Enkei Raijin wheels on, especially at this price point. It's a win win situation.
Built for Performance
ENKEI wheels deliver the latest in wheel designs, composite alloy technology such as, casting/forged processes, rigid testing that must pass stringent JGTC Standards and unsurpassed manufacturing facilities. Enkei is dedicated to perfection and delivers the best in aftermarket wheels.
In racing there are no compromises and the passion to maximize performance is never ending. Enkei's involvement at the highest levels of competition enables our engineers to apply their technology to the ultimate test. Direct to the racetrack to the street, M.A.T. Technology features forged processes at a lower cost.
All Enkei wheels are engineered to pass rigorous testing. In fact, Enkei established its very own test standards called Spec-E, which is tougher than JWL requirements. Enkei's Spec-E test requires a higher drop point in the impact test and 20% more cycles for the rotary bending fatigue and dynamic radial fatigue tests than JWL standards. The Spec-E represents Enkei's confidence in its technology and quality of Enkei wheels.
Fitment:
2015-2020 Subaru WRX
2015-2020 Subaru STI
---
Not sure?
For STI you will need 10mm spacers to clear front Brembos.
NOTE:Careful consideration of wheel width, offset, and tire sizing must be observed when choosing and installing larger wheels. Adding larger wheels may lead to rubbing on suspension components or bodywork. Wheel spacers, new alignment settings, inside fender modifications, or other adjustments may be required. For more information on wheel fitments in general, please email us!
People who viewed this item also viewed
Upload images for this product