OLM
OLM V1 Type B Full Width Roof Vortex Generator (USDM)
2015-2016 WRX / 2015-2016 STI
After a few months of measuring and remeasuring OLM has created a vortex generator to fit USDM models. Attaches with automotive grade double sided adhesive (included). ABS plastic construction with a matte black finish.
NOTE:
Please read the differences between Type A and Type B vortex generators in the description below.
Details
OLM Version 1 Vortex Generator - Type B
This new vortex generator is larger than the OEM model in all dimensions. It fully extends to the rain gutters and surrounds the factory antenna.
ABS plastic construction with a matte black finish.
2017 Vehicle Fitment
This vortex generator fits all 2017 WRX models with 7 inch Starlink Radios (with or without navigation) and ALL 2017 STIs (with or without navigation).
2017+ WRX Premium with OPTIONAL 7" Starlink Radio
2017+ WRX Limited
2017+ STI
The image below shows the models the 2017 models the Type B vortex generator fits (in green).

---
2018 Vehicle Fitment
Subaru has been changing things up a lot over the last couple of years. If your antenna measures front to back approximately, 9 1/8" inches, you can use this vortex generator. However, if your antenna is approximately 8 1/2" from front to back, please use the 2015-2016 model OLM / SubiSpeed Vortex generators.
9 1/8" long antenna - use this version (Type B)
8 1/2" long antenna - use 2015-2016 version vortex generators (Type A)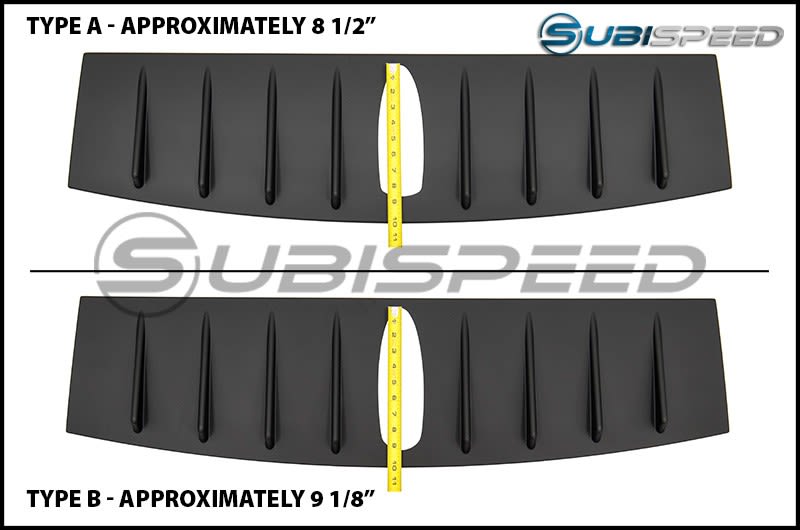 ---
Bolder Design
While the Subaru OEM vortex generator is a neat addition to the 2015+ WRX / STI, OLM's version makes a bolder statement. One of the biggest gripes was that the factory piece did not go all the way to the sides of the vehicle or the back. It also stops half way up the antenna.
Using automotive grade double sided adhesive tape (supplied), the OLM Vortex Generator can be installed with ease. Alignment is simple because it goes around the antenna and the sides rest in the rain gutters.
NOTE: Please do not apply Isopropyl Alcohol to the Vortex Generator during the installation process. This may lead to discoloration. Alcohol is intended for cleaning the vehicle installation surface only.
---
Vortex Generator Comparison
Featured in March's New Products Video
People who viewed this item also viewed
15 customer reviews
The Right Choice

K. Bros Automotive May 31, 2023

By

Fits my 2015 WRX Limited, was easy to install and definitely adds a good touch to the exterior, especially the view from the rear.

The tape sucks

Ozzy January 26, 2023

By

It looked fantastic but after I drove with it for 2 days the tape which was already not enough, I had to buy extra didn't hold and it flew off my car and took the radio antenna with it. It looked great and fit great but wasn't worth it unfortunately

Nice fit

Mark November 7, 2022

By

Great fit just make sure u line this sucker up right the 1st go

Vortex Generator

Mendoza August 19, 2021

By

This item is very nice quality and figment was nearly perfect as you can see in the image it really gives the vehicle a unique look. Thanks Subispeed!!!

Awesome Aggressive look with super easy install.

Tony March 31, 2021

By

Great product, reasonable on the price point, and adds a super aggressive look to any wrx/sti. Fit my '19 wrx perfectly, and looks amazing. Only issue is that it didnt come with enough 3m, but other than that, the install was easy and definitely a product that I'd recommend to anyone trying ti make their wrx/sti more aggressive!

Vary displeased with the fitment of this product.

blusubi August 1, 2020

By

I am extremely displeased with this product. I ordered it because this mod completely changes the look of the car imo. I get it and it dose not fit. I contacted subi speed and they sent another at no charge. Well I got the next and it still didn't fit vary well better but not well so I used the tape and stuck it because some people said the heat from the sun will help it to fit better. Well its been a month and the genorator is peeling itself from my roof. Definitely not worth the money for this kinda fitment. Which really upsets me because its a visual mod I really wanted.

Help

Keven February 10, 2019

By

Will this fit a 2018 wrx

Major style for the WRX STI

Kyle October 30, 2018

By

I was skeptical at first when I was going to purchase this item. I looked at all of the options and I knew I wanted it in a matte black finish, but was not sure the fitment on the 2019 STI. So I went out on a limb and bought this piece and installed it in the sun. This is a type of plastic so it is a little forgiving, but I had to use mild heat from a heat gun to make sure it fit across the roof. The amount of 3M tape wasn't enough to do the entire piece, but I had some extra laying around and it is perfect!

Aggressive look

Tony May 17, 2018

By

This was easy to install and makes the back of the car look a lot more aggressive. I like this better than the OEM Subaru vortex generator because its bigger .

Great Look

ALAN March 12, 2018

By

Product fits to space exactly. Tape provided was great but some parts still lift up. Without instructions on how to tape it down I decided to also add some adhesive typically used for emblems on cars. Now it holds better and the wind doesn't get under the part.

Exactly what I wanted

Zachary August 29, 2017

By

I got this one because it's beefy-er than the oem Subaru one and I do NOT regret it. I love this thing. It does not come with double sided tape which I loved because I was able to use what I like!

Looks Awesome

Ramon July 20, 2017

By

Great fit and shipped quick. Happy with the product.

Better than OEM

Mike May 26, 2017

By

Very quick shipment! awsome fit, awsome look waay better than the OEM Vortex Geni. very clean look!!

vortex generator looks aggressive :)

jaime April 26, 2017

By

fit perfect , quick shipping , would recommend

Great Buy!!

Jose December 28, 2016

By

I love my new vortex generator. It fit great and it was easy to install and it arrive in reasonable time.Thanks subispeed
QUESTIONS & ANSWERS
No questions have been asked about this product.
Upload images for this product