SubiSpeed
SubiSpeed V1 Type B Full Width Roof Vortex Generator (USDM)
2015+ WRX / 2015+ STI
We have taken the original OLM vortex generator and added a paint matched finish to it. We have a Subaru dealer paint these for a perfect match. No guessing here. Attaches with automotive grade double sided adhesive (included). ABS plastic construction with a paint matched.
NOTE:
Please read the differences between Type A and Type B vortex generators in the description below.
Details
OLM Version 1 Vortex Generator - Type B
This new vortex generator is larger than the OEM model in all dimensions. It fully extends to the rain gutters and surrounds the factory antenna.
ABS plastic construction with a matte black finish.
---
2017 Vehicle Fitment
This vortex generator fits all 2017 WRX models with 7 inch Starlink Radios (with or without navigation) and ALL 2017 STIs (with or without navigation).
2017 WRX Premium with OPTIONAL 7" Starlink Radio
2017+ WRX Limited
2017+ STI
The image below shows the models the Type B vortex generator fits (in green).

---
2018 Vehicle Fitment
Subaru has been changing things up a lot over the last couple of years. If your antenna measures front to back approximately, 9 1/8" inches, you can use this vortex generator. However, if your antenna is approximately 8 1/2" from front to back, please use the 2015-2016 model OLM / SubiSpeed Vortex generators.
9 1/8" long antenna - use this version (Type B)
8 1/2" long antenna - use 2015-2016 version vortex generators (Type A)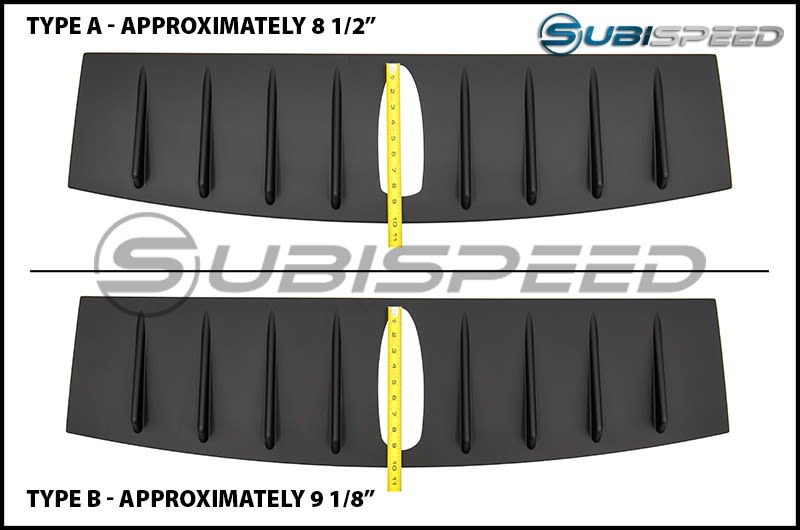 ---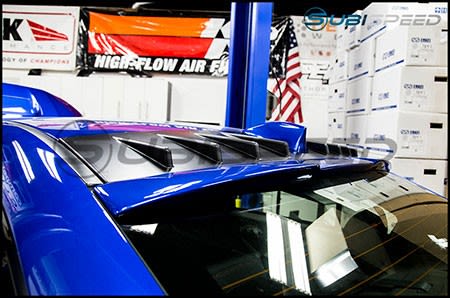 Bolder Design
While the Subaru OEM vortex generator is a neat addition to the 2015+ WRX / STI, OLM's version makes a bolder statement. One of the biggest gripes was that the factory piece did not go all the way to the sides of the vehicle or the back. It also stops half way up the antenna.
Using automotive grade double sided adhesive tape (supplied), the OLM Vortex Generator can be installed with ease. Alignment is simple because it goes around the antenna and the sides rest in the rain gutters.
NOTE: Please do not apply Isopropyl Alcohol to the Vortex Generator during the installation process. This may lead to discoloration. Alcohol is intended for cleaning the vehicle installation surface only.
---
Vortex Generator Comparison
Featured in March's New Products Video
People who viewed this item also viewed
7 customer reviews
Awesome mod. February 26, 2023

By

I've wanted this mod for a while but couldn't decide. I finally bought it and I was amazed how good it looked on my 19 STI (CWP). Install was a bit difficult, mostly because of a need of extra hands. Fitment was off the sides but just a few millimeters. Other than that, all looks great. I highly recommend it.

Color match is great, install was quick

JediSamReye November 23, 2021

By

install was quick and easy, really like the look at this paint match, I have been very happy with this generator, much larger then stock, looks awesome

Mimics Stock Body Lines of Antenna

SCUBY_DU March 29, 2021

By

WRB paint match was spot on. Recommend test fit before applying double sided tape to see where you need to match it up to roof seams, then cleaning area on roof with some isopropyl alcohol where the vortex generator will be applied. Do not put trim tape all the way up against the rear lip, it wont let it seat correctly at top of rear glass. If you are having trouble getting it to drop into the seams, lift it up and get the edges seated first then get the middle seated. Once edges are seated, start at center near antenna and trace while applying pressure where you put the trim tape. I waited till it was warm out to install to help with the trim tape sticking. Been 80+ mph and its still there.

Fitment is off

AP-137 September 27, 2020

By

For the price of the product i would expect an issue-free install. The cutout for the antenna was off so one side of the edge around the antenna pushed up against the antenna causing that side to bow and and slide under the antenna. I managed to install it and it still looks good, but again for the price the quality of the fit is disappointing.

Update from my previous review - Part has cracked

Darren August 25, 2020

By

Update from my review back on June 2, 2018. The part still looks great from a paint perspective and from a distance. However, after two years it just cracked right in the middle just in front of the antenna. It's still adhered to my roof due to the 3M double sided tape, but I was disappointed to see the crack. I don't put anything directly on the roof, so I'm not sure what caused the crack in the plastic after two years of use.

Didn't fit

Anonymous July 5, 2020

By

Didn't fit properly. Going to hope for an exchange

Paint matched or bust

Darren June 2, 2018

By

Vortex Generator was shipped quickly and was easy to install. Paint matched is the way to go. It's a perfect match and it looks awesome. Really helps separate your ride from stock. Be aware that it's definitely possible to install solo but a second pair if hands would be even better because once the double sided tape is down...thats it. It won't budge so you can't even shift it slightly. But the fit is excellent so as long as you get it over the antenna you can't mess it up. Providing some pics below.
QUESTIONS & ANSWERS
No questions have been asked about this product.
Upload images for this product