APEXi
APEXi N1 VB WRX Evolution-X Exhaust
2022+ Subaru WRX
Upgrade your 2+ VB Subaru WRX with the APEXi N1-X Exhaust for maximum efficiency and style Made from high-quality stainless steel this exhaust system features a .2mm piping diameter and a hybridencer muffler excellent torque and throttle response. With titanium tip and a sound level of 94.4db @ 4,500 RPM, the N1 Evolution is the perfect bolt-on upgrade for your ride.
Details
APEXi N1 Evolution-X Exhaust - 2022+ VB Subaru WRX
---
Specs

Piping Diameter(mm): 76.2
Piping Diameter(in): 3
Piping Material: Stainless Steel
Muffler Material: Stainless Steel
4 Piece design
Tip Diameter(mm): 93
Tip Material: Titanium
Sound Level: 94.4db @ 4,500 RPM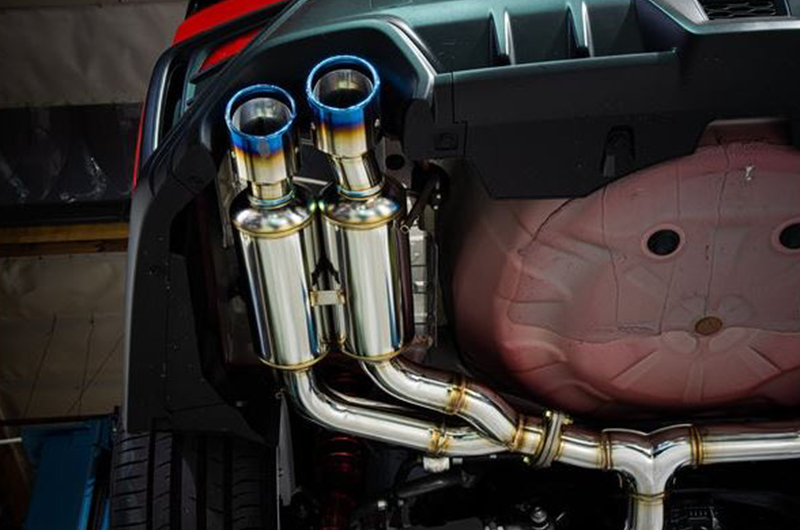 ---
N1-X Evolution Extreme: A Next-Level Muffler for the Best Driving Experience
The N1-X Evolution Extreme offers unbeatable performance with its proven performance basics of the N1 muffler, which prioritizes exhaust efficiency utilizing a straight-thru design. But that's not all, this muffler is equipped with an internal hybrid silencer that combines power and free-flowing characteristics with effective sound resonance. The 4x A'PEXi N1 Mufflers with a resonated mid-pipe design provides an ideal daily driving experience with performance emotion that is unmatched.
Unmatched Performance with Stylish Appearance
With the addition of newly adopted muffler tips, the tail end of the exhaust completes with a perfect blend of function and form. The muffler construction consists of light-weight titanium material rolled and riveted onto a double pipe structure, which acts as a diffuser to enable temperature reduction while maintaining a sporty heat gradation appearance. The 4x 93mm N1-X Titanium Round- Dual wall rolled, Angle cut (Riveted) tips and SUS 304 Stainless Steel structure TP270 Gr Titanium Tips, it is indeed a straight bolt-on system that ensures a perfect fit.
High-Level Quality and Excellent Throttle Response
The N1-X Evolution Extreme muffler has a high level of quality using tig-welded SUS304 stainless steel, which unites quiet performance with high-power performance gains. This muffler is also matched and manufactured for select chassis, making it a perfect fit for your ride. The Patented Megaphone piping structure produces excellent torque and throttle response throughout the power-band. Thanks to this piping design, a swirling exhaust gas flow effect has for years produced proven results.
If you want an unbeatable driving experience, then the N1-X Evolution Extreme muffler is the perfect choice for you. The matching and manufacturing of this muffler have been done under high-quality control, ensuring that it delivers a great driving experience every time.
People who viewed this item also viewed
QUESTIONS & ANSWERS
No questions have been asked about this product.
Upload images for this product