GCS
GCS Glow in the Dark Front and Rear Emblems
2015+ WRX / 2015+ STI
Whether at a car meet or just sitting in your garage at night, these emblems will give your vehicle a unique appearance.
NOTE:
Includes emblems + frames. 4 pieces total.
Details
Glow in the Dark Emblems
These are one of the most unique additions to the wide catalog of emblems available for the 2015+ WRX / STI. You'll be reminded of this mod day and night!
These full replacement emblems are made from plastic and come with a gloss black frame.
See additional tab for more details.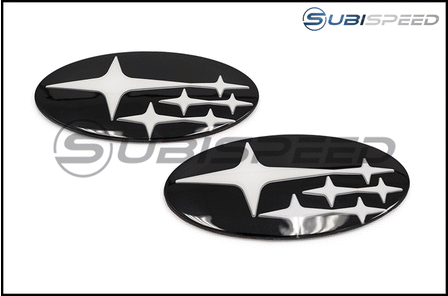 8 customer reviews
Crap

Christel May 9, 2021

By

Turned out like crap. The 3m tape doesn't work very well. Now there's an air bubble stuck in the emblem.

Crap

Christel May 9, 2021

By

The 3m tape that came along with these barely worked. Took forever to install and have it sit I, but now there's an air bubble in the emblem that is stuck there. I am going to have to remove it and replace them.

Dope

Eddie July 6, 2020

By

The only problem I have with the item is just the tape the emblem comes with is trash and doesn't reach, but just use more 3mm tape you should be good. The front actually does reach, but just use a bit more tape just in case. But overall makes my car look better.

Clean mod!

Horace May 20, 2020

By

Very easy to install, looks awesome and a great way to get rid of the factory chrome!

Nice addition but not takes some effort to intsall

Brian January 24, 2019

By

overall the look is nice but like others have said the install process can be somewhat tough. I did not have use of a heat gun/hair dryer so I ended up using hot water in a canteen to soften the glue and a bondo paddle (a plastic spatula may work) to get underneath the OEM emblem. once i was able to lift the emblem it was just a matter of using more water until the badge could be pulled loose. The front emblem did require more 3M adhesive so i had to run to the store and get more but the back emblem didn't require additional tape (it hasnt fallen off yet). The pictures above give an accurate representation of the glow in the dark color (it looks teal)

Make sure you use Gorilla mounting tape

Josh January 23, 2019

By

The emblems look great but the adhesive on the back is garbage/not thick enough to make enough contact. The front is blatantly not thick enough so I used Gorilla mounting tape on it and it's not budging. The rear one touches and i trusted the adhesive. Well it fell off going down the road. After you take off the OEM emblems use goo gone and a heat gun will make it easy if not then you're going to enjoy scraping for a while.

Easy install, use a heat gun and plastic removal tools.

Arthur January 15, 2018

By

I have a 2018 grill and had to add a bit of extra 3m to the front emblem to enable i to reach the adhesion back plate. Remember the front and back emblems are not the same, the front emblem is 1/8inch wider then the back.

Clean looking but super hard to replace the factory

Hayden August 28, 2017

By

I will say that it gives my Wrex a whole more badness but still was very difficult to replace the factory emblem, the tape or glue they use for that one is insane but overall very pleased.
QUESTIONS & ANSWERS
No questions have been asked about this product.
Upload images for this product