SubiSpeed
SubiSpeed V1 Type A Paint Matched Vortex Generator (USDM)
2015+ WRX / 2015+ STI
We have taken the original OLM vortex generator and added a paint matched finish to it. We have a Subaru dealer paint these for a perfect match. No guessing here. Attaches with automotive grade double sided adhesive (included). ABS plastic construction with a paint matched.
NOTE:
Please read the differences between Type A and Type B vortex generators in the description below.
Details
SubiSpeed Paint Matched Version 1 Vortex Generator - Type A
This vortex generator is larger than the OEM model in all dimensions. It fully extends to the rain gutters and surrounds the factory antenna.
ABS plastic construction with a *paint matched finish.
---
2015-2016 & 2017 Vehicle Fitment
ALL 2015-2016 WRX & STI models CAN use this vortex generator. The charge below highlights the 2017 models it can fit in green. Note that if you have a 7 inch Starlink headunit, it will not fit. However, if you have a 6.2 inch Starlink radio, it will.
2015-2016 WRX
2015-2016 STI
2017 WRX Premium with STANDARD 6.2" Starlink Radio
The image below shows the 2017 models the Type A vortex generator fits (in green).
2017 Model Lineup

---
2018 Vehicle Fitment
Subaru has been changing things up a lot over the last couple of years. If your antenna measures front to back approximately, 9 1/8" inches, you can use this vortex generator. However, if your antenna is approximately 8 1/2" from front to back, please use the 2015-2016 model OLM / SubiSpeed Vortex generators.
8 1/2" long antenna - use this vortex generators (Type A)
9 1/8" long antenna - use 2017 version vortex generators (Type B)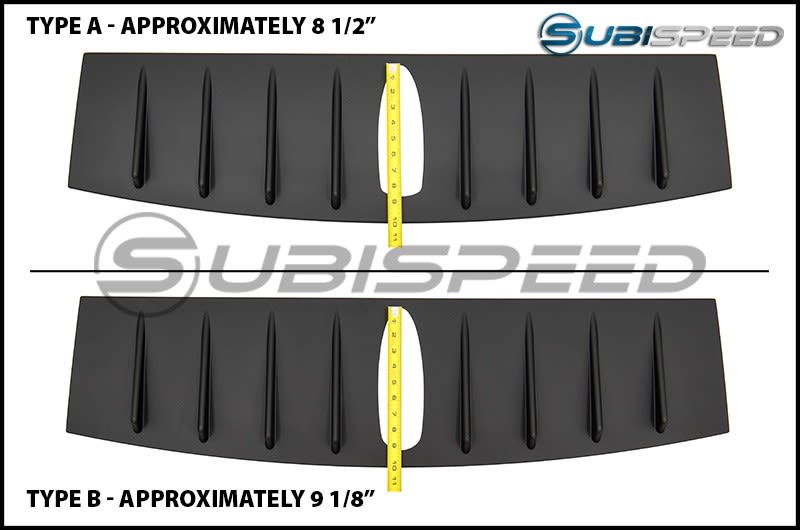 ---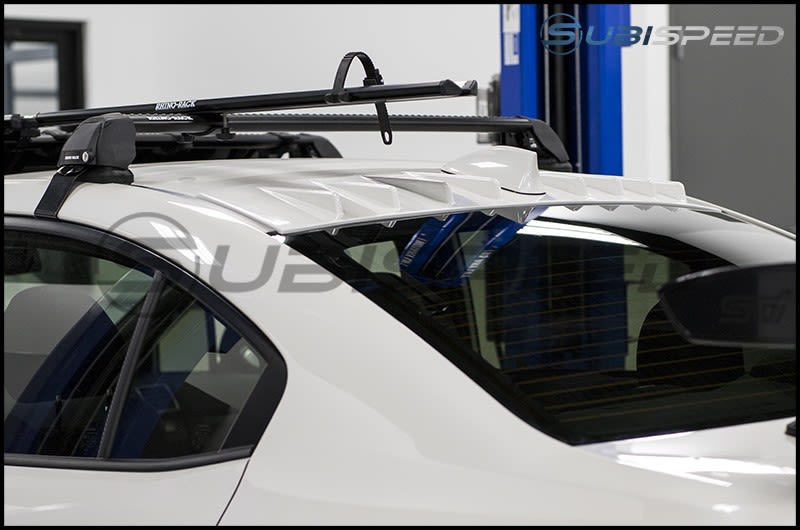 Bolder Design
While the Subaru OEM vortex generator is a neat addition to the 2015+ WRX / STI, OLM's version makes a bolder statement. One of the biggest gripes was that the factory piece did not go all the way to the sides of the vehicle or the back. It also stops half way up the antenna.
Using automotive grade double sided adhesive tape (supplied), the SubiSpeed Vortex Generator can be installed with ease. Alignment is simple because it goes around the antenna and the sides rest in the rain gutters.
---
Vortex Generator Comparison
Featured in March's New Products Video
NOTE: Please do not apply Isopropyl Alcohol to the Vortex Generator during the installation process. This may lead to discoloration. Alcohol is intended for cleaning the vehicle installation surface only.
NOTE 2: Due to shipping, some minor polishing may be required. Additional packaging materials were used to combat damage as well. Please refer to pictures
People who viewed this item also viewed
5 customer reviews
Satisfied

Jake October 17, 2021

By

Paint had swirl mark scratches on it, also some weird white texture stuff on it. Buy extra tape cuz supplied tape isn't enough. Fitment is very tight and hard to adjust with tape on once you peel off safety peel. Use two ppl for easier install. Overall happy with it. Looks nice. Lil pricey for what it is tho.

Fits perfectly

Joe January 9, 2021

By

I ordered this in the crystal black silica for my 2017 wrx and it was a perfect fit. I had to measure my antenna to know if I needed to order the type A or type B and it was the type A using the fitment chart. I was a little disappointed when I received it and opened it because there was a minor 2" scratch on the corner side towards sun roof but wasn't bad enough that I felt I needed to return it. I had a buddy help me install it and would recommend 2 people just to make it easier and to make sure everything is lined up when peeling tape off. Also the tape that was provided was #1. not long enough to border the entire generator, #2. Wasnt very wide, and #3. the tape didn't stick very well even after wiping it down with isopropyl alcohol. I ended up running to hardware store and grabbing 2 rolls of 1" outdoor 3m tape and was enough to border entire generator plus around antenna hole and it noticeably stuck so much better cause I had a hard time trying to peel it back up to re-adjust. Otherwise looks great on car and color match was perfect. Definitely recommend if your looking to put 1 on your wrx.

My favorite exterior modification.

Sam G. December 14, 2020

By

I highly recommend this product. I couldn't be happier. The paint finish is spot on. Quality exceeded my expectations. Adds a unique look that does not draw negative attention like a large wing. I have a blue base 17 WRX. I am surprised I haven't seen any other WRX/STIs with these painted generators where I live in SoCal. People that don't know much about cars have told me they thought this was how the car came since it looks so clean and streamlined. Take your time prepping surfaces and use masking tape for areas you do not want to remove wax. I bought 3m tape but I think the tape it came with would have worked just fine. I laugh now when I see other cars with cheap unpainted vortex generators.

Perfect fitment

webboy March 17, 2020

By

Paint matched in black fitment is absolutely perfect. Supplied tape comes in a roll not preset on the vortex generator. Roll is not enough to apply fully. Be sure to have some extra or order some.

Great visual mod

Cristian June 13, 2017

By

I got the cwp color it looks great but I didn't get the supplied tape adhesive which was kinda disappointing so I had to go and buy some of my own , there were minor scratches and it was tricky getting the piece to fit perfectly but other than that I still love the vortex generator and I would recommend getting it my car looks so much better !
QUESTIONS & ANSWERS
No questions have been asked about this product.
Upload images for this product