SubiSpeed
SubiSpeed Sequential / Sweeping JDM WRX S4 Style DRL Fog Light Bezels
2015-2017 WRX / 2015-2017 STI
JDM style at a lower price point! The much anticipated aftermarket replacement DRL fog light bezel has been created. This model has a sequential turn signal feature. Sold as a pair.
NOTE: Bundle does NOT include fog lights.
NOTE:
We strongly recommend testing the lights before installing them inside the headlight housing.
Details
SubiSpeed Sequential / Sweeping JDM WRX S4 Style DRL Fog Light Bezels
Since the introduction of the S4 DRL bezel by Subaru, SubiSpeed has been pursuing leaders in the industry to make an affordable replica. We utilize a manufacturing plant with years of experience in LED technology and custom plastic molds. Their LED drivers and printed circuit boards have high quality control standards which result in a low failure rate. Their products are backed by a 2 year warranty.
---
Switchback Sequential / Sweeping Function
In order to match our headlights and provide another option for enthusiasts, we've expanded our lineup to include a sequential / sweeping switchback version. This is a great choice for customers who don't want to crack open their headlights as well. You still get a unique turn signal at the end of the day.
Normally illuminated white as a DRL, they switch to an amber turn signal light when activated. After the turn signal is turned off, they switch back to white.
The sweeping motion is ultra smooth. The static pictures don't do it justice. Just wait and see some our video media!
NOTE: For ease of installation we have designed the turn signal wiring with an OEM style plug. Simply disconnect the stock turn signal socket plug and connect it directly into the wiring for the bezels. The OEM socket will remain in the turn signal housing preventing moisture from getting inside. Optionally the pass through plug can be used to light both the bezels and the stock turns.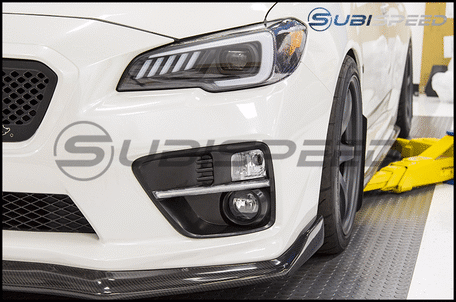 ---
S4 Bezel Comparison
Check out this video to get a brief overview of the S4 bezels we offer.
SubiSpeed Installation Video
NOTE: While this video shows the use of extensions for the turn signals, no extensions are required now. The wiring harness has been updated and lengthened.
---
These replica bezels taking styling cues from the JDM bezel and US bezel. You'll notice that they're painted gloss black and have an integrated LED light bar. The LED strip runs the length of the entire bar.
No modification to the bumper cover is required for installation. Sold as a pair.
---
Color Comparison
While all monitors are different, this picture should give you an idea of overall light output. Since they were all shot in the same conditions and with the same camera settings, you can tell which products have a warmer color output vs a cooler color output.
Layout
Upper Left - Diode Dynamics C-light
Upper Right - Morimoto C-light
Lower Left - SubiSpeed S4 Style Bezel
Lower Center - OEM JDM S4 Bezel
Lower Right - OLM Silverline S4 Style Bezel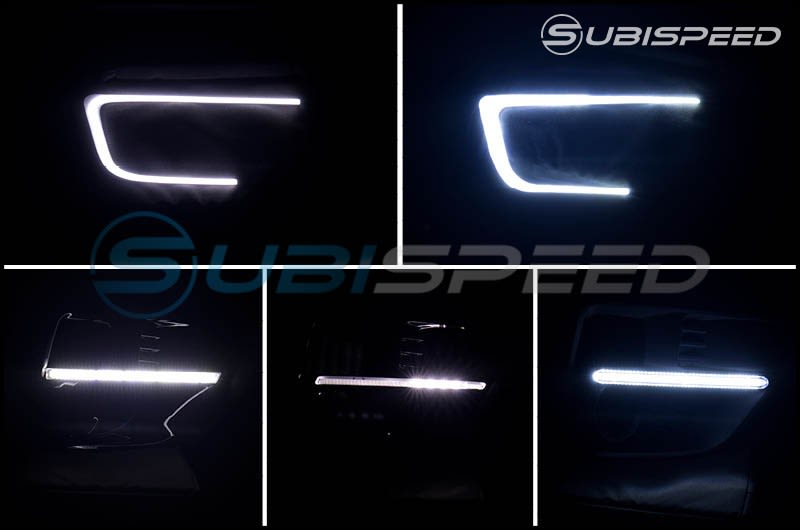 ---
Optional Quick Connect Harness
SubiSpeed has a quick connect harness to make wiring painless. This makes the install virtually plug and play.
NOTE: If you already have the SubiSpeed DRL harness (base / premium / limited), you already have the proper connections for a quick connect setup.
The installation is the same for the fuse box connection, so please view the video here for more details.
People who viewed this item also viewed
7 customer reviews
Very disappointed

Logan September 4, 2020

By

Very nice looking... for about a month or two. Paint is already chipping off the bezels. Definitely not impressed with the quality. They had to be zip tied from behind the bumper to keep them snapped in properly. They haven't even been used in the winter or driven on gravel so there was no reason for the paint to chip off already

Looks awesome

Kevin June 13, 2019

By

I had be eyeballing these since about December and finally decided to pull the trigger on them, and they look amazing on the car. They don't fit 100% perfect, I'd say about 95% fit, one clip won't snap in but it's hardly noticeable. Overall, very satisfied with them!

Great look, poor quality

Christopher June 8, 2019

By

These look great on the car but quality is poor. As mentioned by another reviewer the install is a pain because you have to cut a little of the bumper to fit them due to the harness. Unfortunately not even a year into having these you can see condensation in the LED and the cheap coating used to give it the black gloss look is cracking and peeling. New Jersey weather isn't the friendliest but I would still expect these to last longer than a year. Guess a coat of wax would help but never got the opportunity and now I'm past the point of no return. Would purchase again but definitely throw some wax on them after install to protect your investment.

Look good, install is a little tricky, first set didn't last too long, but Subispeed was great and made it right.

Mora December 15, 2018

By

So story time. I love the look of these, bought them and started my install. They weren't fitting in the bezel slots perfectly because where the wires go into the back of the bezel it hits some of the bumper. No matter how hard we pushed, they wouldn't sit flush. Ended up taking out a small chunk of the bumper behind the bezel to get it to rest flush, and even then, it's still not flat, but a little raised. Not enough to notice, you can just feel it with your fingers if you run them across. But with some hefty pushing in the corners they sit pretty solid. With the wiring, the video was helpful to get a general understanding, but didn't cover the details of exactly where what goes and how and why. Especially if you have other lighting products from Subispeed like the Sequential headlights. It took some trial and error, but eventually figured it out. It helped to have a electrical engineer friend in the garage with me who looked at it all and said, 'it probably works like this, so try this way maybe?' He was right and got it working after a little wire splicing to combine products. But you shouldn't need an expert friend to combine Subispeed products. So a few months after install I started noticing condensation inside of the driver's side light bar. It got bigger and bigger and was starting to affect the light distribution. It then started effecting the actual functionality where the lights would blink extra fast and not complete their full turn signal cycle and also prevented the cycle from happening on the sequential headlights I had as well. Talked to Subispeed and they said it was definitely not normal. Did some tests on the current and found the faulty spots in the modules, took pictures, and verified. They offered replacement or store credit and since I really do like them, I went with replacement. Got the new ones quickly, got them in, and they've been running perfectly ever since. I think what happened is that the climate I live in is very wet and it rains a lot with tons of road water coming up. I think some got inside the bar and the wiring and started shorting things out through a small hole somewhere. Probably a fluke in the manufacturing, which is bound to happen. New set has been running perfectly for a good while with no problems. I really want to make a point about the good customer service and patience from Subispeed and their desire to make this right. They could have said 'too bad, all sales final' and left it at that. But they didn't. They worked with me, emailed back and forth, and replaced the product. That's how good customer service works, and they've made a loyal customer out of me. I really appreciate it.

Excellent

Ian June 2, 2018

By

Awesome look, both the shiny black plastic bezel and the super bright LED strip. Sequential turn signal perfectly synchronized with the Subispeed sequential headlights. Fairly easy hook up once the bumper is off. Be aware that if you remove the factory blinker bulbs, the car will think that a bulb as burnt out, and all lights will blink at 2x speed. Given that I have the LED headlights and now fog bezels (both with turn signal capability), I don't want or need the stock yellow bulbs to also blink but you have to leave them in. Wish there was a work-around for this. Also, the plastic clips that snap onto the bumper aren't a perfect fit. Other than that, great product.

DRL's look good, turn signals too dim

Kian February 27, 2018

By

What I primarily love about these is the DRL function. They are very bright and distribute light evenly with no hot spots. I also really like the gloss black finish that these bezels have. It goes well with my black STI. Two issues I had with these that were upsetting at first was the difficulty of installation and the brightness of the turn signals. Installing these bezels into the bumper took a lot of convincing. They were very difficult to fit but finally got in after about an hour. The second issue I have with these bezels is that the sequential turn signals are much too dim to be safely used in the sun. After installing these bezels, a friend of mine and I went on a drive. As soon as I pulled out of our street, he called me and told me that he couldn't tell that the turn signals were on, and could just barely make out a sweeping pattern. After our drive, I parked the car in direct sunlight, and saw for myself that I could hardly see the turn signal at all. Right now I'm using my Diode Dynamics switchback C-lights as my turn signals and they are much brighter and safer for use in sunlight. I chose not to return this product because I still like the DRL function a lot, but having a bright sequential turn signal would still look very sharp.

LOVE THESE!

Abraham October 22, 2017

By

I was hesitant to order these bezels because it really didn't have any reviews but I couldn't be happier with them! They were easy to install, took maybe 40 minutes total to do both. The glossy color looks outstanding with my car (gloss black STI). I also have the Alpha HD LED fogs and high beams installed and they look soooo good when they're all on together at night. They're surprisingly really bright too, they're not an offensive bright but they do light up the road really well. I am in love with the sequential turn function! It looks AMAZING!!!! Whenever I hit the turn signals they look GREAT! I extremely recommend these bezels if you're looking for an upgrade from the stock bezels.
Upload images for this product