SubiSpeed
SubiSpeed Switchback JDM WRX S4 Style DRL Fog Light Bezels
2015-2017 WRX / 2015-2017 STI
JDM style at a lower price point! The much anticipated aftermarket replacement DRL fog light bezel has been created. This model has a switchback turn signal feature.
Sold as a pair.
NOTE: Production model does not have a mesh like grille in the lower portion as seen in some pictures.
NOTE: Bundle does NOT include fog lights.
NOTE: We strongly recommend testing the lights before installing them inside the headlight housing.
Details
SubiSpeed Switchback JDM WRX S4 Style Fog Light Bezels

Since the introduction of the S4 DRL bezel by Subaru, SubiSpeed has been pursuing leaders in the industry to make an affordable replica. We utilize a manufacturing plant with years of experience in LED technology and custom plastic molds. Their LED drivers and printed circuit boards have high quality control standards which result in a low failure rate. Their products are backed by a 2 year warranty.
NOTE: Bundle does NOT include fog lights.
Switchback Function
In order to make this product really stand out, we've decided to produce a switchback version. This is a great choice for those who want more switchback lights or those who are not willing to crack open their headlights to install aftermarket C-lights.
Normally illuminated white as a DRL, they switch to an amber turn signal light when activated. After the turn signal is turned off, they switch back to white.
NOTE: For ease of installation we have designed the turn signal wiring with an OEM style plug. Simply disconnect the stock turn signal socket plug and connect it directly into the wiring for the bezels. The OEM socket will remain in the turn signal housing preventing moisture from getting inside. Optionally the pass through plug can be used to light both the bezels and the stock turns.
---
S4 Bezel Comparison
Check out this video to get a brief overview of the S4 bezels we offer.
SubiSpeed Installation Video
NOTE: While this video shows the use of extensions for the turn signals, no extensions are required now. The wiring harness has been updated and lengthened.
---
These replica bezels taking styling cues from the JDM bezel and US bezel. You'll notice that they're painted gloss black and have an integrated LED light bar. The LED strip runs the length of the entire bar.
No modification to the bumper cover is required for installation. Sold as a pair.
---
Color Comparison
While all monitors are different, this picture should give you an idea of overall light output. Since they were all shot in the same conditions and with the same camera settings, you can tell which products have a warmer color output vs a cooler color output.
Layout
Upper Left - Diode Dynamics C-light
Upper Right - Morimoto C-light
Lower Left - SubiSpeed S4 Style Bezel
Lower Center - OEM JDM S4 Bezel
Lower Right - OLM Silverline S4 Style Bezel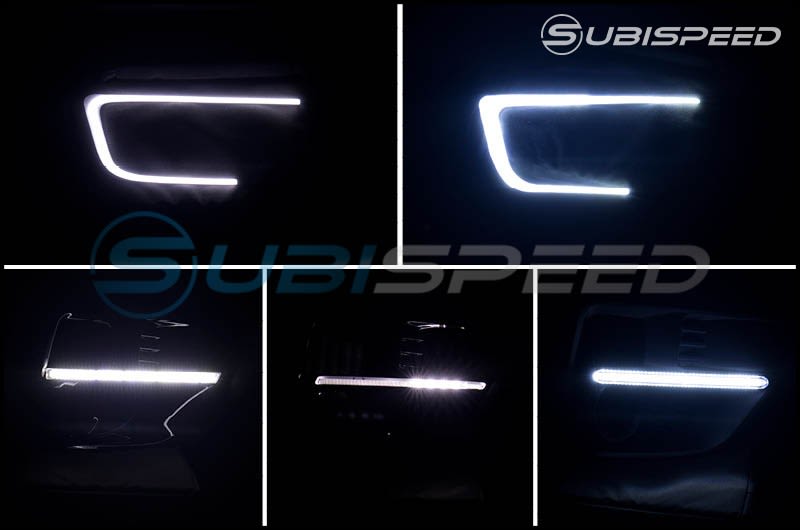 ---
Optional Quick Connect Harness
SubiSpeed has a quick connect harness to make wiring painless. This makes the install virtually plug and play.
NOTE: If you already have the SubiSpeed DRL harness (base / premium / limited), you already have the proper connections for a quick connect setup.
The installation is the same for the fuse box connection, so please view the video here for more details.
People who viewed this item also viewed
7 customer reviews
Perfect Match The C Lights

Hayward May 7, 2018

By

Looks great in my car. It perfectly match my diode dynamics c light, bright, crisp and switchback will make everyone see you where you going. I just follow the video instruction and everyrhing will bo ok.The bezel itself was a bit of a problem to install need help to push it in place but overall love it.

I love these lights

Gregg January 21, 2018

By

To say I'm a novice when it comes to electrical is an understatement. It took me a bit longer to install these because I took my time. But this coupled with the drl harness it was still pretty easy everything looks fantastic. The wife is actually impress and that's a hard thing to do. Thanks Subispeed!!

THE BEST

DJ September 3, 2017

By

I'm surprised there's a much more expensive version of these out there. I don't know how or think these bezels could be improved upon. Not a single flaw and light is crisp all the way across. Installation was simple and now the front end pops!

Excellent Product

Jone June 13, 2017

By

I LOVE IT... And installation is as eazy as 1, 2, 3. You don't even have to pull down the bumper if you don't want to. Will definitely recommend this product to any WRX-STI owner. And the best thing about this, i got mine in less than a week. I live at the other side of the world mind you. Thanks Subispeed and more power.

It Completes the Front

Justin June 10, 2017

By

The installation was nice and easy. This product completes and matches the front because of all the glossy black trim pieces of the grills. It make it look cleaner than the old plastic matte black color. Definitely a must get.

Looks great

James June 5, 2017

By

Easy install to be honest. Bumper comes off and everything is right there. My only issue was getting the item in place. Doesn't really seem to click in correctly on the one side which was annoying. Can hardly tell unless you look really close.

Make you car look even better.

paul May 11, 2017

By

This product looks great on the WRX or STI. The LED lights is so bright your car will stand out better and people will notice it immediately. This product and with the fog lights all turn on your car will look awesome. It making you car look complete different and it's cheaper than the others. I love how the car looks already and now even more, and i cant stop looking at it, its so stylish too . I would recommended to anyone.
Upload images for this product