SubiSpeed
SubiSpeed Reverse Camera on Demand Wiring Harness
2015-2020 *WRX & STI
Conveniently turn your reverse camera on with the touch of a button. Your stock functionality is still retained and putting your vehicle in reverse will still turn the camera on automatically.
NOTE: This harness will also activate the reverse lights when used. The switch has been updated and requires a 20mm hole to be mounted.
*CURRENTLY DOES NOT WORK ON THE 2015 WRX WITH CVT TRANSMISSION. 2019 WRX & STI owners will need a multimeter or test probe to find the appropriate wire.
Details
Reverse Camera on Demand
The reverse camera in vehicles is typically activated by putting the vehicle in reverse. This is an automatic feature that comes in handy 85 percent of the time. However, what about that other 15% of the time?
*CURRENTLY DOES NOT WORK ON THE 2015 WRX WITH CVT TRANSMISSION 2019 WRX owners will need a multimeter or test probe to find the appropriate wire. Please see details at the very bottom of this product listing.
Product Update - Switch
As of 8/1/2017 this product has been updated with a new switch. This switch has an optional terminal to illuminate it when on. The switch does require drilling, or mounting it out of view. It's diameter is 20mm.
---
The 15% of The Time Problem Solved
Sure there are some that will ask you why don't you just shift it into reverse to get the camera to turn on. There's some pretty good situations where you just want to verify what's behind your vehicle and don't necessarily want to back up.
Pulling through a parking spot and making sure you clear the parking spot behind you
Pulling into a garage with limited space and making sure you will clear the garage door
Verifying there is space behind you when pressed for time
Verifying your surroundings
There are actually a good number of situations where you don't necessarily need to reverse or don't have the time to keep on putting the vehicle in reverse and drive over and over again.
A simple push of this button will activate your reverse camera. When you're done, push it once more to turn the camera off. When your vehicle is in reverse the camera will still come on automatically.
NOTE: This harness will also activate the reverse lights when used.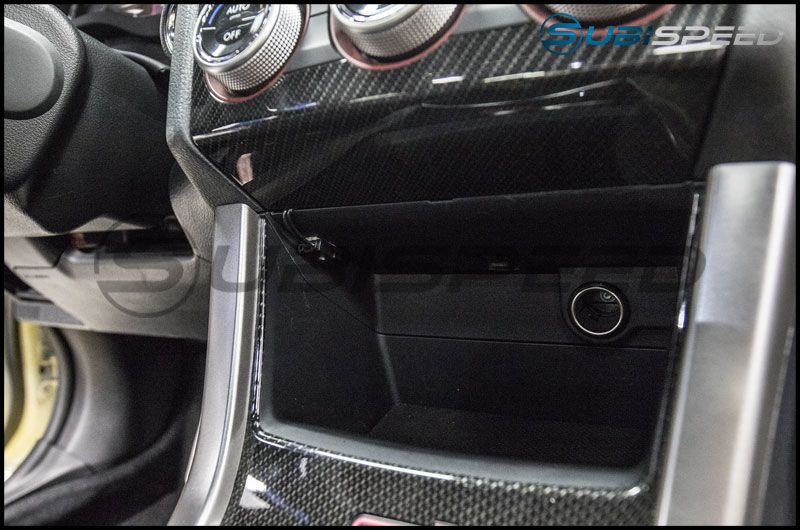 SubiSpeed Quick Clip
Note that the older switch is shown in this video.
Simple Installation
The harness only has two connections which need to be made. The switch can be mounted in the cubby hole area mostly out of sight. All hardware and instructions ARE included.
---
NOTE: The revised switch required drilling a 20mm hole or finding another mounting solution.
2016+ WRX removal: Youtube External Link
2019 Changes - For some reason Subaru decided to use 3 yellow wires with red stripe in their passenger side door wire loom starting with this year. You will need a multimeter or 12v probe to determine which wire has power when the vehicle is put in reverse. You can use a chassis ground (metal on the vehicle) and test each wire. Have someone turn the vehicle to accessory power while you probe the wires. With a foot covering the brake, have them switch the vehicle into reverse. When you find the wire that has power as soon as the vehicle is put into reverse, this is the one you want to use.
People who viewed this item also viewed
4 customer reviews
Another must have

subiiata November 9, 2022

By

I have a 2020 premium, so install was pretty straightforward, however, the wiring was a bit of a pain to figure out. There were no instructions sent with my unit and the one online was outdated. It seems that subaru changed the wiring harness colors for my year, so I have to do some research to figure out the correct wire. However, once I did get it and installed it works flawlessly. It's nice to be able to look behind me without needing to go into reverse, although I wish there was a way to avoid turning on the reverse lights.

Cheaped out on a lot

Alan September 14, 2021

By

They no longer include a fuse, the wire tap, or instructions. So you have to watch a bunch of videos and hope one of them tell you what kind of fuse you will need since they don't want to add them anymore. Other than that, easy install.

Useful Addition

JD May 1, 2020

By

I got this product to make parking easier for my 2016 STI Limited. I also purchased a harness from autoharness.com to tap into pin 2 on the 28 pin stereo harness for the rear view camera signal (no tapping into the car's wiring harness). Accessing the rear of the stereo on the 2016 is annoying, but straightforward. Since I have push button start, I mounted the switch on the key hole cover. Works great!

Excellent product!!

Kevin October 17, 2017

By

Since I have the new 2018 STI Limited with Starlink Nav radio, there was a bit more to remove. I placed the switch in the recommended location in the center cubby hole. I also wired up the switch to illuminate when activated. The only thing I wondered was if I was able to tap directly into the harness that plugs into the back of the radio, VS running the wire all the way to the passenger foot area. Overall I'm very satisfied with this ingenious idea of a product!!
QUESTIONS & ANSWERS
No questions have been asked about this product.
Upload images for this product