Diode Dynamics
Diode Dynamics Switchback LED C-light DRLs for Headlights
2015+ WRX / 2015+ STI
Ships for free in the 48 states
Time to upgrade your WRX or STi headlamps! These C-Light LED modules are circuit boards that fit right behind the factory diffusing reflector, illuminating in an extremely bright white, as well as a brilliant amber. Don't be fooled by other options on the market: these modules have been designed from the ground-up, and manufactured in St. Louis, Missouri, to be absolutely the brightest lights physically possible.
Sold as a PAIR. Only fits 2018+ models with standard halogen headlights.
NOTE:
We strongly recommend testing the lights before installing them inside the headlight housing.
Details
Time to upgrade your WRX or STi headlamps! These C-Light LED modules are circuit boards that fit right behind the factory diffusing reflector, illuminating in an extremely bright white, as well as a brilliant amber. Don't be fooled by other options on the market: these modules have been designed from the ground-up, and manufactured in St. Louis, Missouri, to be absolutely the brightest lights physically possible. They are compatible with all factory headlamps: WRX Base/Premium as well as WRX Limited and STi.
The custom-designed LED modules replace the factory bulb or single LED, illuminating with a much higher intensity. With our proprietary high-density "HDLED" technology, these modules are populated with over 500 LED chips, which are then coated by a diffusing gel, resulting in a perfectly uniform light when turned on. When it's off, the diffusing gel hides the chips, resulting in a clean, OEM appearance.
Manufactured in USA, the modules light in a pure 6000K white color, not a cool blue like cheaper products on the market. And because they use modern high-power amber chips, rather than traditional LEDs, the amber is even brighter than the white!
To power the modules efficiently, your order includes two custom-designed drivers, which feature transient voltage suppression, reverse protection, and a switching driver for extremely high reliability over time. And here's what really makes this product shine over the competition: with an embedded microcontroller, the drivers utilize multi-stage PWM dimming, to allow for a half-brightness white, for use at night (parking lights), as well as a full-power white, for use as DRL during the day. Finally, the amber is run at even higher power, making the turn signal easily visible in broad daylight!
SPECIFICATIONS
Total LEDs: 524 (262 per side)
Real LED Output Power: 13 watts Amber, 10 watts DRL, 5 watts parking (per side)
Inputs: Plug-and-play connector for ground and parking light. T-taps for DRL and turn signal.
Integrated Protection: Full waterproofing and shockproofing, transient suppression, overvoltage protection, thermal shutdown, reverse input protection.
Wiring instructions are included with your order. Using the included connectors, you will plug in the parking light connector, then tap turn signal and DRL signals, if you desire. We hope to release a plug-and-play wiring option in the next few weeks, which will be compatible with existing modules. You do not need to use resistors or a new flasher module with this product.
Professional installation is recommended, as the headlights must be opened. However, these lamps are substantially easier than most to work with, so we do recommend watching the installation process yourself, by viewing their video (to be released soon).
All Diode Dynamics products are backed by a 3-year replacement warranty.
NOTE:
If you do not have spare butyl sealant in hand, RetroRubber or other butyl sealant is REQUIRED. The OEM sealant cannot be reused! TRS RetroRubber can be stretched to the proper length and width to fit the headlight casing channel.
---
Color Comparison
While all monitors are different, this picture should give you an idea of overall light output. Since they were all shot in the same conditions and with the same camera settings, you can tell which products have a warmer color output vs a cooler color output.
Layout
Upper Left - Diode Dynamics C-light
Upper Right - Morimoto C-light
Lower Left - SubiSpeed S4 Style Bezel
Lower Center - OEM JDM S4 Bezel
Lower Right - OLM Silverline S4 Style Bezel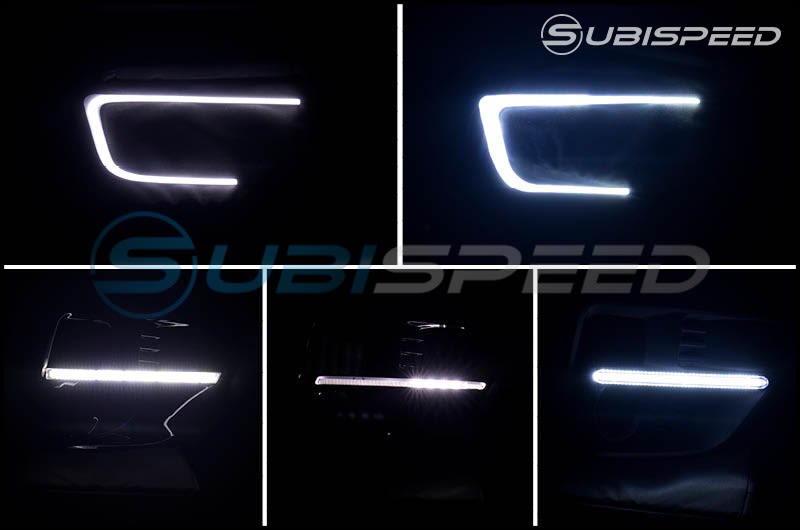 ---
---
Optional - SubiSpeed Sidemarkers
These sidemarkers are a direct fit replacement for the factory orange sidemarkers that come with 2015+ WRX and STIs. This is a great modification to perform when you're working on your headlights. Common customization modifications are blackening them out (WRX non-limited), adding Morimoto or Diode Dynamics C-lights, and retrofitting Morimoto projectors (WRX non-limited).
Please see "Related Products" link below for these.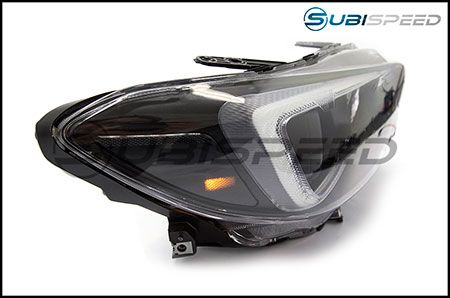 ---
Optional - Diode DRL Harness
If you already have the SubiSpeed DRL harness, you can connect these new C-lights to them. However, Diode has also made a kit that can power their kit as a DRL.
Fully plug-and-play, this harness will disable your factory DRL, and power the C-Lights instead. Your high beam will still work as normal.
Please refer to checkbox above the "add to cart" box to include.
---
Optional SubiSpeed Front Turn Signal Quick Connect Extension Harnesses
These turn signal extensions give you an easy way to tap into the turn signal wires on your 2015+ WRX and STI. Great for use with accessories like aftermarket C-light boards.
Simply remove the socket from your stand alone OEM turn signals and plug this wire in-line. Then you can plug your stock turn signals back in. Optionally you can remove the bulbs from those housings if you do not want them to function anymore. The sockets will keep the harness and housing free of debris.
Sold as a pair. *2018+ owners must have factory turn signals in the lower portion of their bumper / fog light cover area to use these.
Please see "Related Products" link below for these.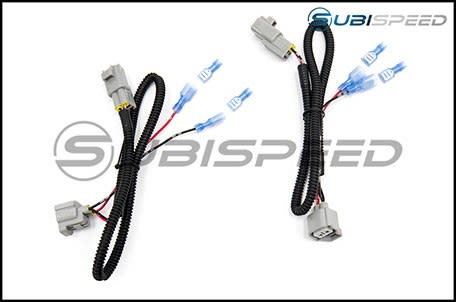 8 customer reviews
Amazing upgrade

Javier August 30, 2017

By

These LED C-light replacements are amazing. They bring some much needed style to the front end. From start to finish it took me 2 hours to complete. With the Diode Dynamics drl harness and morimoto retrorubber just such an easy and much needed upgrade

Very Nice Look

Chad July 22, 2017

By

Paired these with the OLM Silverline LED bezels. Hardest part was taking the lights apart. Partly because I had done it before and the seal was a mess to clean up. Overall love the new look.

Great Product

Coltin July 19, 2017

By

Diode Dynamics is a good quality brand and have great customer service! I've had these on my car for about a year now and have not had any issues with them. I live in Phoenix where the temps are over 105 for a solid 3 months which can be a killer to LED's that are always exposed) but this switchback hasn't been phased. The only problem I had was losing a piece I didn't secure down tight enough while off-roading but their customer service was excellent and got the new piece the following week.. Instillation is very straight forward and common sense. Remove the headlight housing from the vehicle, heat up the sealant along the edges (i used a heat gun but you can bake them as well), pulled the cover from the backing, installed light in the housing, buttoned everything up and used the RETRORUBBER (which is a must), reinstalled the lights on the car, and then wired up the new lights to the old ones. (MAKE SURE THE LIGHTS WORK BEFORE INSTALLING THEM INTO THE HEADLIGHT HOUSING)

Worth it/Looks amazing

Anthony P. June 8, 2017

By

I've been wanting to get these LED upgrades for my '17 LBP WRX and finally pulled the trigger. To get right into it, they look awesome and pair really well with my subispeed S4 style fog light bezel LED. Installation was not that easy and you have to be very patient disassembling the headlight housing itself. If you don't feel comfortable doing this, get it professionally done. Took me about two half days to finish the project myself. One whole day should be enough. Overall I'm extremely satisfied with the way they came out and it was worth all the work and effort. I highly recommend this product to give your WRX/STI a clean, aggressive look.

C-Light Switchbacks

Cory March 14, 2017

By

Through much research and thought I tried to install the c-lights myself. Everything went well until the wiring phase. Brought it to one of my local shops to finish the job and they said the connections were just bad due to the t tap connectors that were supplied. The installer said everything was right, but to just use 3M t tap connectors as they are a little more reliable. Overall, I have to say this is my favorite upgrade so far that I have my to my 2017 WRX. Really makes my car stand out among the rest and highly reccomend doing this.

Should have been standard!

Aaron February 15, 2017

By

This will test your patience, but take your time and it will be worth it! I also did the black out of my headlight housing at the same time i did this install. The black outs headlight housing and the c-lights make the front look amazing! Huge improvement over the one tiny bulb in the corner of the c-light. Why are these not standard Subaru!

This is how it should come from the factory

Jose (2015 STI) February 1, 2017

By

I bought these last year, I agree with Matt, buy the glue. FYI, you may have to modify the access port (hole) where the original LED chip for the STI on the headlight assembly. Use a fine round file to make it wider. I had to make the hole bigger in order to route the harness through for a clean look. Trust me when I say you will not regret this purchase! I love the way they look!

Overall great product!

Matt January 31, 2017

By

Starting with the installation, It took a while, but it was never difficult, just time consuming. Just make sure you buy the MORIMOTO RETRORUBBER BUTYL GLUE because it's really hard to get the factory sealant to stay in one piece when removing the lens from the headlight casing. The lights are very bright, and you can easily see them at night with the headlight on. The turn signal is even brighter and hurts to look at it. If you want those C-Lights to look like they should have come from the factory, buy these.
Upload images for this product

Feel free to share pictures of your vehicle with this product!