Sticker Fab
Sticker Fab 3D Carbon Dash Overlay Package
2015-2021 Subaru WRX & STI / 2014-2018 Forester / 2013-2017 Crosstrek
Cover up the factory hydro dipped trim with 3D carbon fiber vinyl for a look and feel that's closer to real carbon fiber.
NOTE 1: S207 badge is NOT included. Comes with two full sets.
NOTE 2: You MUST have the original silver or hydrodipped carbon trim pieces that have the same shape as the photos in this listing. The larger pieces that come in some special edition vehicles are not shaped like these and this item is not compatible with them.
Details
3D Interior Touch
The 2015+ WRX / STI have a few trim pieces inside the cabin which are hydro dipped from the factory. While this gives the interior a sporty look, it can leave a little more to be desired. Other Subaru models actually have carbon fiber textured vinyl laid over interior trim pieces. This package provides precut vinyl which you overlay on top of the factory trim pieces to enhance the look and feel.
Installation requires a little skill, however two full sets are provided. This allows you to learn how the material responds to heat and stretching. Please see the additional tab for more details.
NOTE: S207 badge is NOT included. Your factory dash pieces must be the same shape as these to use. Some special edition Crosstreks have different trim.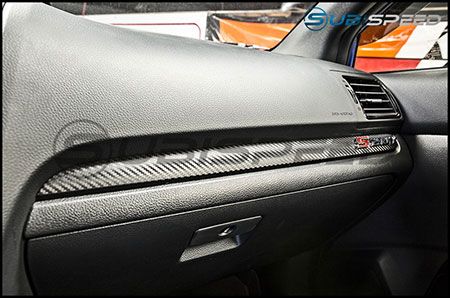 People who viewed this item also viewed
3 customer reviews
Fantastic product!

Brian January 7, 2019

By

First let me begin by saying, do not, I repeat do not- attempt to install these pieces without removing the trim panels first. With that thin tip flat-head screwdriver you can pry open the side of each trim panel. I recommend using a damp paper towel. Wrap it around the edge of the flathead screwdriver tip. Once you pry open the first side you can put your finger underneath it and with a firm tug the first clip will release. There's two clips on the left side and three Clips on the right side. Be careful and make your movements precise to avoid breaking the clips. Now that the pieces have been removed, use rubbing alcohol to clean them off to allow proper adhesion. I recommend putting the stickers in the microwave for 20 to 30 seconds depending on the strength of your microwave. This will allow them to stretch. This will give you a better overall result. Using your fingers, cover the trim pieces with a slight residue of water. Peel the stickers away from the factory film cover to prepare them for fitment. I recommend starting from one corner at a time, applying pressure gradually as you lay the sticker across the trim piece. Keep in mind stickers are slightly larger as they are meant to wrap around the trim edges, so that they tuck into the dash body when they are reinstalled. Good thing they give you two sets! Took me two tries to get it perfect. As far as quality goes, they look as good as real carbon fiber. Night and day difference from stock.

Looks good

Robert May 29, 2017

By

looks really good. Fit is ok, had to trim some of it.

Good quality!

Danny April 7, 2017

By

Really nice quality with a nice textured carbon fiber feel. Love it and looks great!
QUESTIONS & ANSWERS
No questions have been asked about this product.
Upload images for this product