Morimoto
Morimoto XBT Switchback RGB LED C-light DRLs for Headlights
2015+ WRX / 2015+ STI
Ships for free in the 48 states
If one or two colors is not your thing, install the XBT RGB C-lights in your vehicle. Paired with the XBT Bluetooth Controller, you have tons of options! Now features switchback override wires to use as turn signals.
Sold as a PAIR. Fits 2015-2017 WRX / STI models. Only fits 2018 WRX models with standard halogen headlights.
NOTE:
This product has been updated and newer drivers than in the photo. There is also an additional orange and black wire. The orange wire is the + connection for the switchback turn signal. The black wire is a ground and must be connected for the product to function at all.
NOTE:
We strongly recommend testing the lights before installing them inside the headlight housing.
Details
Precision Switchback RGB C-Lights
Different products for different styles is what SubiSpeed is about. This product starts out as a SubiSpeed exclusive as we desired to provide another option for enthusiasts. No matter what your desired output is, it can be achieved by utilizing these new RGB C-lights.
Powered by the Morimoto XBT Controller, you can use your iOS or Android device to dial in almost any color. This new board has an improved diffuser vs earlier models. Some shaving of the housing may be required for the OEM diffuser to seat and clip in completely.
Now features a switchback function which allows you to use the c-lights as turn signals.
NOTE: These LED boards MUST be connected to the LED drivers FIRST and then the LED drivers connect to the XBT controller as seen in the last picture. ONLY connect WHITE connectors to WHITE connectors and BLACK connectors to BLACK connectors.
The ground wire on the controller AND the switchback wires must be connected for the lights to function properly.
---
SubiSpeed RGB C-light Video
This video is a great overview of this brand new product. Kevin has also made some additional install notes for this product vs the standard Morimoto C-lights.
In conjunction with our original install video, you'll be well informed prior to making your purchase.
---
New Switchback Function
Kevin showcases the main difference between the original and new RGB lights. Hooking up the switchback function is simple and only requires a couple more wires.
---
Controller Details
BLUETOOTH BENCHMARK: So you just invested $2000 and plenty of your time building a set of completely custom headlights with RGB accent lighting....you want to control it via bluetooth from your smartphone. Now what? Well, you could either rig up some generic white-box bluetooth controller and download some sketchy app to your iPhone, or you could plug-n-play with the all new XBT controller from Morimoto and control it with their proprietary app that puts the power of control in the palm of your hand!
IPHONE & ANDROID APP: The specialized app works on both iPhone and Android devices. Inside, you've got control over nearly everything! The color-wheel allows you virtually infinite control over the exact hue and intensity of your RGB accessories. Adjustable Fade, Strobe, and pre-programmed color-changing themes provide a handful of special effects to spice it up. If you've got a few favorite combinations, you can save them to your favorites list and load 'em up again later with ease! Watch This Video from our friends at Headlight Revolution that goes over the XBT Controller!
THREE ZONE: The XBT controller is capable of controlling up to three different zones/pairs of RGB accessories. Two pairs of halos and a set of Demon eyes? No problem. Demon eyes, strips, and halos? You bet. You can apply a different color or effect to each zone, or lock them together to easily apply the same settings across the board.
LEGALIZE IT: If you like green, that's great! but it just so happens that white and amber are the only colors that are street-legal inside your headlights. For your safety and convenience - whenever the XBT System powers up (aka whenever you turn your vehicle on) - it defaults the output to white. So when you hop in the car in morning and head off to work - you don't have to worry about pulling up to the parking deck with your headlights still in rave mode because you hadn't had any coffee yet.
PLUG-N-PLAY: Unlike other options out there that require DIY wiring from the user's side, the XBT Controller is 100% Plug-n-Play. There is no wire stripping, cutting, or splicing involved. The outputs are based on an industry-standard JST 4-wire RGB+ setup - making it compatible with most any RGB accessories (not just ones from Morimoto) and it has a 2-pin 9006 male 12V input. Easy!
WHAT A BEAUTY! As if you hadn't already made your decision...the thing just looks plain badass and the quality is apparent from every angle. Pick it up and you'll feel the weight from the potted internals, making it completely waterproof. The combo matte/gloss finish on the injection molded shell is a nice touch, and in true car-guy fashion...we can't argue that the real carbon fiber mounting bracket makes us drool. Mmmm, carbon fiber stuff.
---
Other available items you can modify while you have your headlight open are the sidemarker covers, HID projectors (with genuine Morimoto parts), and you can also paint the chrome housing another color like flat or gloss black.
The end result can be a truly spectacular, custom set of headlights that function as well as they look.
NOTE:
If you do not have spare butyl sealant in hand, RetroRubber or other butyl sealant is REQUIRED. The OEM sealant cannot be reused! TRS RetroRubber can be stretched to the proper length and width to fit the headlight casing channel. Due to the improved diffuser material and design, you may need to shave the housing down in order to get the OEM diffuser to clip in. This diffuser was modified to increase uniformity and light dispersal.
---
Optional
Morimoto XBT RGB 70/80mm Halos for the WRX and STI
If you want to add more RGB lights, here's a quick way to do it. While your headlight is disassembled, simply add these halo rings around your projector.
Run them on a separate channel for complete control independent of the C-lights. You can also sync them with the C-lights as well.
NOTE: 80mm, recommended for 15+ WRX halogen headlights. 70mm, recommended for 15-17 WRX with LED headlights 15-17 STI
---
SubiSpeed Sidemarkers
These sidemarkers are a direct fit replacement for the factory orange sidemarkers that come with 2015+ WRX and STIs.
This is a great modification to perform when you're working on your headlights.
Please see "Related Products" link below for these.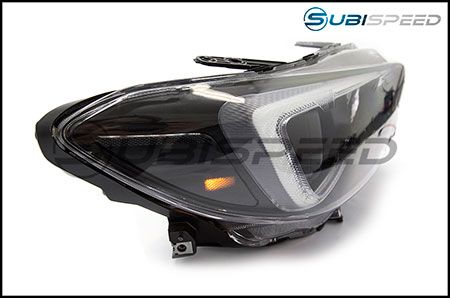 ---
Original SubiSpeed Install Video
(Standard Switchback Model)
Featured In Subispeed's New Products August Video
2 customer reviews
These look amazing

Matthew January 14, 2018

By

I thought the LED bulbs looked good.on the C lights. These take it to a whole new level. They are extremely bright. They fit quite well except for one of the clips for the c light cover that described in the installation video. It's a pain to remove the headlights and pull them a part. The tire glue is a nightmare to clean up. The install of the LEDs themselves it quite simple. The Bluetooth controller works great on Android and IOS devices. I also installed the Halos and it looks just amazing. Those were more of pain to install because you need to use fine wire to attach them and drill holes . (Make sure you drill the holes before trying to paint them as it scratches off very easy.) I also used a little bit of 3M adhesive for a little extra insurance. I used silicon culking to fill the wholes for the old C light wiring. Seems to work good. They work great when wired with subispeed DRL. Make sure you connect the extra ground on the driver's( the ground for the switchback). That is required for the lights to even turn on. I'm very happy with the new look and the switchback function. I only hooked up the c lights on switch back and the halos stay on regular. One more note, these are more blueish in the default mode than the subiespeed fog light Bezel DRLs, slightly noticable but I have mostly gotten over it.

Look great on 2016 sti limited headlights

Jayman August 23, 2017

By

Had to drill and dremel my headlights to fit because the hole for the c light wire was a bit too small, but I made it work and looks great. If you want a bright white, you may be better off with the standard c lights. The color changing is awesome. Overall I'm happy with the product.
Upload images for this product

Feel free to share pictures of your vehicle with this product!