Morimoto
Profile Pivot Switchback LED C-light DRLs for Headlights
2015+ WRX / 2015+ STI
Ships for free in the 48 states
A great solution to the dim, factory Subaru C-light. Added functionality with built in turn signal feature.
Sold as a PAIR. Only fits 2018+ models with standard halogen headlights.
NOTE:
These were originally called the Morimoto XSB C-lights.
NOTE:
We strongly recommend testing the lights before installing them inside the headlight housing.
Details
The German Style DRL You've Been Looking For
Since the debut of the 2015 WRX / WRX STI, we've been looking for solutions to make the C-light brighter. It would have been great if Subaru built something from the factory that was bright enough to be a DRL like Audis and BMWs have. However, even in the limited models the light just wasn't bright enough.
Now WRX / STI owners can upgrade their headlights with this switchback C-light. Turn it into a DRL and turn signal all with one product. Other items you can modify while you have your headlight open are the sidemarker covers (coming soon), HID projectors (with genuine Morimoto parts), and you can also paint the chrome housing another color like flat or gloss black.
The end result can be a truly spectacular, custom set of headlights that function as well as they look.
NOTE: T10 connectors are for WRX Base and Premium models only. WRX Limited and STI owners will have to splice, tap, solder wires, or purchase our SubiSpeed Base / Premium DRL harness as an option.
SubiSpeed Install Video
---
Color Comparison
While all monitors are different, this picture should give you an idea of overall light output. Since they were all shot in the same conditions and with the same camera settings, you can tell which products have a warmer color output vs a cooler color output.
Layout
Upper Left - Diode Dynamics C-light
Upper Right - Morimoto C-light
Lower Left - SubiSpeed S4 Style Bezel
Lower Center - OEM JDM S4 Bezel
Lower Right - OLM Silverline S4 Style Bezel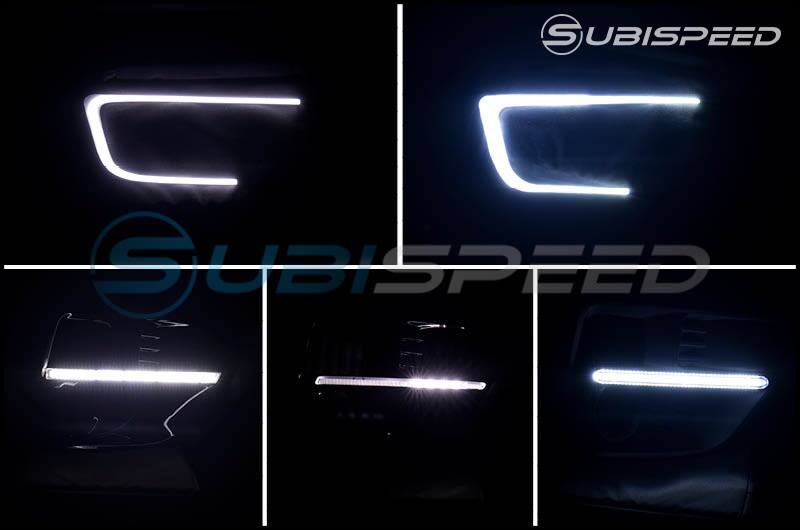 ---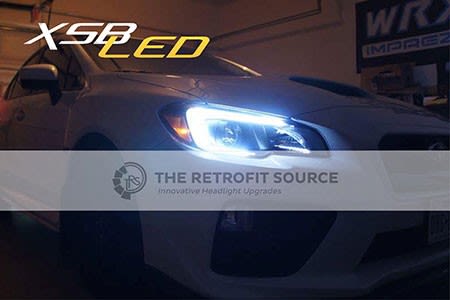 Subie Spec
Take full advantage of the C-shaped diffuser inside the headlights on all 2015+ Subaru WRXs by turning them super bright white daytime running lights with amber switchback functionality with Morimoto's Subaru specific XSB LED system!
Designed
By the Subaru specialists at ProLightz in Canada and built by Morimoto.
High Tech
Morimoto XSB LEDs are the culmination of every practical lesson learned since LED halos hit the market. Usability. Reliability. Intensity. Uniformity. Simplicity. Flexible functionality. Last but not least; affordability. Nothing has been sacrificed.
---
Fitment
Designed and built on the latest PC-R circuitry platform from Morimoto, the WRX C-DRL's deliver the right combination of shape, rigidity, and flexibility to fit perfectly behind the C-shaped acrylic diffuser inside the headlights.
Reliability
The innovative Hybrid-LED technology delivers a virtually infinite lifespan of 50,000 hours. That's almost six straight years! Because they're based on much more stable and mature SMD-LEDs; they are considerably more reliable between hot/cold cycles compared to "new" COB based halos. This video explains the XSB LED technology a bit more in detail.
Intensity and Uniformity
A special blend of silicone and phosphor covers the face of each piece. This proprietary coating is responsible for the neutral "white when off" look of the XSB's and their amazing, uniform intensity - which is unlike anything else on the market.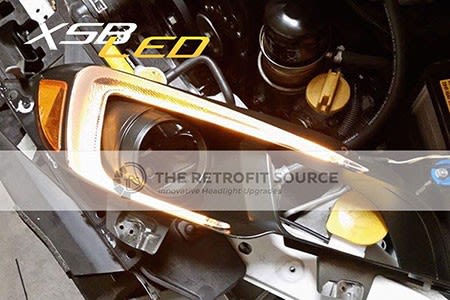 ---
Simplicity
The T10 male input makes power and ground plug-n-play in place of the stock halogen bulbs! With a variant of the X Change Module integrated into the LED driver that powers each unit; the switchback function is automatically controlled. just plug in the T10 socket and tap the yellow input into the blinker circuit. Done!
New
Early generation XSB LED products could not run the amber lights for prolonged periods of time. Such is no more with updated LEDs and a revised driver. The WRX C-shapes use the latest tech!
NOTE:
If you do not have spare butyl sealant in hand, RetroRubber or other butyl sealant is REQUIRED. The OEM sealant cannot be reused! TRS RetroRubber can be stretched to the proper length and width to fit the headlight casing channel.
---
Optional - SubiSpeed Sidemarkers
These sidemarkers are a direct fit replacement for the factory orange sidemarkers that come with 2015+ WRX and STIs. This is a great modification to perform when you're working on your headlights. Common customization modifications are blackening them out (WRX non-limited), adding Morimoto or Diode Dynamics C-lights, and retrofitting Morimoto projectors (WRX non-limited).
Please see "Related Products" link below for these.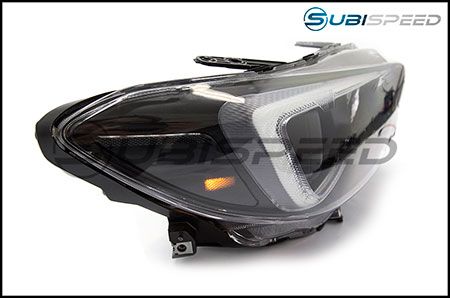 ---
Optional SubiSpeed DRL Harness
If you want to keep your C-light running when your vehicle is on, our harness can help. Power from both the low beam and high beam fuses allow any lights you want to stay on.
Includes a pair of white T10 bulbs which can be used in your sidemarkers!
Please see "Related Products" link below for these.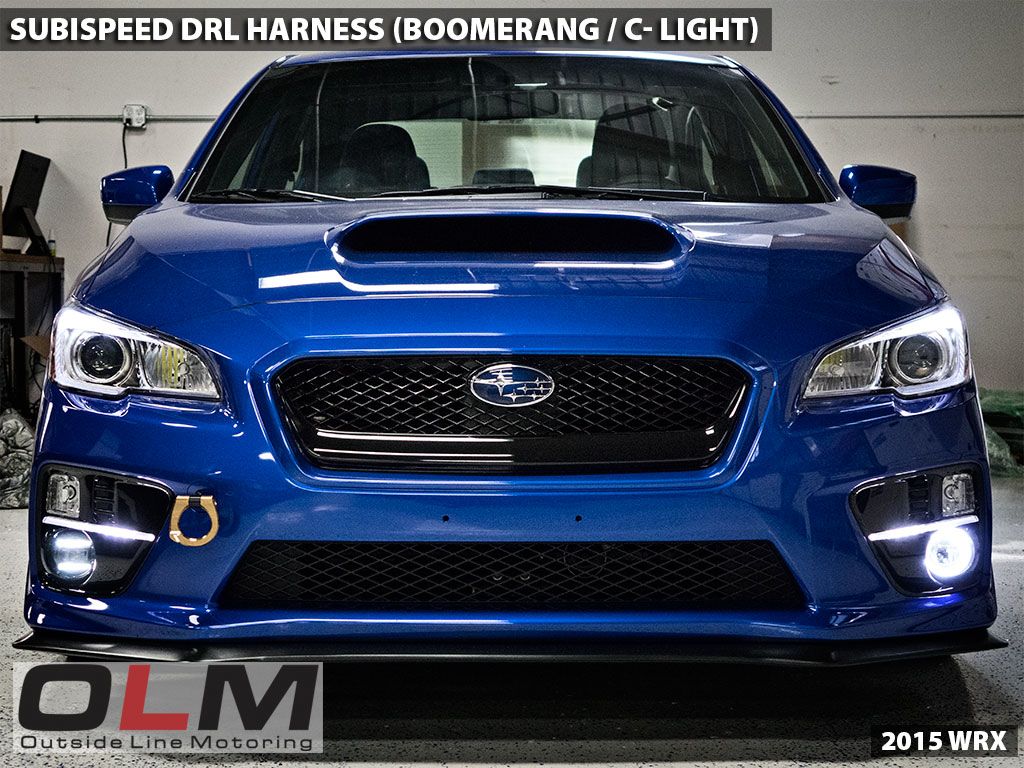 ---
Optional SubiSpeed Front Turn Signal Quick Connect Extension Harnesses
These turn signal extensions give you an easy way to tap into the turn signal wires on your 2015+ WRX and STI. Great for use with accessories like aftermarket C-light boards.
Simply remove the socket from your stand alone OEM turn signals and plug this wire in-line. Then you can plug your stock turn signals back in. Optionally you can remove the bulbs from those housings if you do not want them to function anymore. The sockets will keep the harness and housing free of debris.
Sold as a pair. *2018+ owners must have factory turn signals in the lower portion of their bumper / fog light cover area to use these.
Please see "Related Products" link below for these.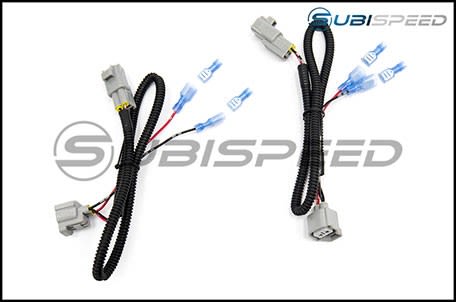 2 customer reviews
Good product

Kyle June 10, 2018

By

I love the way they look. The light output is amazing and they look great. The switchback feature is very nice as well. The install wasn't too bad, but did take several hours, including painting the chrome to black with 3 coats. The most difficult parts were not taking off the bumper but actually opening up the light housings. Although you do not need to bake them, I think a heat gun or hair dryer might help. The sealant was very sticky and hard to manage. I removed the OEM sealant and cleaned the housings as best i could (another time consuming aspect). I purchased the optional sealant which was awesome. Used a hair dryer to heat it while clamping housing shut. Did not bake it in oven as it says to do on instructions. I did chip up my black paint a bit trying to put the C-lights in. Wasn't as bad on the second light because I had a better idea of what to do. Overall nice lights but I wish they were DRL.

Brighter than expected

Donny December 16, 2016

By

Very happy with the way it turned out. I have these as DRL's on my STI. I am also running the Subispeed halo fog lights as a drl. Together they make a great combo. The Morimoto c lights have more of a blue tint to them. If you have also changed your turn signal bulb to an led bulb like I did, you will get the hyperblink on your c light as well. At first I was going to get the module to fix it but it's unique so I'll leave it. Overall, a great product with no complaints!
Upload images for this product

Feel free to share pictures of your vehicle with this product!