Details
JDM Station Interior
A popular trend in sports cars is the use of Ultrasuede products or Alcantara. This high quality synthetic suede fabric has a unique appearance and feel. JDMS produces quality products to enhance the appearance of your vehicle and their second interior piece for the WRX / STI is a black e-brake boot cover with red stitching.
Give your vehicle a premium look by replacing the OEM leather boot. Removing the trim panel is easy and the JDMS piece is cut in the same shape as the original with appropriate tabs for mounting along the bottom edge.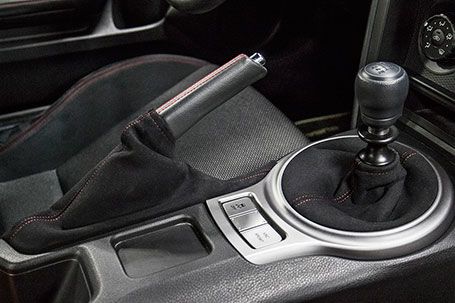 ---
Installation Notes
Adhesive is required for this install. We recommend a product like 3M Super Trim Adhesive. It comes in a black spray can. READ the directions carefully on the can and do not spray on the JDM Station product. The adhesive is for the plastic frame it will be stretched over. Keep the adhesive off top side of the fabric. This fabric is thicker than the factory piece so just install with that in mind. Remove the original from the plastic frame by tearing it off carefully. Stretch the new product carefully over the frame. The final product will be stretched tightly over the frame to give a factory like appearance. Allow to dry properly before reinstalling. Be CAREFUL not to overstretch the top opening when sliding into position.
---
FT-86 SpeedFactory's Install Video
Upload images for this product

Feel free to share pictures of your vehicle with this product!