Rays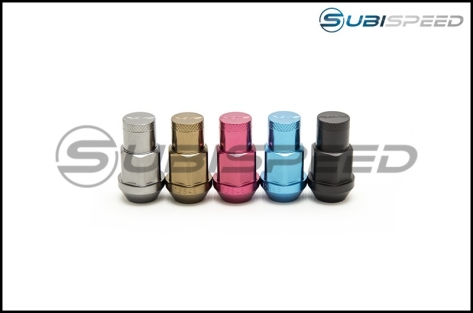 Rays 42MM 12x1.25 Lug Duralumin Nut Set 12x1.25
- Universal
The Volk Racing Lug Nuts are made from super lightweight aluminum. They reduce un-sprung weight, and come 20 lug nuts per set. There is a specific locking lug and key for each wheel for increased safety.
Details
Rays 42MM 12x1.25 Lug Duralumin Nut Set
---
Specs:
16 Piece Set: 16 Nuts, 4 Lock Nuts, 1 Lock nut socket
4 Piece Set: 4 Nuts only
4 Piece Lock Set: 4 Lock Nuts and 1 Lock Nut Socket
Size: M12x1.25
Length: 42mm
Available Anodized Colours: Blue, Red, Black, Bronze, Gunmetal
Please note: Sizes are a guide only, may not suit all wheels.
---
The Rays 42MM 12x1.25 Lug Duralumin Nut Set
Rays Engineering, the maker of Volk Racing Wheels, has released their new DURA-NUT, these racing quality lug nuts are extended extra long for quick and easy installation and removal. Made from Duraluminum, these lug nut are extremely strong and light. In addition to the performance aspects, the Rays lug nuts also feature one 7-sided nut per wheel. These heptagonal nuts look stock from a distance, but can only be removed with the specially designed socket that comes with the set.
Upload images for this product

Feel free to share pictures of your vehicle with this product!