GrimmSpeed
Grimmspeed Turbo Heat Shield V2
2015+ STI
Don't leave your turbo uncovered! Protect your intercooler from radiant heat from your turbo! Turbochargers are great ways to squeeze more horsepower out of an engine, but they also create a lot of heat in the engine compartment. Turbo heat shields help control that heat and keep it where it belongs.
Details
Grimmspeed Turbo Heat Shield V2
---
The turbocharger is one of the hottest components in your engine bay and can have some really negative effects on its surroundings. As it gets red-hot, it also heats your intercooler and the charge air going through it into your engine, resulting in a lose of power. In stock form, the turbo is covered by an OEM heat shield, however this heat shield will not fit with most aftermarket downpipes or turbos. The GrimmSpeed Version 2 Turbo Heat Shield solves this problem as it's designed to fit a variety of aftermarket downpipes and turbos with one job in mind: to decrease the heat in your engine bay and keep that TMIC as cool as possible!
Quick Specs
Proven to Keep Performance-Robbing Heat Away From Your Intercooler
CNC-Cut and Bent for the Perfect Fit
Fits all Factory and Most Aftermarket Downpipes and Turbos on Left Hand Drive Subarus
Durable 304 Stainless Steel Construction
Grade 10.9 Zinc-Plated Replacement Hardware Included
100% Designed, Manufactured and Assembled in the USA
Fitment
All factory and most aftermarket downpipes and turbos on LHD Subarus with the EJ-series turbo engine.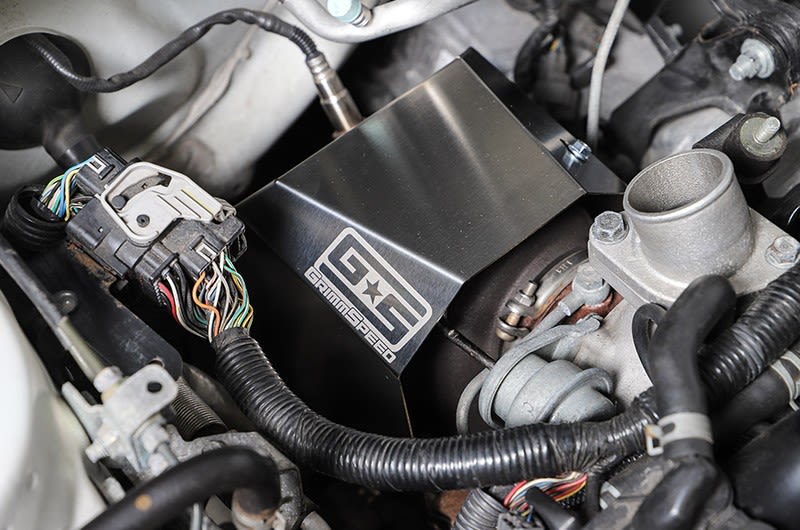 ---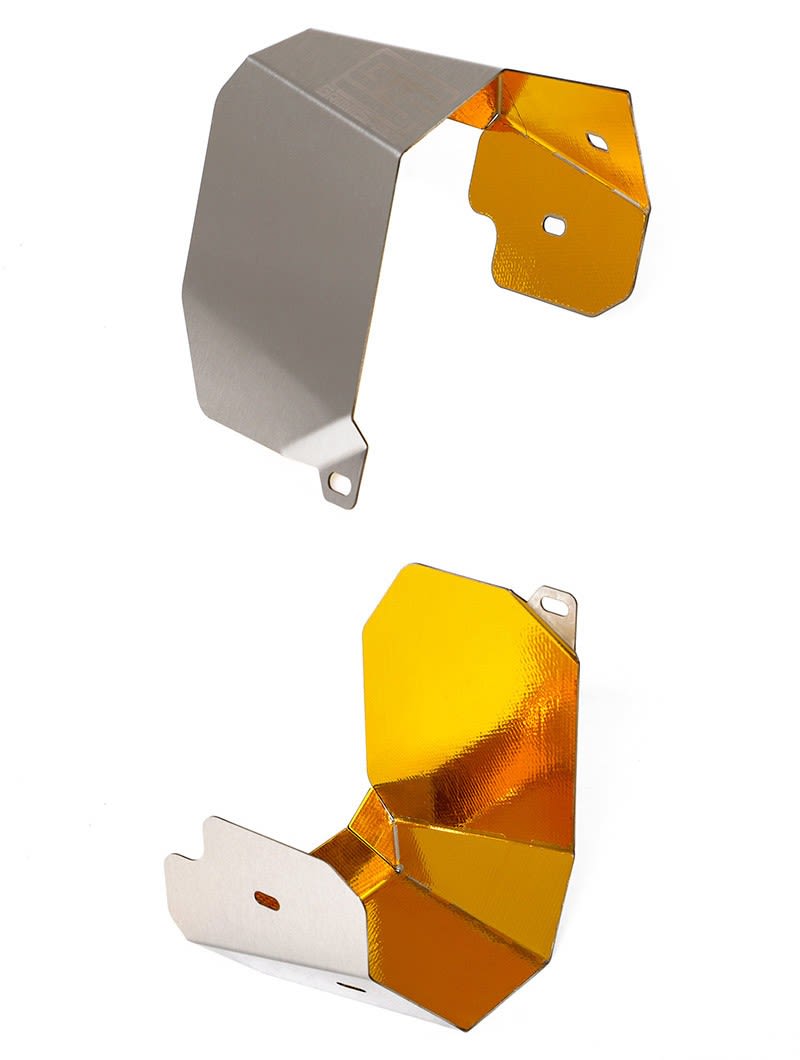 Optional Turbo Heat Shield Reflect-A-Gold Foil
Adding a heat shield to a turbocharger is a very effective way to reduce under hood temperatures and increase the efficiency of your intercooler by avoiding heat soak. However, heat shields are metal and inevitably absorb heat, which will eventually effect surrounding components such as your TMIC.
GrimmSpeed decided to increase the efficiency of their heat shields even further by offering an optional, pre-cut, fiberglass-backed self-adhesive gold foil. The foil is a great way to take your heat shield's effectiveness to the next level and prevent it from directly absorbing radiant heat and passing it on to its surroundings. By simply applying the CNC pre-cut foil to the INSIDE of the shield, you are now creating an additional barrier for radiant heat coming from the turbo and reducing under hood temperatures even more!
The gold foil was precisely designed using CAD Software specifically for The GrimmSpeed Version 2 Heat Shield and CNC-cut for a perfect fit. No more wasting time trying to cut correctly-sized pieces from a square sheet of foil!
Specs
CNC-cut and CAD-designed to work specifically with The GrimmSpeed Version 2 Heat Shield
Gold front, fiberglass center and adhesive backing construction
800°F Radiant Heat Resistance
Increases efficiency of the heat shield by reflecting radiant heat and helps to avoid TMIC heat soak
100% Made in the USA
---
Featured In Subispeed's New Products February
People who viewed this item also viewed
1 customer review
Grim-speed heat shield

Bas April 4, 2023

By

Hardest part of install was probably getting the TMIC out and back in. Heat shield fits great. So far no rattling or vibration noise. Engine bay feels considerably cooler.
Upload images for this product