Weds Wheels
WedsSport SA-72R Hyper Black 18x9.5 +38 R Face
2015+ WRX / 2015+ STI
Ships for free in the 48 states
This Hyper Black SA-72R is new for 2015 and it will look great on your 2015 WRX or STI. This is a great light weight wheel that features a concave face and will fit on your car with out any modifications.
Fits with any combo of below:
Stock Springs Lowering Springs Coilovers No Rolling Needed Flush Fitment, no Poke
Price is for a complete set of 4 wheels. Center cap and valve stem are included.
Details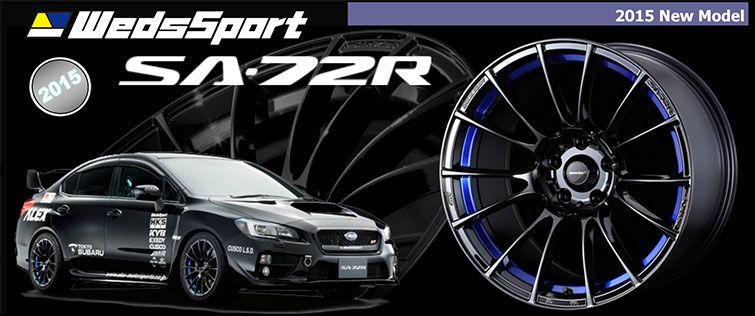 This Hyper Black SA-72R is new for 2015. It will look great on just many 2015 WRXs / STIs.
WedsSport racing wheels provided weight reduction, uniformity and strength. WedsSport, victorious in JGTC racing as well as at other motorsports events, uses the knowledge gained on the track to design and tune each wheel produced for maximum strength and a minimum weight. Wheels are Original Equipment quality and meet the world standards set by JWL and VIA, as well. WedsSport wheels are great for both form and function.
Bolt Pattern: 5x114.3
Offset: 38mm
Weight: 20.11lbs
Color: Hyper Black
Price is for a complete set of 4 wheels. Center cap and valve stem are included.
Note: Careful consideration of wheel width, offset, and tire sizing must be observed when choosing and installing larger wheels. Adding larger wheels may lead to rubbing on suspension components or bodywork. Wheel spacers, new alignment settings, inside fender modifications, or other adjustments may be required. For more information on wheel fitments in general, please email us!
Optional Accessories
Hubcentric Rings
Hubcentric rings fit on the outside of your hub "lip" and are designed to create a flush fitment between the inner hub diameter of your wheels and the outer hub diameter of your vehicle. Despite being only a few millimeters thick, a gap between these hub diameters can result in excessive vibrations at high speeds. Proper lug nut torquing methods can eliminate this risk, but hubcentric spacers are recommended whenever your universal WedsSport wheels are not hubcentric for your specific vehicle.
Aluminum rings are typically recommended for track use, where the heat from the tires and brakes may cause plastic rings to melt or warp.
People who viewed this item also viewed
Upload images for this product