AP Racing Competition Front Brake System (Sprint)
- 2013+ FR-S / BRZ / 86
Ships for free in the 48 states
AP Racing Competition Brake System (Sprint) for the Scion FR-S and Subaru BRZ. The Toyobaru collaboration was one of the most anticipated enthusiast cars of the past decade. Teasers and tidbits trickled in for years, hinting at the potential of what was to come. The final product seems to have actually delivered on the hype, and a diverse range of sports car fans are now flocking to these cars. Most enthusiasts view these cars as a fantastic platform to develop for track days and racing. Kit does not come with pads so be sure to select a set unless you have your own already
Details
AP Racing Front Competition Brake System (Sprint) for the Scion FR-S and Subaru BRZ.
The Toyobaru collaboration was one of the most anticipated enthusiast cars of the past decade. Teasers and tidbits trickled in for years, hinting at the potential of what was to come. The final product seems to have actually delivered on the hype, and a diverse range of sports car fans are now flocking to these cars. Most enthusiasts view these cars as a fantastic platform to develop for track days and racing.
These cars were designed from the ground up as a pure sports car. Light weight, front engine, and rear drive all combine to offer a great driving experience on the street. On track with sticky tires, they're laying down lap times on par with what are supposed to be much faster cars. These cars were also designed with the aftermarket in mind. Many features of the car are rather basic to keep costs down, and the brakes are one of those areas. They're heavy, not particularly attractive, and leave a lot of performance on the table when track temperatures soar.
Not all brake systems are created equal. In fact, most big brake kits aren't really suited towards heavy track use either. While they usually increase thermal capacity and may solve small fading issues, they generally aren't optimized for hardcore track use. We set out to design a couple of brake packages that can take anything thrown at them...and then some.
---
What's in the box?
One pair AP Racing CP8350 racing calipers
One pair 299x32mm AP Racing CP3862, 60 vane, J Hook racing discs, with 6061 hard anodized aluminum hats, and attachment hardware
One pair caliper mounting brackets and hardware
One pair Spiegler Stainless Steel Brake Lines with abrasion resistant coating
Detailed installation instructions
Brake pads are NOT included with our system. Racing brake pads are a highly personal choice. Many manufacturers include a set of inexpensive, low quality pads with their brake kits. Rather than artificially inflating the price of our system with a set of pads you probably don't want anyway, we've decided to remove the cost from our system and allow our customers to choose the pads that best suit their needs/wants. When purchasing our kit, you are able to choose one set of front pads at a substantial discount vs. the retail price. Please use the drop-down menu to select your pads.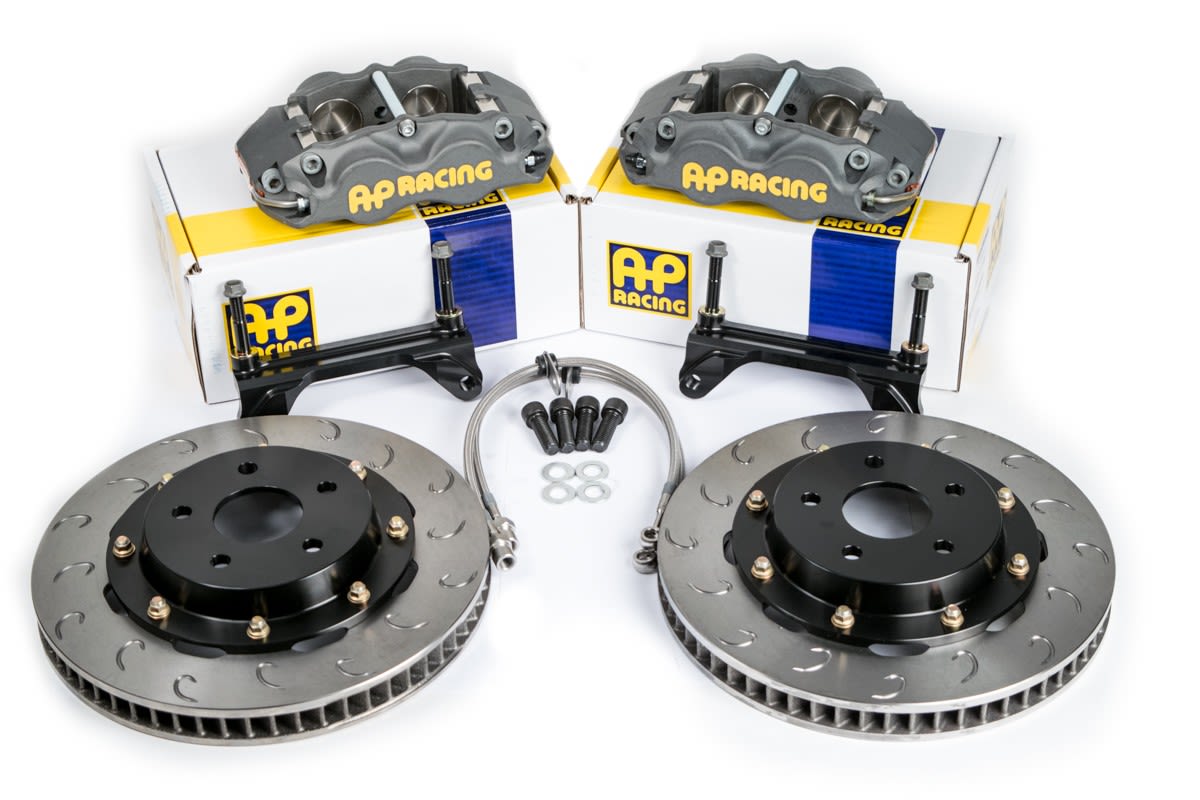 ---
CONFIRMED WHEEL FITMENT
Any of the wheels below will clear this big brake kit without a spacer. There are probably countless more but people have let us know these are 100%.
949 Racing 6UL 17x8 +40
Advan GT 18x9.5 +40 (So much clearance! 1.2+in)
Data R1R 17x8.5 +35
Enkei NT03+M 17x7.5 +35
Enkei PF01 17x8 +45
Enkei Raijin 18x8 +45
Enkei Raijin 18x8.5 +45
Enkei RPF1 17x7.5 +48
Enkei RPF1 17x8 +35
Enkei RPF1 17x8 +42
Enkei RPF1 17x8 45
Enkei RPF1 (very tight fit, but works) 17x9 +35
Enkei RPF1 18x9.5 +38
Enkei Fujin 17x7.5 40
Kosei K4R 17x8 36
Mach V Motorsports "Awesome" wheel 17x9 42
OZ Ultraleggra 17x8
OZ Ultraleggera 17x8 +48
Prodrive GC010E 17x7.5 +38
Racing Hart CP035 17x7.5 ET48 (very tight 1mm clearance)
Rays CE28N 18x7.5 47
Rays Gramlights 57DR 17x9+35
Ray's Gramlights 57DR 17x9 +38
Rays Gram Lights 57Xtreme17x9 +40
Rota Titans confirm 17x9 +42
Sparco Terra 16x7 +50
Sparco (designed by OZ) Assetto Gara 17x7.5 48
SSR GTF01 18x8.5 +44
SSR GTV02 18x9.5 +40
SSR Type C 16x7.5 +35
Subaru OEM STI Wheels (2004) 17x7.5 53
Subaru OEM BBS STI Wheels from 2016 Series.Hyperblue
Team Dynamic 1.2 17x7 38
TSW Bathhurst 17x8 +35
TSW T66F 17 x 8.0 +42
TSW T66F 18x8.5 +44
TSW Nurburgrings 17x8 +45
Volk CE28N 16x8 +42
Volk CE28N 17X7.5 +35
Volk CE28n 17x7.5 +50
Volk CE28N 17x8.0 +44
Volk CE28RT 18X9.5 +38
Volk CE28RT 18X9 +43
Volk Racing RE30CS2 18x9.5 +40 (About 0.5-0.7in of clearance!)
Volk Racing TE37RT 17x9.5 +40
Volk se37k 17x7.5 +48
Volk se37k 17x8 +35
Volk Racing TE37 16" x 7 +46
Volk TE37 17x8 +35
Volk TE37SL 17x9.5 +45
Volk Trophy 18x8.5 +42
Volk Racing ZE40 18x10" +40
Wedsport sa67 18x9 +36
Wedsport TC105n 17x9 35
Wedsport TC105n 17x8 +42
18" Work Meister S1R O-disk (O disk is least clearance disk, so A/R/T will fit as well)
Work Ultimates 18x8.5 +47
Work Meister S1R 17" with at least an A centre disc
XXR 17x8.25 +35
---
Don't see your wheel? Still not sure?
NOTE:Careful consideration of wheel width, offset, and tire sizing must be observed when choosing and installing larger wheels. Adding larger wheels may lead to rubbing on suspension components or bodywork. Wheel spacers, new alignment settings, inside fender modifications, or other adjustments may be required. For more information on wheel fitments in general, please email us!
Upload images for this product

Feel free to share pictures of your vehicle with this product!