GrimmSpeed
GrimmSpeed J-Pipe 3inch Catted Front Pipe
2015-2021 Subaru WRX
Ships for free in the 48 states
SKU: 007103We price match!
The GrimmSpeed Catted Front Pipe for your 2015 WRX is one of single best power adding modifications you can do. Add up tp 30 lb-ft and 25 whp!
Details
Meticulous engineering meets elegant design.
With the 2015 J-Pipe, the devil is truly in the details and the product development team here at GrimmSpeed has taken the time necessary to knock each of those details out of the park. As a result, what you see here is a meticulously engineered J-Pipe with an innovative flange design, single piece construction, excellent ground clearance and fitment with superb quality and craftsmanship.
Quick Specs
Innovative Turbo Flange Design (Patent Pending) - 1/2" thick while retaining all OEM brackets
One-Piece Tube - Ensures exact fitment, robust construction and ease of installation
Smooth 3.5" to 3" Transition - Matches turbine outlet size and then reduces quickly to maintain exhaust velocity
100% Made in the USA - Manufactured right here in Minnesota
Optimized Tube Routing - Maximize ground clearance and minimize flow restriction without modifying suspension hardware, etc
Custom Stainless Turbo Studs - Replace the terrible OEM studs and nuts with these, machined specifically for use with 2015 WRX turbine outlet and our 1/2" flanges
Standard 3rd O2 Bung - Allows the future use of aftermarket sensors
Grounding Strap Mount - Retains all factory functionality
300 Cell Metallic Substrate Catalytic Convertor (Catted Models Only) - Excellent balance of the reduced restriction of a 'race cat' without the stink of a 200 cell unit
Performance and Tuning
Performance of the J-Pipe was verified on our 2015 WRX using the following method. Our tuned baseline run is the same run that we used in showing the boost control performance of the GrimmSpeed 3-Port Solenoid. We then installed the J-Pipe and retuned the car, using the exact same tuning methodology to ensure consistency. This ensured a real apples-to-apples comparison between the stock J-Pipe and the GrimmSpeed unit. The results showed a gain of 26.7whp (14.1%) and 19.8wtq (9.0%) and are displayed in the chart to the left. The percentage gains should be the focus here, as this particular dyno reads very low (stock baseline was 171). From a completely stock vehicle, users can expect a gain of around 45whp (27%) and 70wtq (41%) with the installation of the GrimmSpeed J-Pipe and custom tuning. The chart on the right shows this comparison.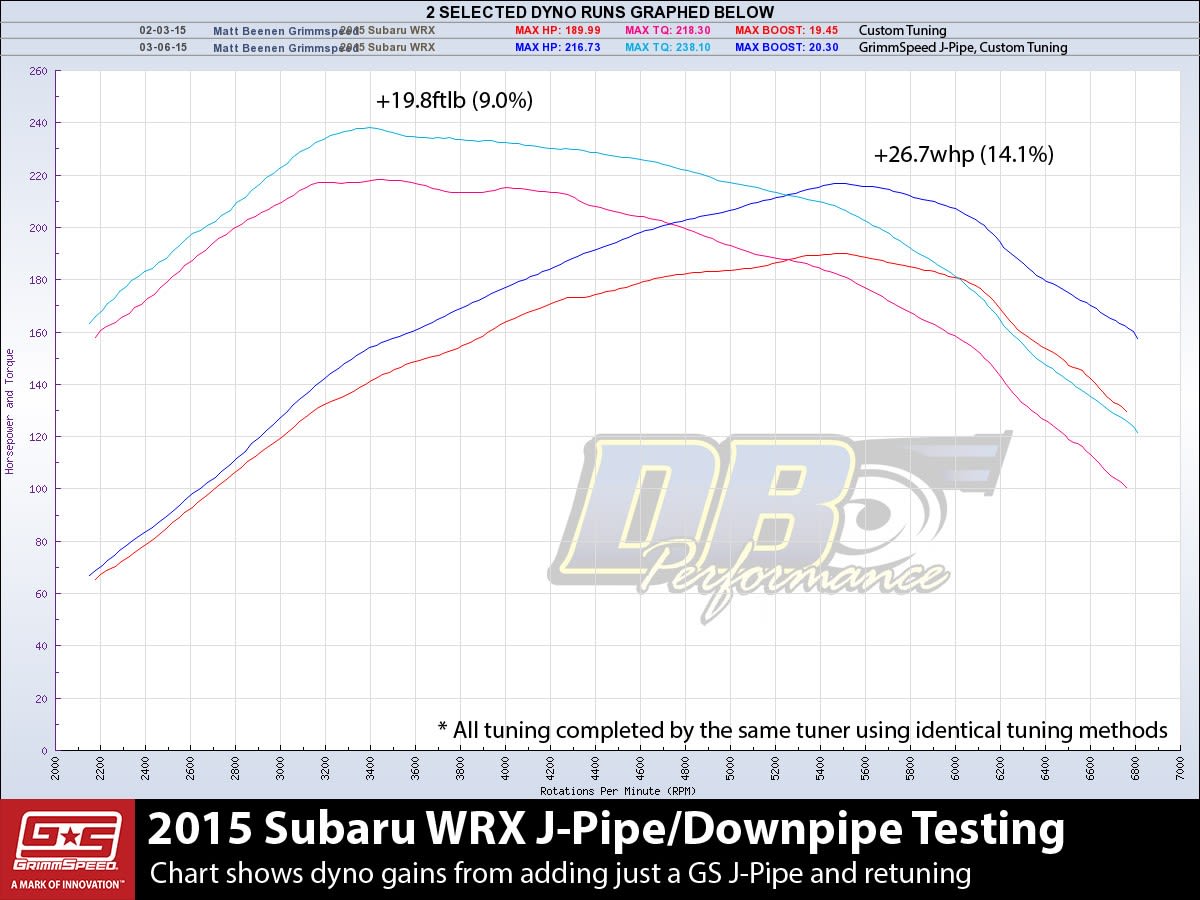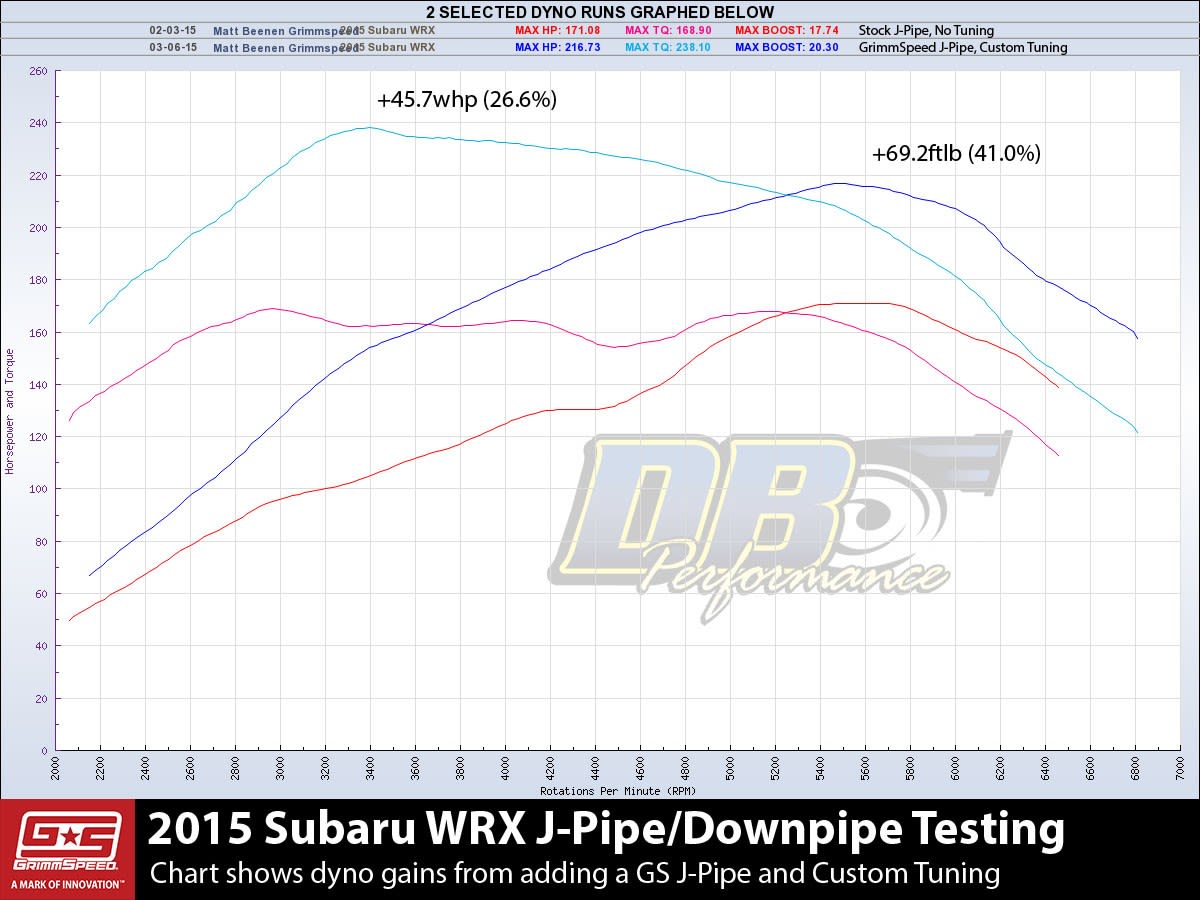 Design
Our engineers began by 3D scanning the OEM J-Pipe and vehicle underbody using our in-house FARO Arm. That data was used in CAD to design a pipe that fits perfectly within the tight underbody packaging on a 2015 WRX without sacrificing ground clearance. The 2015 WRX uses a series of OEM brackets to support the weight of the turbo and J-pipe, the most important of which bolts to the turbine outlet flange. Our engineers insisted on using thick 1/2" stainless steel flanges, but also knew that without a clever design, the very important OEM brackets would no longer line up. The GrimmSpeed flange design uses a CNC machined pocket that the OEM bracket sits in during installation, allowing the use of 1/2" thick flanges as well as the factory turbo support bracket!
Finally, they worked tirelessly to design and manufacture a J-Pipe that could be bent from a single piece of tubing. This allows for more efficient manufacturing, less potential failure points and a product that fits perfectly each and every time.
Materials
In true GrimmSpeed fashion, no corners were cut in the fabrication of each and every one of these J-Pipes. A proper design is no good without proper material selection. In this case, 304 series stainless steel is the best choice for durability, corrosion resistance and cost efficiency. Flanges are machined from 1/2" thick plate and the primary tube is CNC bent, laser cut and expanded from 3" tubing. O2 bungs (three of them) and our custom turbo studs (included) are both machined on a CNC lathe from 304 rod. Finally, finished assemblies are TIG welded using 308L filler rod.
Construction
Last, but certainly not least, is construction. A solid design and robust materials are nothing without use of the correct manufacturing methods and welding processes. Each GrimmSpeed J-Pipe is welded in the same master weld fixture. When not in use, a 'master pipe' lives in that fixture, allowing for a quick check, before each production run, that the fixture is still accurate. Even that isn't good enough for our engineers, so they 3D scan the fixture and master periodically, to ensure accuracy.
Includes everything
1x Welded J-Pipe Assembly
1x GrimmSpeed Stainless MLS Turbo to J-Pipe Gasket
1x GrimmSpeed Stainless MLS J-Pipe to Catback Gasket
4x Stainless turbo studs w/ nuts
2x Replacement catback bolts w/ nuts
1x O2 Sensor Plug (plugs third O2 bung for future use)
1x Grounding Strap Bolt (not pictured)
2x GrimmSpeed License Plate Frames
1x GrimmSpeed Sticker
2 customer reviews
A year and a half later...Noooo...

Michael July 16, 2017

By

This install was a PITA. The worst was the turbo flange studs and nuts. It did not want to come off even with pb blaster. This exhaust made a huge difference in pull from stock especially when tuned. Well its been a year and a half later and it had cracked/split before the cat most likely due to rust. Hopefully this time I can get the nuts off without stripping it again.

Spot on

Joseph August 10, 2015

By

I ordered this pipe actually through the group buy on NASIOC. I just installed it a few days ago with my dad. simple hand tools. The pipe quality is great, welds look spot on, the extra bung comes with a plug if you don't use the extra sensor. It gives you all the hardware as well and the quality of the studs and nuts are WAYYY better than stock. fortunately we didn't strip any of the studs but the OEM nuts that are on the studs are garbage. Everything lines up perfectly with the catback (i have the invidia single exit exhaust). the second bracket on the way up they made adjustable so that hooked in and lined up perfectly. once i got to the studs, it frees up so much room not having the Cat sitting in the front and nothing rubs, and all the heat shields and brackets fit perfectly. Grimmspeed machined the top of the flange so that the brackets sit perfectly with no rattle or anything. The sound is great for a catted pipe. brings a little bit of the subie rumble to the car but still isn't super noticable due to the ELH. i only have the stage 2 OTS COBB map for now but once you hit 3500-redline this thing pulls WAY harder than it does stock/stage1. Highly recommended product. They also gave some stickers and license plate holders which is a plus for me. Well done Grimmspeed.
QUESTIONS & ANSWERS
No questions have been asked about this product.
Upload images for this product