Morimoto
Morimoto XB LED Fog Light Housings
15-20 WRX / 15-17 STI / 13-16 BRZ / 13-17 Crosstrek / *14-18 Forester / 2013-2016 FR-S / BRZ / 86
Morimoto has a full replacement LED housing for your 2015 WRX / 2015 STI / 2013+ BRZ / FR-S. These casings have an extremely wide beam pattern We're talking about a 90 degree spread!
These utilize the latest LED and optics technology.
NOTE: PSX24W to H11 adapters required on 2013-2016 BRZ and 2013-2017 Crosstrek (without Steering Responsive Foglights). Please see additional tab for slight modifications required for Foresters.
Details
Morimoto XB LED Fog Light Housings
Stock sucks! But the new Morimoto XB LED projector fog lights: Look great. Are well-built. Perform like champs. Have a virtually infinite life span. An unbeatable warranty, And best of all you won't need to sell your soul to afford them!
NOTE: PSX24W to H11 adapters required on 2013-2016 BRZ and 2013+ Crosstrek (without Steering Responsive Foglights). Please see additional tab for slight modifications required for Foresters.
---
Designed
These complete housings will mount behind the bumper with all of the stock mounting points. Their aim can also be adjusted just like stock with the integrated assembly that's cast into their shell. Check the compatibility section below for a list of known applications.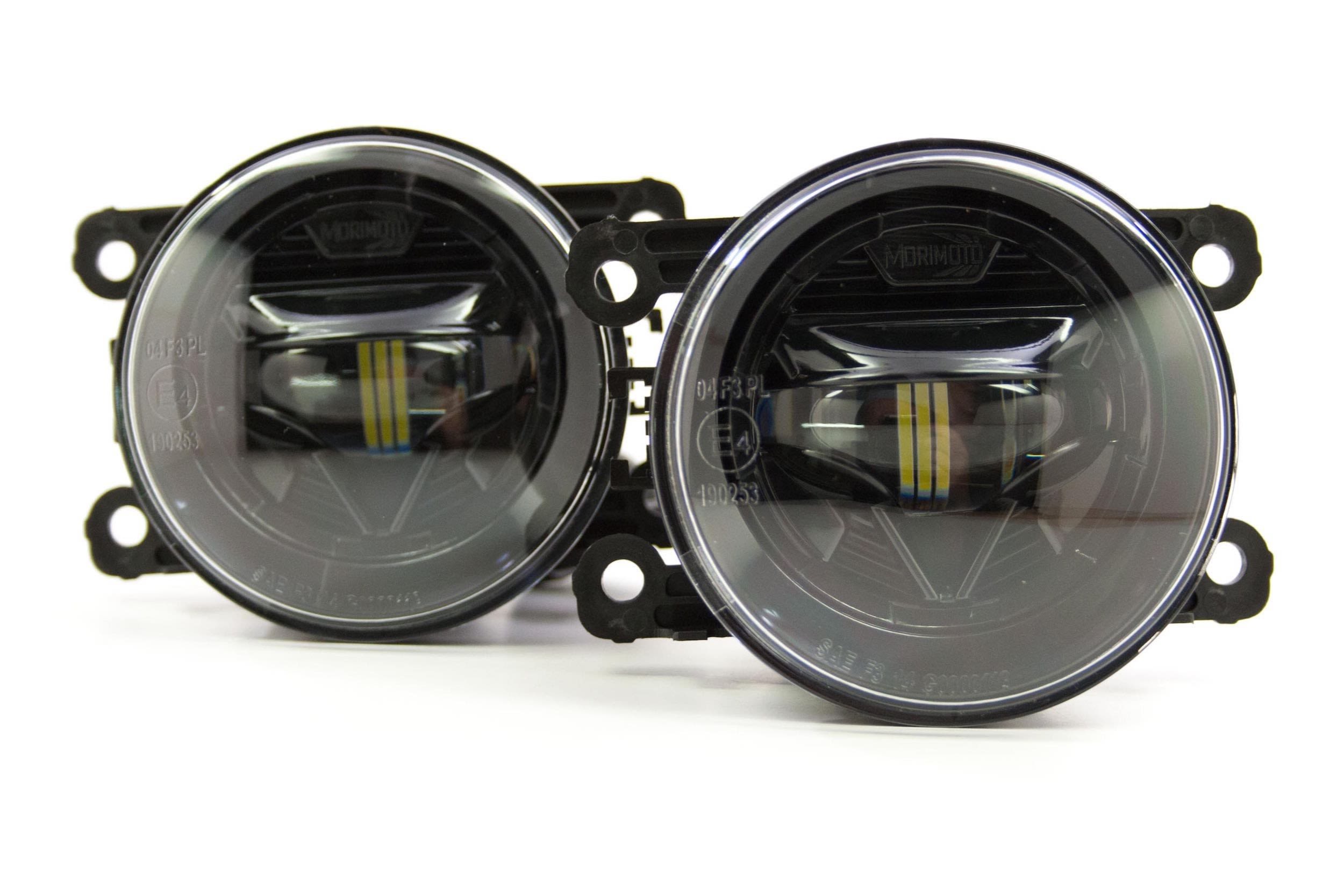 ---
Powered
By three Philips Luxeon-T5000K LED's that produce around 1200 raw lumens per side. The projector based optics inside concentrate a total of 2400 lumens of pure white light into a beam that's super wide and perfectly distributed for use a as a fog light. They are SAE, DOT, and ECE approved.
---
Plug n Play
Wiring is easy too! The XB LED Fogs are designed to work without any special wiring. They will plug into the factory H11 power outlets for the stock fog lights and each fog light includes all necessary connectors, rubber seals, and pigtails for a plug n play install.
---
Well-Built
Their durable polycarbonate lens should resist the test of time, keeping the housings looking new. The powder-coated cast aluminum housing is light-weight and much stronger than comparable plastic alternatives. Doubling as the heat-sink for the LED's, the housings completely protect the internals from moisture and road debris.
---
Benchmark:
Morimoto. The Automotive Lighting Benchmark. We are globally recognized as the brand to beat. No other brand blends performance and genuine product quality quite like us. Our vast product line has something for nearly every application, and if not; our R&D department is capable of producing it in short order.
---
Featured in New Products February 2017 Video
People who viewed this item also viewed
9 customer reviews
great fit and looks good

Justin December 10, 2020

By

purchased these a few months ago. my 2020 sti didn't come stock with any fog lights. used the provided wiring harness to install. very easy to install and fit well. my only complaint is light output. I love the style and appearance, but the light output wasn't what I was anticipating. Sure they work but for almost the same price you could get something way brighter that's still road legal.

Great light output

Caleb February 7, 2018

By

These are great. Match perfectly with the 55k morimoto retroquick kit as well. Only issue I had was one of the fogs came with a broken mounting point. It wasn't that big of a deal since I used it on the side where that screw point was not needed. Overall night and day difference from the oem fogs.

wayyyyy brighterrrr

John January 2, 2018

By

Just replaced my factory halogen housings with these and I must say absolutely better during a foggy morning! Recommend using factory screws for them though (if ur wrx is a premium or limited) I don't know about base models (without fogs) Only had to pull 3 clips and 1 10mm screw from fender liner that goes to the bumper to access fog lights

Easy and impressive upgrade

Rich October 7, 2017

By

Installation was simple. Turned the wheels in the opposite direction I was working, pulled the 3 clips in the area, moved the liner out of the way, reached in, unscrewed, unclipped and removed. Like others said, reuse the existing screws after removing the sleeve. This was a 20 minute job and appear to be reasonably well aligned out of the box. The construction and design is nice. Light output is much improved and they look cool.

Great upgrade

Justin August 22, 2017

By

These are a huge upgrade from the oem. They fit perfect and we're really easy to install. Just to piggy back off other comments yes use your original screws the ones they give you don't fit well. My fog lights def need to be adjusted and I'm a little disappointed because they are way off. Overall worth the money and would def say get them as soon as you can

Awesome product!

Brett June 14, 2017

By

I recommend these fog lights to anyone looking to get better light output, also to match the led low beams on our cars. I have had these on my civic si, and now my sti. Easy installation, easy pointing and great look! Best money i have spent on my car!

THE Premier Fog Light Upgrade!

andrewSTI April 24, 2017

By

So I have looked at these since they were released and finally got them this past week. I installed them today and although there are no real install instructions aside from a few youtube videos that dont help all that much, It was fairly basic. Finish product is perfect! I havent been able to get back in to adjust them yet (need to be pointing just a bit higher) but these things literally light horizontally across to the left and the right sides of the road a good 20' making sharp cornering on dark roads much more pleasant. They look amazing when on at night and when off during the day with the black powder coated backround. If you are on the fence about getting these stop and just buy them. Worth every penny.

High Quality Upgrade

Chris G March 1, 2017

By

Great replacement for the OE lenses if you're looking for a wide beam that cuts through fog. 4/5 on installation because Morimoto does not provide much instruction past bolting them in. **I did not use the included bolts, the factory screws are sufficient with better fitment.** Otherwise the crisp white light and sharp cut-off are brilliant. Relatively easy to aim, so long as you have the space to do it properly. The beams do go wider than the oem headlights however they do not cast as far. I have the factory LED option on my WRX. Make sure you put them in with the correct orientation, the breather vent should be facing the ground. Super fast processing time and genuine parts arrived in perfect condition. Thanks Subispeed!

Perfect Fit! Like OEM

Joseph February 3, 2017

By

Just to be clear I installed these and fit perfectly OEM style. Note: USE THE ORIGINAL FACTORY Screw and remove the sleeve on the screw prior to re-installation. I personally did not have to adjust them. They were perfect right out of the box. They look beautiful and throw a heck more light than the factory fogs. Worth every penny.
Upload images for this product