Military Discount
We would like to thank our US Veterans past and present. Your service, sacrifice, and dedication to the nation is greatly appreciated! Our discount program, along with qualifications has been structured by our own Veterans here at JB Autosports to ensure we will be able to provide the proper people with the discount they've earned well into the future.
Both US Active Duty, Reservists, and former Servicemembers qualify for our program. Your account will be migrated to our "military" group, and you will be able to take advantage of our special discount code.
Verification
"The photocopying of U.S. Government identification cards is a violation of Title 18, U.S. Code Part I, Chapter 33, Section 701 and punishable by fine and imprisonment."
We highly encourage you to not send a photo of your ID card. There are other methods of verifying your status.
US Active Duty and Most Reserve Component
Please email from a .mil e-mail account to verify your status. This does not have to be the e-mail you use to register your account or normally submit correspondence to us through. However, if it is not the e-mail you used to register your account with, please note the e-mail account you did use. This way we can migrate that account to the "military" group and send you the discount code. You can also use the method below as well.
US Prior Service
The easiest way for a prior service member to verify their status is to visit DMDC website and request a single record request. Simply go to the search and enter your information.
NOTE: You want to enter an active duty status date during the time period you were active duty. For Reservists, this should include basic training dates.
The PDF file will only contain your name and active duty dates. We will use this to confirm your service and migrate your account to the "military" group. We will also send you the discount code.
Please e-mail the PDF to email.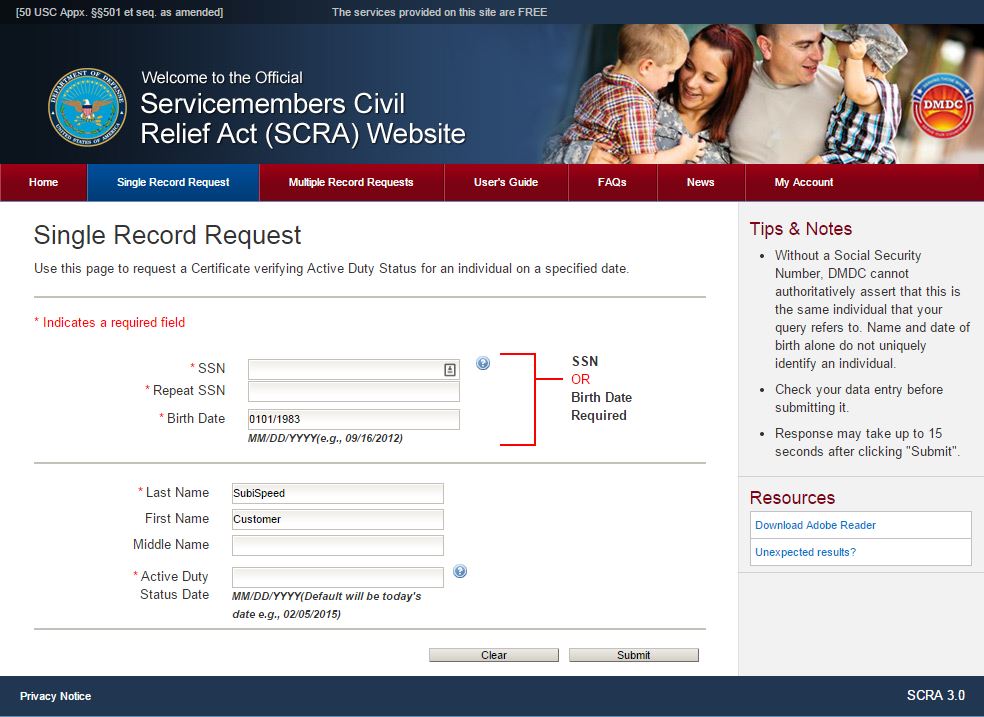 Additional Methods
Some state driver's licenses have veteran status noted on them. You may take a photo (not scan) of your driver's license. As the VA begins to issue Identification cards, they will also be accepted. Again, please send a photo of either to email.
Summary
Once again, we are very proud of our US Servicemembers past and present. We hope that you enjoy the hobby of owning and modifying your vehicle! Please feel free to reach out to us if you are having an issue accomplishing any task stated above.
---
Military Account Contact
The contact below is provided in case you are having issues navigating your way through the process.
Sales Team Member - E-mail
Service History:
11B Infantryman
37F Psychological Operations Specialist (Team Chief)
Parachutist, Jumpmaster, Non Career Recruiter
3/505 Parachute Infantry Regiment, 82d Airborne Division
5th Recruiting Brigade (Houston Battalion)
2/7 Infantry Battalion, 3rd Infantry Division
344th Psychological Operations Company Airborne (Tactical)
2005 Iraq (82d Airborne Division - 3/505 PIR)
2007 - 2008 Iraq (3d Infantry Division - 2/7 Infantry attached to 2nd Marine Expeditionary Forces)
Coupon Code not applying?
Well, if it were up to us we'd allow everything on sale. Unfortunately due to certain restrictions set by vendors, we're not allowed. The brands listed below are INELIGIBLE & EXCLUDED from our current promo codes.
Please clickhere! to check out ourbrand exclusion list